Invitae Corp is a small biotech that has been in an uptrend since April. Over the last month the stock has pulled back to find support at the recent lows. On Tuesday, Invitae Corp (NVTA) printed a nice hammer candle that you can see in the zoom panel.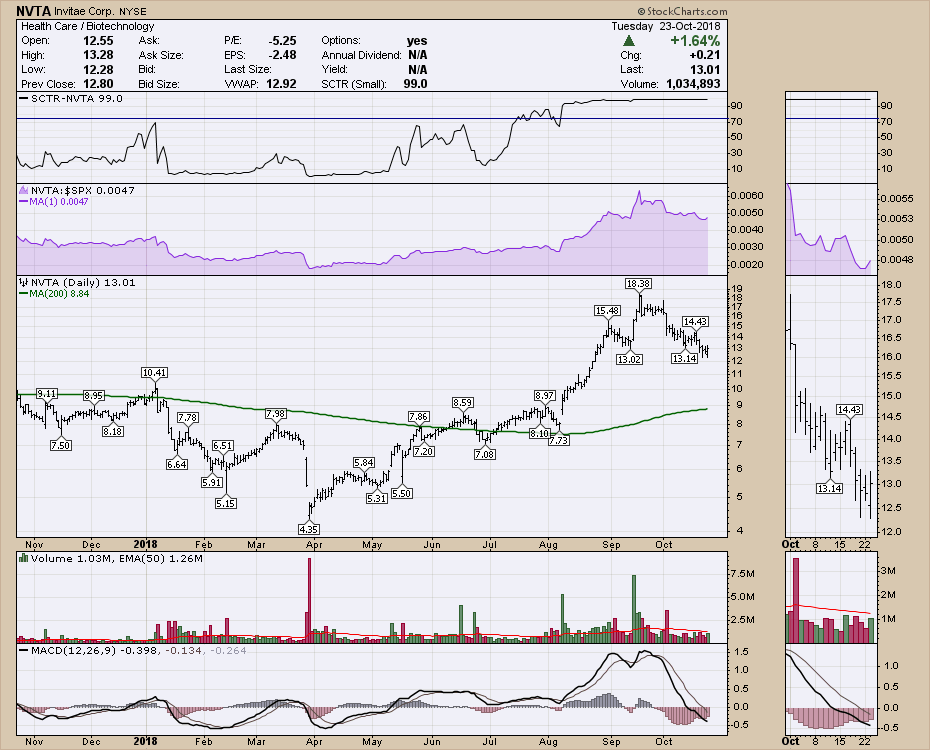 With the wide ranging pullback in the overall market, finding strong stocks like this that give an opportunity to pick up on a pull back are nice to watch. If the stock can start to bounce from here, this looks like a nice entry with a stop just below.
Here are the three most recent videos I have recorded.
---
Gold is perking up and the stocks are trying to rally. Barrick gold looks good as the biggest company and it is rallying nicely. Natural Gas has been behaving well but the exploration stocks around Natural Gas are still struggling with the overall market sentiment. Lots of information in here on the commodities and indexes. No new breakouts in currencies. The weekly $CRB chart is at a critical point here. Lithium and rare earth metals, steel and coal, copper and aluminum, gold and silver are all covered here.
---
This is a short look at the broad market setup and some of the indicators that told us the market was fragile ahead of the drop. Probably worth saving a link for use in future years when the market conditions go weak.
---
The Canadian Technician video shows the massive breakdown on almost every sector chart in Canada. Financials also fell outside their channel and below the 40 WMA. For Canadian investors, huge caution here. There will be a new video out later this week.
If you are missing intermarket signals in the market, follow me on Twitter and check out my Vimeo Channel often. Bookmark it for easy access!
Good trading,
Greg Schnell, CMT, MFTA
Senior Technical Analyst, StockCharts.com
Author, Stock Charts for Dummies
Want to read more from Greg? Be sure to follow his StockCharts blog:
The Canadian Technician