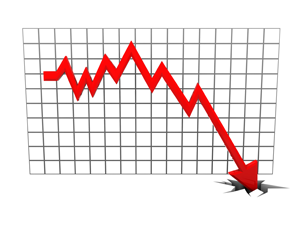 Citigroup (C) is leading the Financials SPDR (XLF) lower with a lower high in September and a rising wedge break in October.
The chart shows weekly bars for Citigroup over the last three years. The stock led the market higher in 2016 and 2017 with a gain exceeding 100% from low to high. This big bank turned into a laggard in 2018 because it never challenged its January high and formed a lower high in September.
The summer bounce to the 75 area formed a rising wedge and these patterns are typical for counter trend rallies. C broke the lower trend line and the August low over the last three weeks to signal an end to the counter-trend bounce and a continuation of the bigger downtrend. Also notice that the PPO moved below its signal line and into negative territory.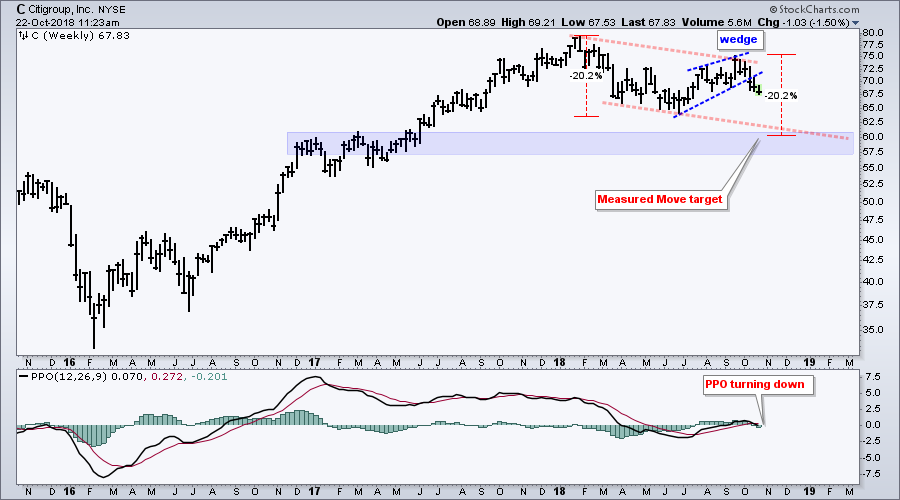 There are three techniques that chartists can use to project a downside target. First, a lower trend line can be drawn parallel to the upper trend line and extended. Second, the measured move technique would project a decline similar to the first, which was 20%. Third, chartists can look for a prior consolidation to mark potential support. All three techniques place Citigroup in the 60 area by yearend.
Keep in mind that price targets should be taken with a grain of salt. The price target remains valid as long as the bearish thesis remains in place and chartists should continually evaluate price action.
---
Plan Your Trade and Trade Your Plan.
- Arthur Hill, CMT
Senior Technical Analyst, StockCharts.com
Book: Define the Trend and Trade the Trend
Twitter: Follow @ArthurHill
---