Tiffany's stock has pulled back 25% since July. While that is not good, it is very similar to a significant number of consumer discretionary stocks. There are lots of nice setups on retail stocks currently. Tiffany's lines up support at $100. The $SPX made it's low so far this week, but Tiffany's is building on a bounce off the $100 level last week.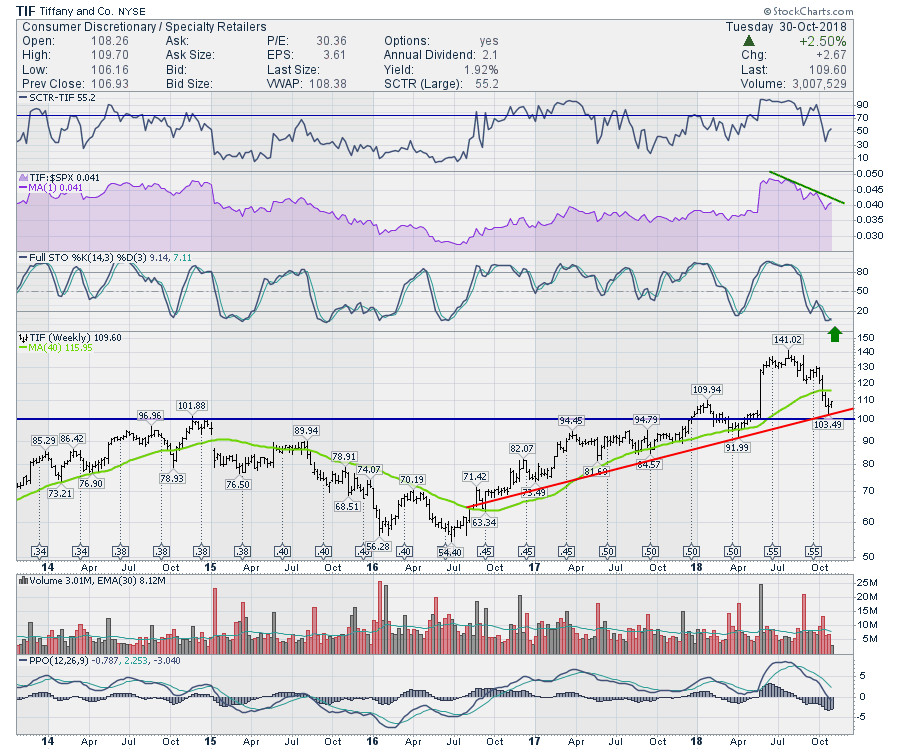 A few of the indicators look ready to turn but the PPO only appears to be heading lower. If the histogram can start to improve here, that would be a start. The full stochastic below 20% looks like a nice place to find a reversal. Remembering that the unemployment rate is very low, retailers are expecting the best Christmas in 10 years.
Switching it up to the daily, I have moved the short support line up to $107.50 that matches up with the January 2018 high. The relative strength continues to decline but any push would probably start the outperformance we are seeing on other retailers. The daily PPO is close to crossing the signal line and wouldn't have to move much to break the downtrend line.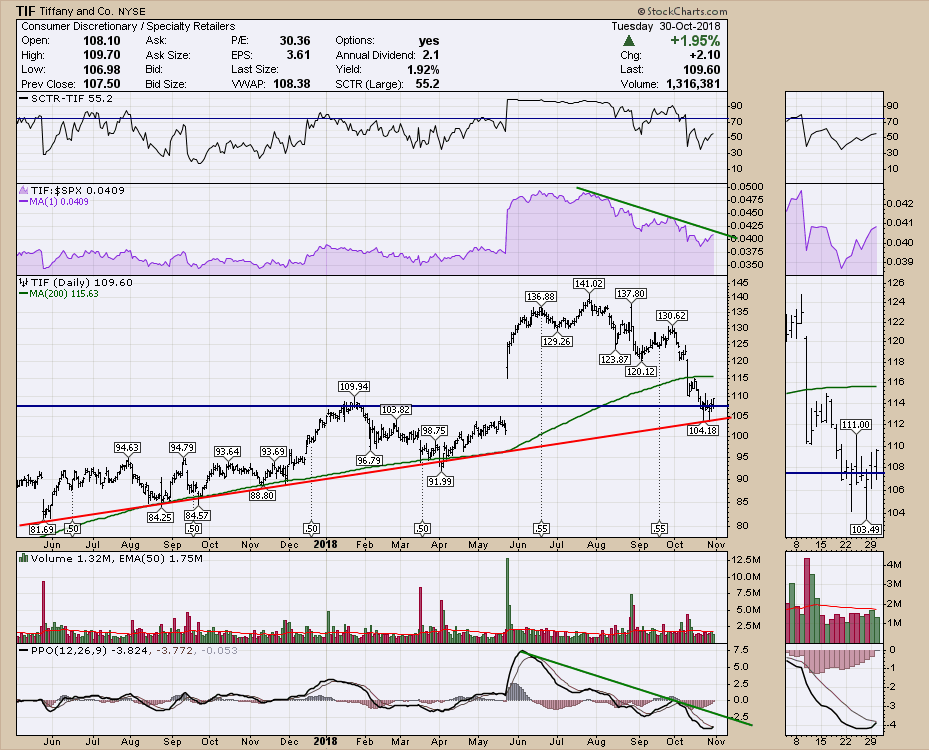 Both charts also have a nice defined uptrend in red that is also demonstrating the rising lows. With the burst in retail stocks this week, this is another one to add to the list.
I had three videos last week. They all contain some good charts to work with.
---
Here is this week's video with a focus on bonds.
---
I have included some scans to help you find some nice setups near these lows.
---
The Canadian Technician video shows the massive breakdown on almost every sector chart in Canada. Canada is back below the 2008 highs. Tough ten years for investors.
---
If you are looking for a small gift, you might have family or friends that would like to learn more about the basics of charting. The first section of the book walks through all the chart settings to get the charts you want. The second section is why you might use charts for investing and the third section is putting it all together.
Click here to buy your copy today! Stock Charts For Dummies.
If you are missing intermarket signals in the market, follow me on Twitter and check out my Vimeo Channel often. Bookmark it for easy access!
Good trading,
Greg Schnell, CMT, MFTA
Senior Technical Analyst, StockCharts.com
Author, Stock Charts for Dummies
Hey, have you followed me on Twitter? Click the bird in the box below!
Want to read more from Greg? Be sure to follow his StockCharts blog:
The Canadian Technician