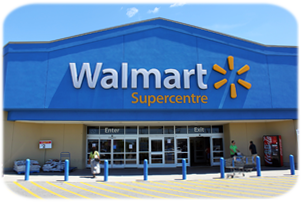 Walmart (WMT) is making waves again with a massive breakout in August and a small breakout on Tuesday.
WMT underperformed the market the first half of the year with a 25% decline from the January high to the May low. The stock firmed in May, began rising in June and broke resistance in early August. This breakout was solidified with a massive gap on big volume in August 16th.
The advance and gap created an overbought condition that needed to be worked off. The stock alleviated this condition with a falling wedge, which acts as a correction or the pause that refreshes.
Programming Note: I will be on MarketWatchers Live with Tom and Erin today (Wednesday) at 12PM ET. Among other things, I will explain the Chandelier Exit and how it works.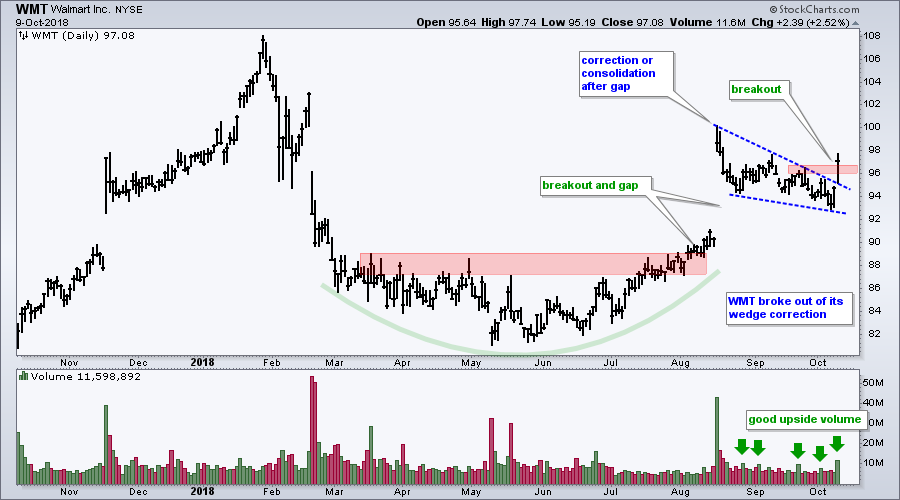 In an unusual twist, upside volume within the wedge outpaced downside volume. This suggests accumulation within the wedge. It looks like the correction has ended because the stock broke the wedge line and exceeded its late September high with an uptick in volume.
I view this breakout as bullish and expect a challenge to the January high in the coming weeks and months. A close below 92 would call for a re-evaluation of my bullish assessment.
---
On Trend on Youtube
Available to everyone, On Trend with Arthur Hill airs Tuesdays at 10:30AM ET on StockCharts TV and repeats throughout the week at the same time. Each show is then archived on our Youtube channel.
Topics for Tuesday, October 9th:
The Case for a Mixed Market (ITB, SOXX, KRE vs XLI, XLV, XLE)
XLE, XES and XOP Hold Breakouts (plus AMJ and FRAK)
A Major Breakout in Natty Futures (UNG, USO, GASO)
Gold and the Bollinger Band Head Fake
Insurance Leads Finance Sector (KIE)
---
Plan Your Trade and Trade Your Plan.
- Arthur Hill, CMT
Senior Technical Analyst, StockCharts.com
Book: Define the Trend and Trade the Trend
Twitter: Follow @ArthurHill
---