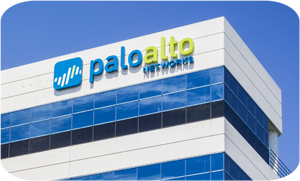 Most stocks have struggled since November, but Palo Alto Networks managed to reverse at a key area and break above a resistance zone.
The chart below shows PANW with weekly bars over the last 3 years. The stock broke to new highs in February 2018 and more than doubled from spring 2017 to autumn 2018. Notice how the stock recorded numerous 52-week highs from January to August 2018. Stocks recording 52-week highs are leading the market and attracting attention. The gray lines show the 52-week price channel to mark the 52-week high-low range.
The blue zone marks a reversal area using broken resistance and the Fibonacci Retracements Tool. Even though the stock fell hard from October to December, it did not record a 52-week low and found support near broken resistance (blue zone). Also notice that the decline retraced 50-61.8% of the prior advance. This is a classic setup that chartists should keep in mind for future reference (return to breakout and 50-61.8% retracement).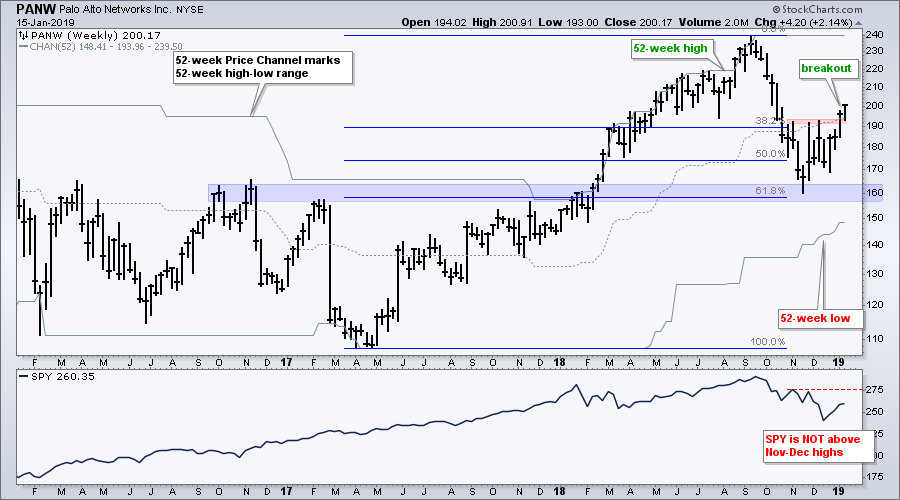 PANW is showing leadership here in 2019 as it breaks above its November-December highs. In contrast, the lower window shows SPY trading well below these highs. The price breakout shows absolute strength and the comparison with SPY shows relative strength. Despite a questionable environment for the broader market, this is a powerful combination that could foreshadow new highs in the coming months.
---
On Trend on YouTube
Separating the Signal from the Noise
Big Breakdown vs Zweig Thrust vs Resistance
Overbought Indicators and Waning Breadth
Watching the Windups (XLK, XLV, XLC, GLD)
Pullback for Treasuries and Surge in Junk
Comparing the Bounce using Stochastics
Stocks to Watch (KR, RMD, SBUX, TWLO)
---
- Arthur Hill, CMT
Senior Technical Analyst, StockCharts.com
Book: Define the Trend and Trade the Trend
Twitter: Follow @ArthurHill
---