Edwards LifeScience (EW) had a big move this week - having been inside a trading range for most of 2018, EW is now testing the top of the consolidation. I have omitted the few days it experienced above the range as the stock gapped up, went on a euphoric surge and then gapped lower, quickly putting it back inside the range. The stock was ultimately up 20% last year, even though it was near the bottom of the range at the start of 2019. The SCTR shows the stock is very strong relative to other large-cap stocks, having spent most of 2018 above 75. Tuesday's high volume was almost 40% above average on the $12 move. The PPO is moving up above zero, which is also a good place to initiate a move from.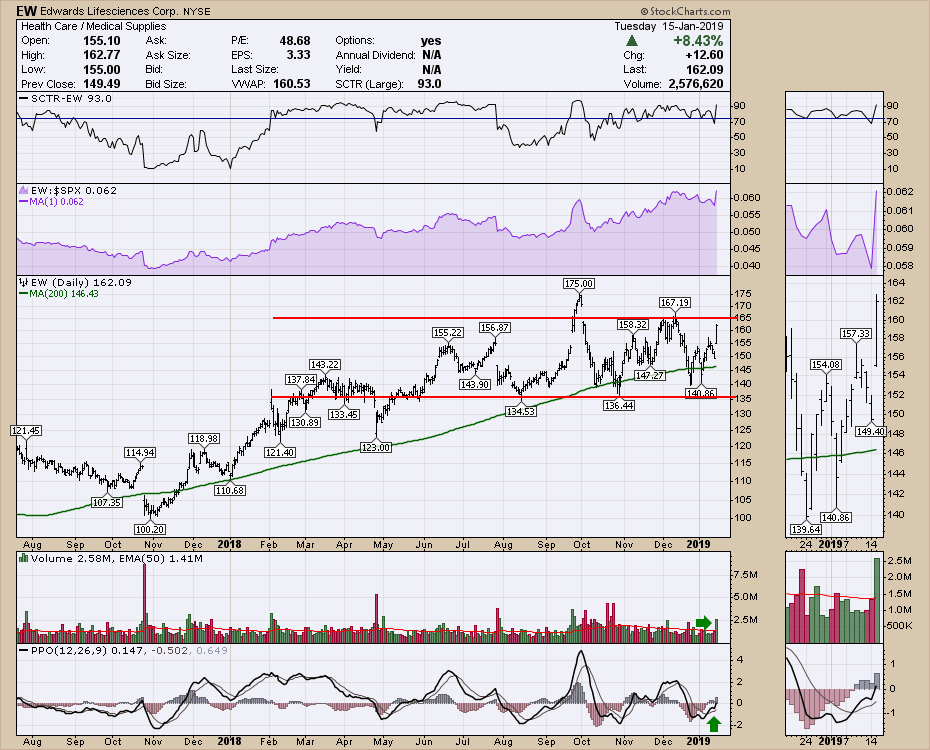 More importantly, EW has been going higher for years. This stock has been a stellar performer and looks set to make another run. A stop below the October/December lows would give the stock wiggle room for longer-term investors. If the PPO breaks above the trend line, that suggests another leg higher for the stock.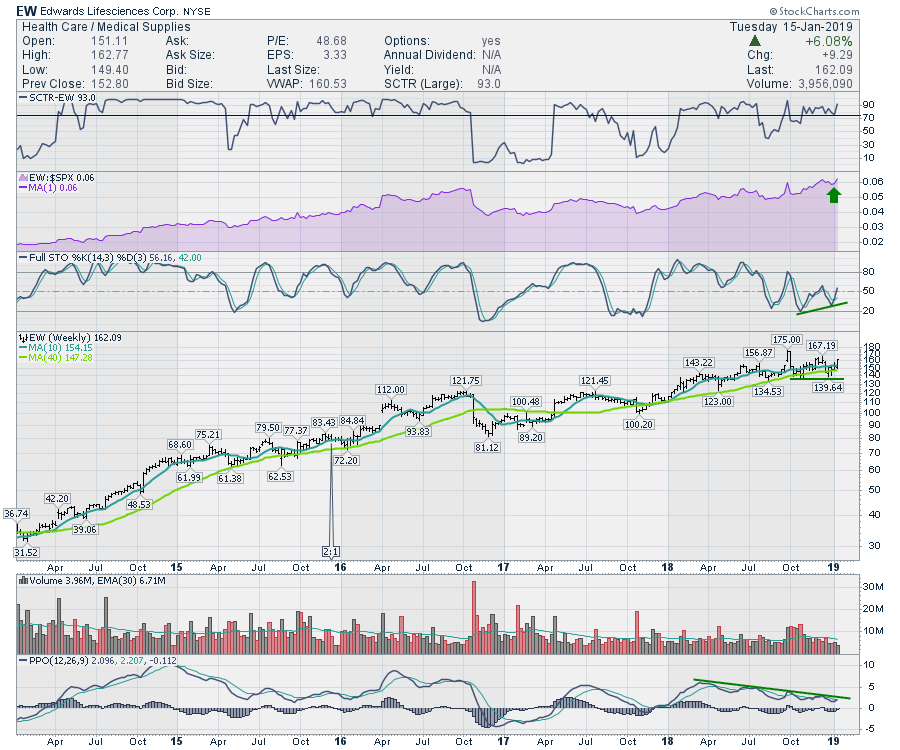 ---
A lot of charts are changing this week. If you are looking for some positive areas of the market to investigate, I would strongly encourage you to look at my Weekend Wrap!
---
Check out the first edition of my new show Market Buzz! Market Buzz will be live on StockCharts TV Wednesday and Friday mornings at 10:30 ET (7:30 AM PT). Please join me for a longer-timeframe investing outlook.
---
If you would like to learn more about the basics of charting, check out Stock Charts for Dummies. The first section of the book walks through all the chart settings to get the charts you want, the second section explores why you might use charts for investing and the third section is about putting it all together.
Click here to buy your copy of Stock Charts For Dummies today!
If you are missing intermarket signals in the market, follow me on Twitter and check out my Vimeo Channel. Bookmark it for easy access!
Good trading,
Greg Schnell, CMT, MFTA
Senior Technical Analyst, StockCharts.com
Author, Stock Charts for Dummies
Hey, have you followed Greg on Twitter? Click the bird in the box below!
Want to read more from Greg? Be sure to follow his StockCharts blog:
The Canadian Technician