It is a mixed bag for the big biotech stocks this year. Of the top ten stocks in IBB, five are underperforming SPY and five are outperforming. Regeneron is slightly outperforming SPY this year and sports a bullish pattern on the price chart.
First and foremost, the bigger trend is up because REGN hit a new high in January and price is above the rising 200-day SMA. In addition, the stock broke out of a big consolidation pattern in January and this signals a continuation of the prior advance (May to August). Thus, REGN is in the midst of a larger continuation move.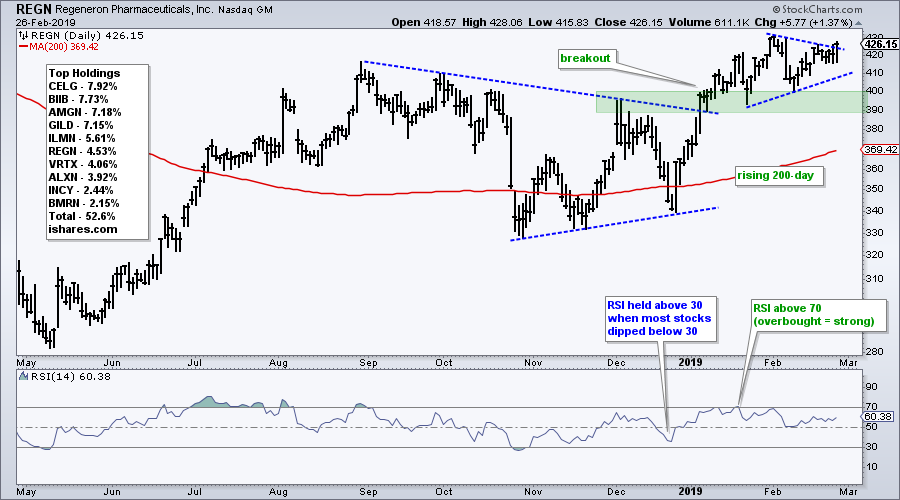 Shorter term, the stock consolidated above the breakout zone and formed a triangle of sorts. Buying pressure appears to be picking up steam again as the stock broke above the upper boundary line of the triangle pattern. This breakout signals a continuation of the surge from late December to early February. The green zone marks first support in the 390-400 area.
---
On Trend on YouTube
Potential Resistance versus Existing Uptrend
Third Time Lucky for Resistance?
Breadth/Trend Indicators Remain Strong
Breaking Down the SPY and QQQ (top stocks)
Bond ETFs are Winding Up (Bollinger Bands)
XLC and XLE are the Lagging Sectors
Tesla Seriously Underperforming Auto Group
---
- Arthur Hill, CMT
Senior Technical Analyst, StockCharts.com
Book: Define the Trend and Trade the Trend
Twitter: Follow @ArthurHill
---