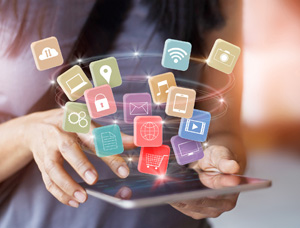 Coupa Software is one of the best performing stocks in 2019 with a 50% advance year-to-date. In addition, the stock is up over 80% from its late December low. Too far too fast you might say? Perhaps, but the stock digested its gains with a consolidation the last two months and this could set the stage for another move higher.
As you can see from the stock price, Coupa Software (COUP) is clearly a high growth company. High growth stocks offer above average returns, but also above average risk. Coupa fits into the enterprise software group by offering cloud-based solutions for companies to manage their business and suppliers. The stock recorded 52-week highs in January and March, and remains well above the rising 200-day SMA.
After surging from the mid 50s to the upper 90s, the stock consolidated with a trading range the last two months. A consolidation after a sharp advance is typically a bullish continuation pattern and a breakout at 100 would signal a continuation higher. The pattern since early March also resembles an ascending triangle with equal highs and higher lows. This is also a bullish continuation pattern.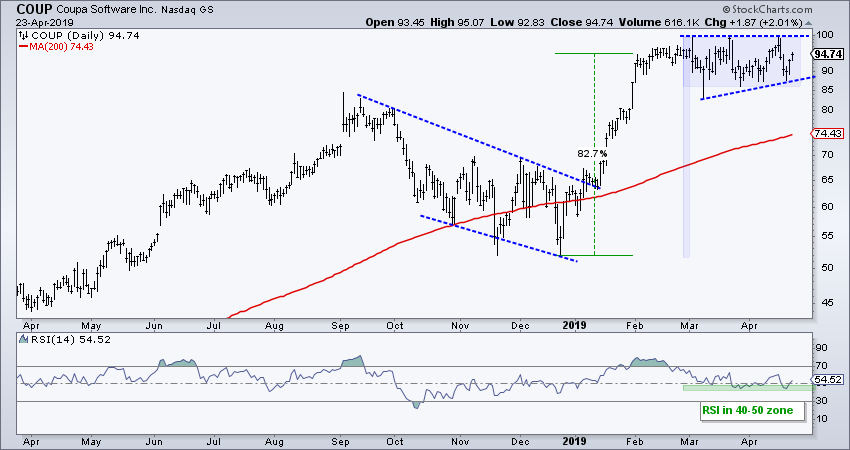 The indicator window shows RSI becoming overbought in late January and early February. The ability of RSI to exceed 70 shows strong buying pressure, which is bullish overall. RSI recently fell back to the centerline (50) as the stock traded sideways and momentum waned. This is a momentum correction and the 40-50 zone may mark momentum support of sorts.
---
Five Big Sectors Lead in 2019
IWM Hits Moment-of-truth for Breakout
FAANG Stocks are Not Dead
ETF Breakouts (PPA, TAN, XES)
Bond ETFs Reach Potential Reversal Zone
Stocks to Watch (CRON, AMAT, SCWX...)
---
Arthur Hill, CMT
Senior Technical Analyst, StockCharts.com
Author, Define the Trend and Trade the Trend
---
Want to stay up to date with the latest market insights from Arthur?
– Follow @ArthurHill on Twitter
– Subscribe to Art's Charts
– Watch On Trend on StockCharts TV (Tuesdays / Thursdays at 10:30am ET)