A consolidation within an uptrend is considered the pause that refreshes. Stocks often become overbought after a sharp advance in a short period of time and need to work off these overbought conditions with a correction. Corrections are of two types: price or time. The stock can decline and retrace a portion of the prior advance or the stock can trade sideways for a period of time. Ebay sports the latter with a sideways consolidation.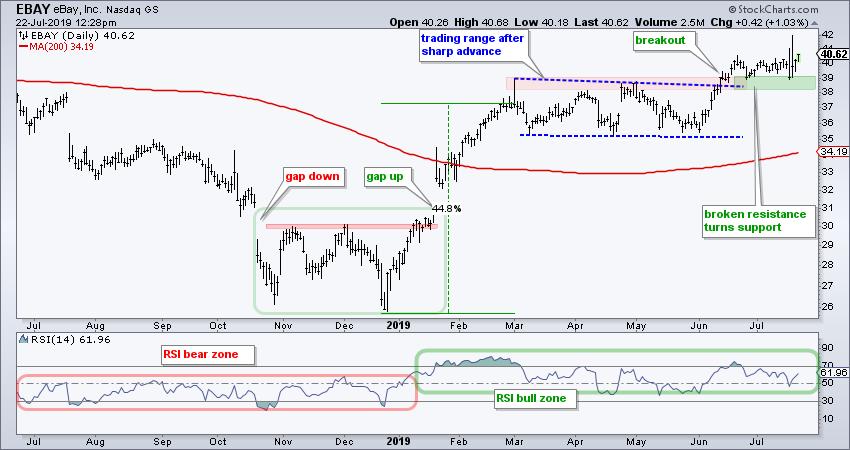 EBAY Chart
The chart above shows EBAY surging some 45% from late December to February. The stock was clearly overbought after this move and moved into a sideways trading range. This is a consolidation after an advance (time correction) and this is a bullish continuation pattern. EBAY obliged the bulls with a breakout in mid June and this breakout zone is holding. Notice how broken resistance turned into support and held the last three weeks.
Given the long-term uptrend, fresh new high and active breakout, I would expect higher prices from EBAY in the coming weeks and months. A close below 38 would warrant a re-evaluation.
---
The State of the Stock Market on YouTube
Bull Market Affirmed
Small-cap Breadth Remains Weak
IWM: Bearish Trend line Break or Bull Wedge?
Sector Table Remains Bullish
83 Stocks in Strong and Steady Uptrends
State of the Market on Art's Charts (click here)
---