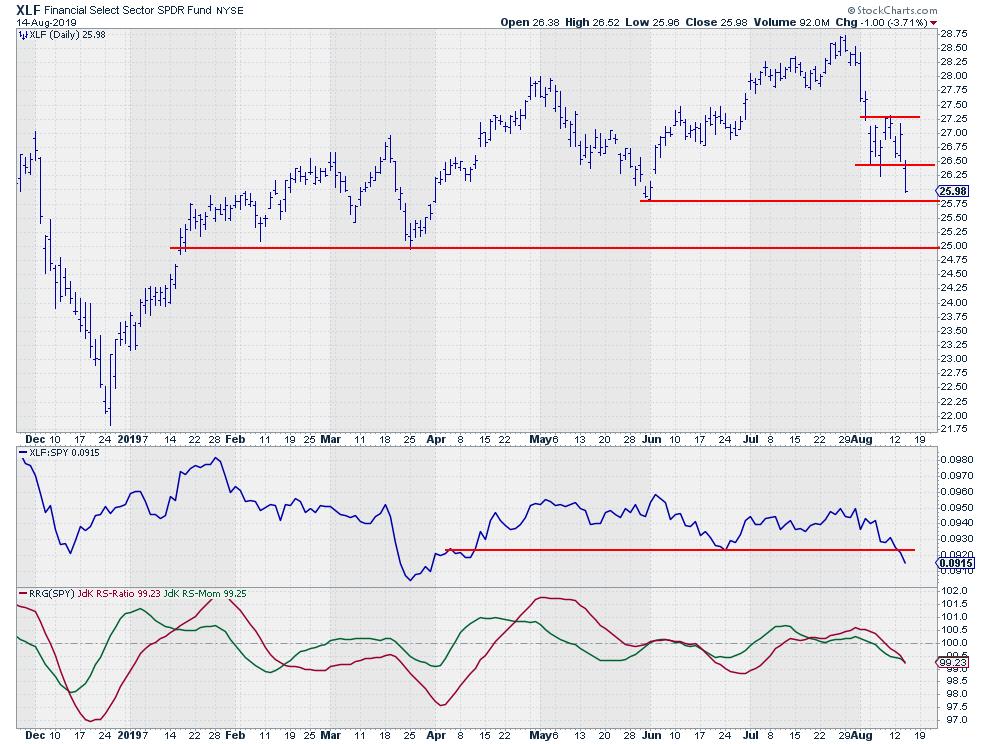 On the Relative Rotation Graph for US sectors, the tail on XLF, the Financials sector, caught my eye this morning. After a short stint through the leading quadrant, XLF had a sharp turn lower and entered the weakening quadrant, in which it spent only three days before rotating into lagging.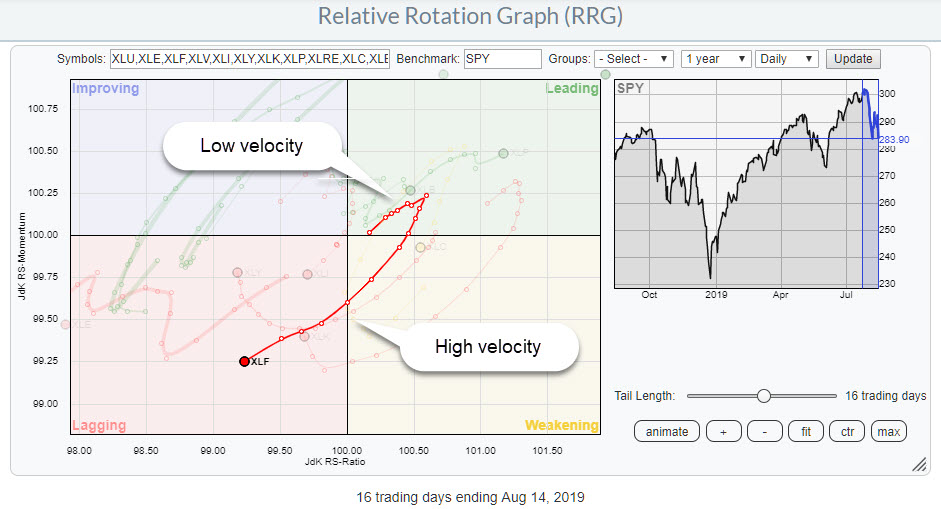 RRG-Velocity
This RRG, or the tail for XLF on this RRG, is a good example of how RRG-Velocity works. RRG-Velocity is the distance between the observations on the tail. While moving into the leading quadrant 16 days ago, the velocity was low.
Low velocity means "easier turns." Compare it to driving a car - at high speeds, it is much more difficult to make a sharp turn than when you drive at slow speeds.
When the turn completed and XLF rolled over, heading lower and into the weakening quadrant, the RRG-Velocity started to increase/accelerate. In RRG terms, this indicates that there is power behind the move.
Current Position
At this point in time, XLF is now well inside the lagging quadrant and pushing deeper into it. This rotation matches with the behavior on the price chart, where XLF closed the gap that was made on 5 August and then started accelerating lower, breaking its previous low yesterday.
The next level to watch for support (imho) is $25.75 followed by $25.00, while the old support levels above will start to act as resistance. This makes upside movement for XLF difficult/unlikely.
The rotation into the lagging quadrant on the Relative Rotation Graph indicates relative weakness. That weakness is now getting fueled by the break below the previous relative low that was set in June.
All in all, things do not look good for XLF - and when things do not look good for the third largest sector in the S&P 500, it does not bode well for the market as a whole.
---
My regular blog is the RRG Charts blog. If you would like to receive a notification when a new article is published there, simply "Subscribe" with your email address.
Julius de Kempenaer
Senior Technical Analyst, StockCharts.com
Creator, Relative Rotation Graphs
Founder, RRG Research
---
Want to stay up to date with the latest market insights from Julius?
– Follow @RRGResearch on Twitter
– Like RRG Research on Facebook
– Follow RRG Research on LinkedIn
– Subscribe to the RRG Charts blog on StockCharts
---
Feedback, comments or questions are welcome at Juliusdk@stockcharts.com. I cannot promise to respond to each and every message, but I will certainly read them and, where reasonably possible, use the feedback and comments or answer questions.
To discuss RRG with me on S.C.A.N., tag me using the handle Julius_RRG.
RRG, Relative Rotation Graphs, JdK RS-Ratio, and JdK RS-Momentum are registered trademarks of RRG Research.