Remember the slaughter in financials on the back of low yields? Well, with the bonds reversing, all the banks are now taking a big run up. J.P. Morgan, the guy, would be happy to see his stock so resilient in the face of declining interest rates. The current guy running J.P. Morgan (JPM), Jamie Dimon, is probably equally impressed. If we are going to start seeing more easing and stimulus from the central banks, this could really move.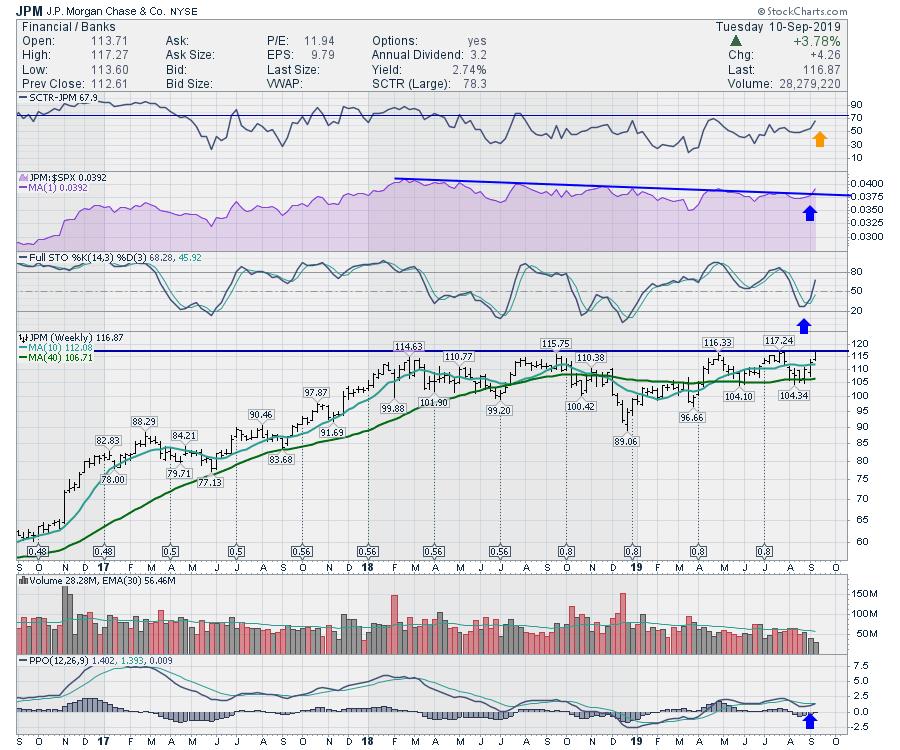 The SCTR for JPM is still in the middle of the range. It would be nice to see JPM seriously outperform and move above the 75% level. The relative strength downtrend (in purple) is just breaking out, which is bullish. I drew a blue line across the chart at the current price. It is less than $0.50 cents away from a new high. The PPO is turning up near zero and has lots of room to advance!
Check out Market Buzz live on Wednesday, September 11th at 10:30 AM ET, where I will discuss more about the banks. (If you miss the live show, you can also watch the YouTube recording later).
I do want to point out some of the places where I'll be speaking over the next few weeks. Firstly, I'll be presenting at the TSAASF.org conference on Saturday, September 14. Head over to TSAASF.ORG for more information.
On Tuesday September 17th, 2019, I'll be at the Minneapolis CMT Association meeting as part of a panel discussion about the current state of the markets. Ralph Acampora, Jay Woods, Craig Johnson, Katie Stockton and I will be rolling through some ideas for the fourth quarter of 2019 and 2020.
Lastly, on September 21, 2019, I'll be presenting at the Toronto MoneyShow.