Trading gaps from earnings is a big part of what I do. The reason is simple. When a company provides market participants new information, as a quarterly earnings report does, a new set of buyers and sellers emerge. Better-than-expected news will provide an immediate short-term boost in price, while bad news generally results in the opposite reaction. My favorite set up results from excellent fundamental earnings news where we see a very bullish reaction - a gap higher, heavy volume and a continuing price surge that day and perhaps for 2-3 more days. When a stock gaps higher as a result of buying, market makers take the opposite side of the trade, providing the necessary liquidity to keep an orderly market.
But let's keep in mind that market makers rarely lose money. Yes, they do lose on trades, but overall they make money or they wouldn't take the risk of trading their capital. The best setups, in my opinion, occur on stocks that gap higher and continue trading higher. That suggests that demand is so great that even the market makers' selling can't slow the stock down. They, in turn, have to cover by buying the stock and the upside move accelerates.
Now I don't like to chase stocks like this. Instead, I exercise patience and wait for pullbacks to show up on my daily scans - possibly back to rising 20 day EMAs, trendlines, or perhaps that key gap support. Let me give you an example:
TransUnion.com (TRU):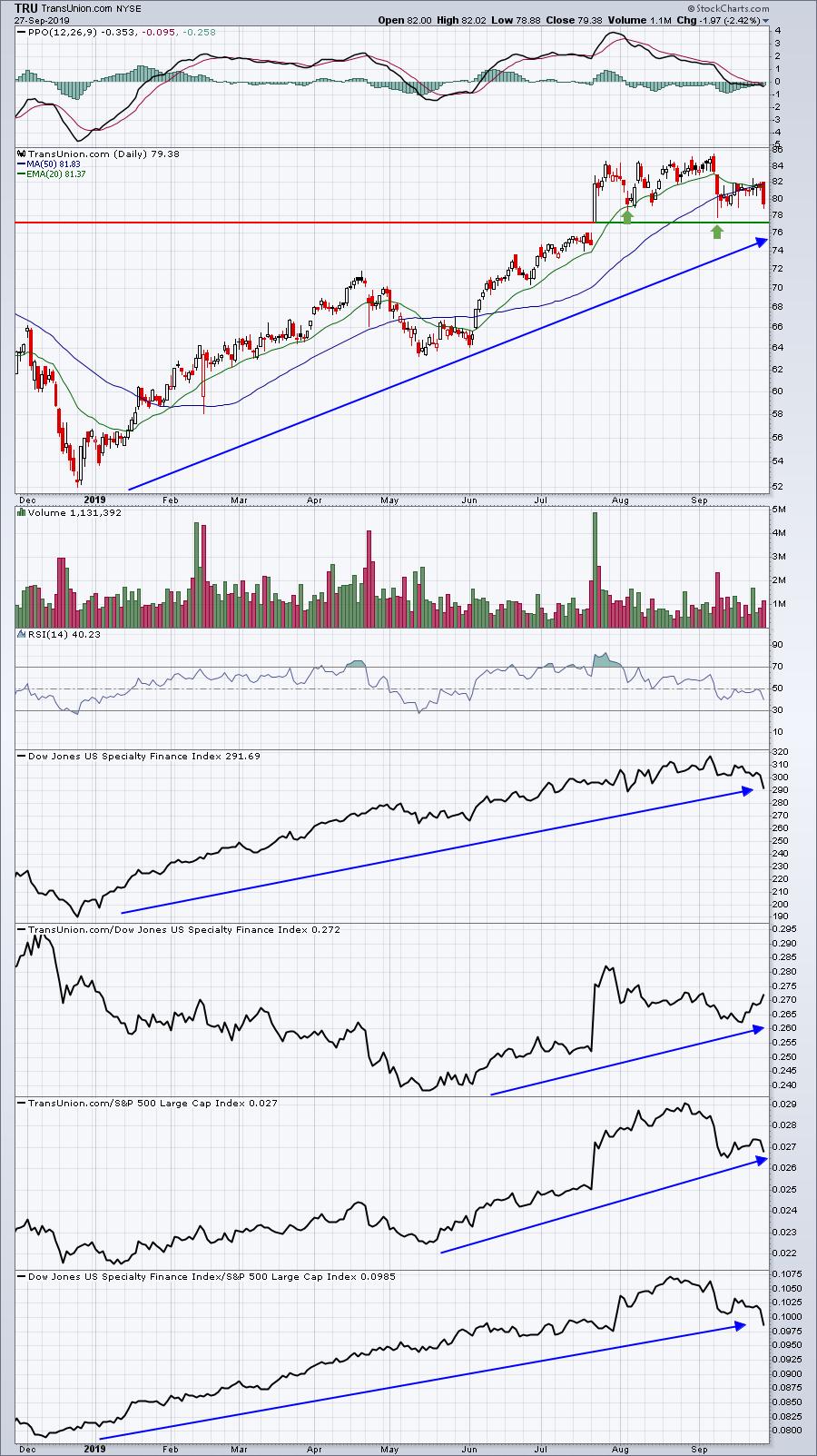 After posting excellent quarterly earnings results, well ahead of consensus estimates, TRU gapped higher and continued trading higher for the next few days. Post-earnings volume was the highest in 2019 and certainly suggested that Wall Street was accumulating the stock. The green arrows above mark the two key support levels - the first at the rising 20 day EMA and the second recently as it approach the top of gap support near 77. I would argue that 77 remains the most important price point on the chart.
If you're interested in earnings-related gaps and relative strength, that's the primary focus of my free EB Digest newsletter at EarningsBeats.com. I publish it 3x a week on Mondays, Wednesdays, and Fridays, and I'm focusing on a stock on Monday that has returned to gap support. If you're interested, I'll send it to you. Simply CLICK HERE to subscribe (for free) and I'll get you started!
Happy trading!
Tom