It's been quite an earnings season so far with over 80% of companies that have reported, coming in ahead of analyst's estimates. Even more impressive has been investor's response to these upside surprises with a large number of stocks gapping up in price. Today alone, over 50 U.S. stocks opened their day well above the prior day's high in price.
You can access a daily list of stocks that have gapped up from the Preset Screens list on Stockcharts.com.
One reason may be that many estimates had been lowered going into this reporting season due to global growth concerns. But the euphoric response? That's more difficult to pinpoint but I will tell you, it's bullish for the markets. And even more importantly, it can often point to further upside for those select stocks that gap up in price.
In order to determine the near term future for a stock following its gap up in price, you're going to have to evaluate the chart. Over a week ago, I wrote in this blog about Badger Meter (BMI) that appeared to have more upside following a 10% rally on earnings news. You can read about it here as it provides wonderful insights.
DAILY CHART OF ALEGION PUBLIC LTD (ALLE)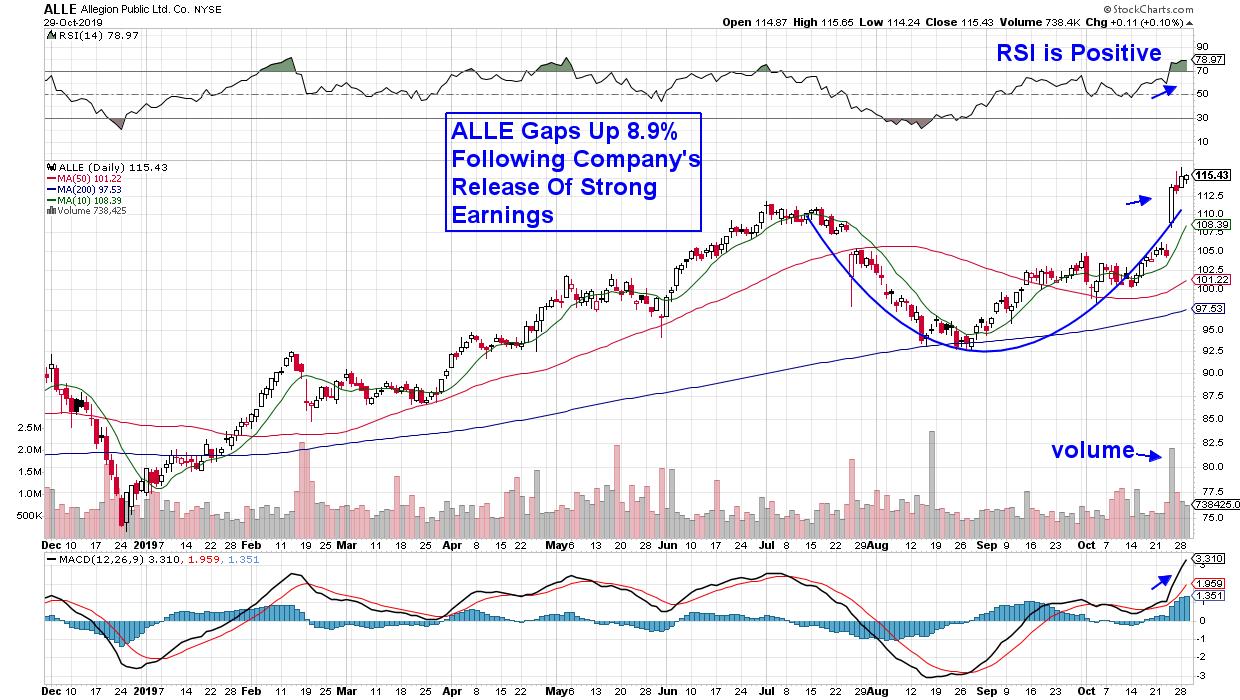 Above is an example of one of the many stocks that gapped up last week and as you can see, the stock has rallied even further this week. This is not unusual, particularly given the volume on the stock's gap up that points to institutional interest which will help drive the stock higher.
Allegian PLC (ALLE) is a Safety and Security company and a quick look at the numbers provides further basis for the stock to trade higher. Not only did the company report record earnings and sales, they came in 10% above estimates and guided earnings higher going forward.
These positive quarterly results, combined with the fact that the stock broke out of a base on its gap up, bodes well for the near term prospects. The questions is, how high and for how long? This is going to be different for each stock of course, as demand dynamics will shift depending on many factors.
If you'd like to learn a simple yet precise system to profitably trade stocks following a gap up in price, you can purchase my course by using this link here. In addition, as a Stockcharts.com member, you'll receive a bonus course that'll teach you how to spot and trade sector rotation.
One final fact about stocks that gap up out of bases on volume following the release of earnings. Historically, this is a common trait among the biggest winning stocks. And the good news is, we're only halfway through earnings season so you still have time to get in front of the next possible big winner!
Warmly,
Mary Ellen McGonagle President, MEM Investment Research