Semiconductors as a group have been performing well. I recently heard some analyst coverage suggesting that companies were ordering stockpiles of chips before the tariffs kicked in, which is driving up the "sales levels" before the tariff dates. With the round of tariffs for mid-October coming off before implementation, this could create an odd situation where they stockpile but there are no new tariffs. So temper the nice chart of Nvidia (NVDA) with this backdrop.
There have already been 11 semiconductor companies hitting new 6-month highs in October. Nvidia broke out of a long trading range on Tuesday to add to the strength in semiconductors. Now, the SCTR ranking has shown Nvidia to be a top-performing stock again after spending a year out of the top quartile.
The relative strength has been trending up since January, showing NVDA outperforming against the $SPX. Price surged above the previous high in April and closed above that level as well.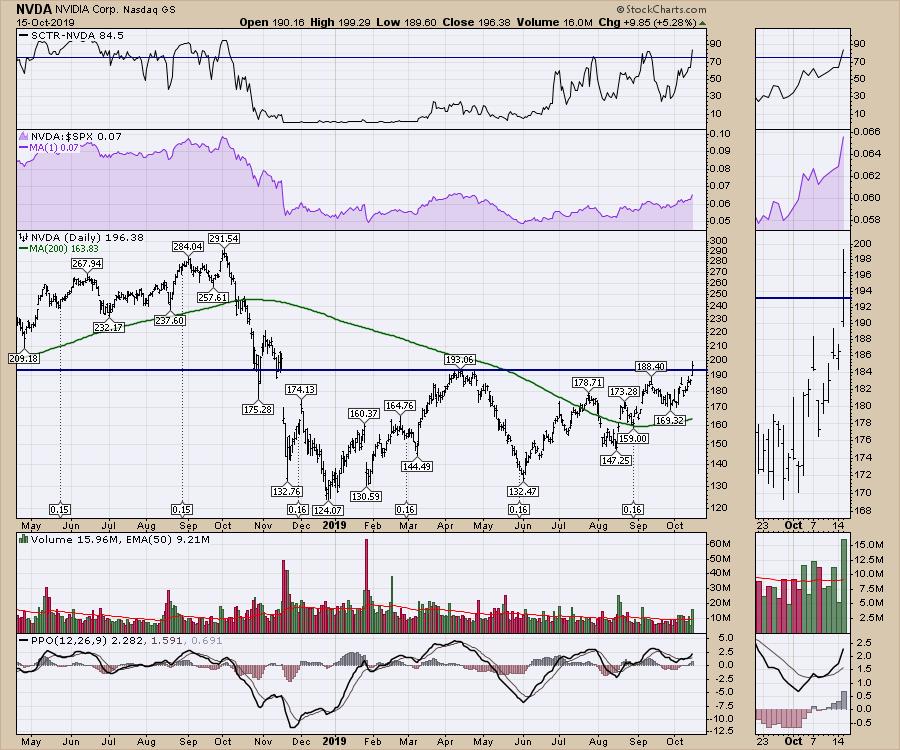 From a volume perspective, we want to see the volume increase as we breakout, which is what happened. NVDA had triple Monday's volume and almost 50% more than Friday. Lastly, the momentum is just turning up around zero on the PPO, so there is some room to run on this one.
The indexes are testing the 3000 level again. It will be important that we push through during the earnings period as that can be a good catalyst for the breakout. Watch closely to see if we can break out and hold that level into next week.