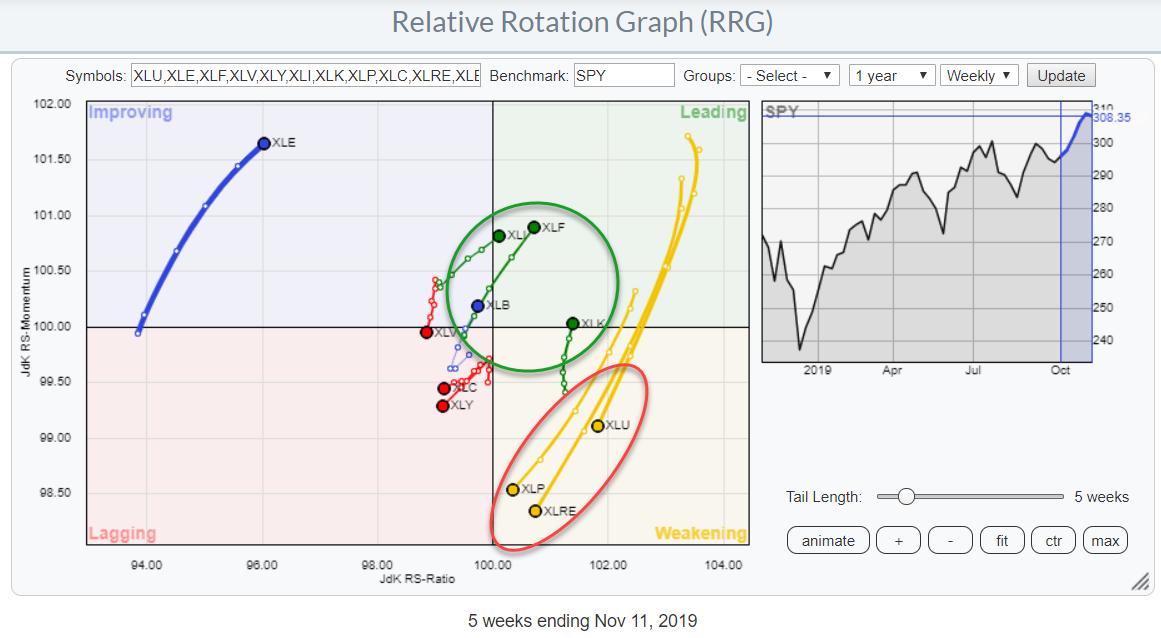 Weekly RRG - US sectors
As it turns out, finding an interesting chart for today's DITC article was not very difficult!
The weekly RRG, printed above, shows a very strong rotation in favor of offensive, high BETA sectors. Industrials, Financials, and Technology are already inside the leading quadrant and showing strong RRG headings. Technology even rotated back into leading from weakening which is a strong move.
The only high BETA sectors missing are Energy and Discretionary. Energy is definitely at a strong rotational path in terms of JdK RS-Momentum, but is still far away from crossing into leading. In terms of JdK RS-Ratio, this is still the weakest sector, so caution is needed. The real outlier here is Discretionary, which is inside the lagging quadrant and losing strength on both scales.
Where these high BETA sectors are showing strong rotation, their low BETA counterparts are showing almost the exact opposite rotational path. Utilities, Staples and Real-Estate have rapidly lost relative momentum and are now getting close to a crossover into the lagging quadrant.
This scissor like move definitely supports a strong outlook for the S&P 500.
-- Julius
---
My regular blog is the RRG Charts blog. If you would like to receive a notification when a new article is published there, simply "Subscribe" with your email address.
Julius de Kempenaer
Senior Technical Analyst, StockCharts.com
Creator, Relative Rotation Graphs
Founder, RRG Research
---
Want to stay up to date with the latest market insights from Julius?
– Follow @RRGResearch on Twitter
– Like RRG Research on Facebook
– Follow RRG Research on LinkedIn
– Subscribe to the RRG Charts blog on StockCharts
---
Feedback, comments or questions are welcome at Juliusdk@stockcharts.com. I cannot promise to respond to each and every message, but I will certainly read them and, where reasonably possible, use the feedback and comments or answer questions.
To discuss RRG with me on S.C.A.N., tag me using the handle Julius_RRG.
RRG, Relative Rotation Graphs, JdK RS-Ratio, and JdK RS-Momentum are registered trademarks of RRG Research.