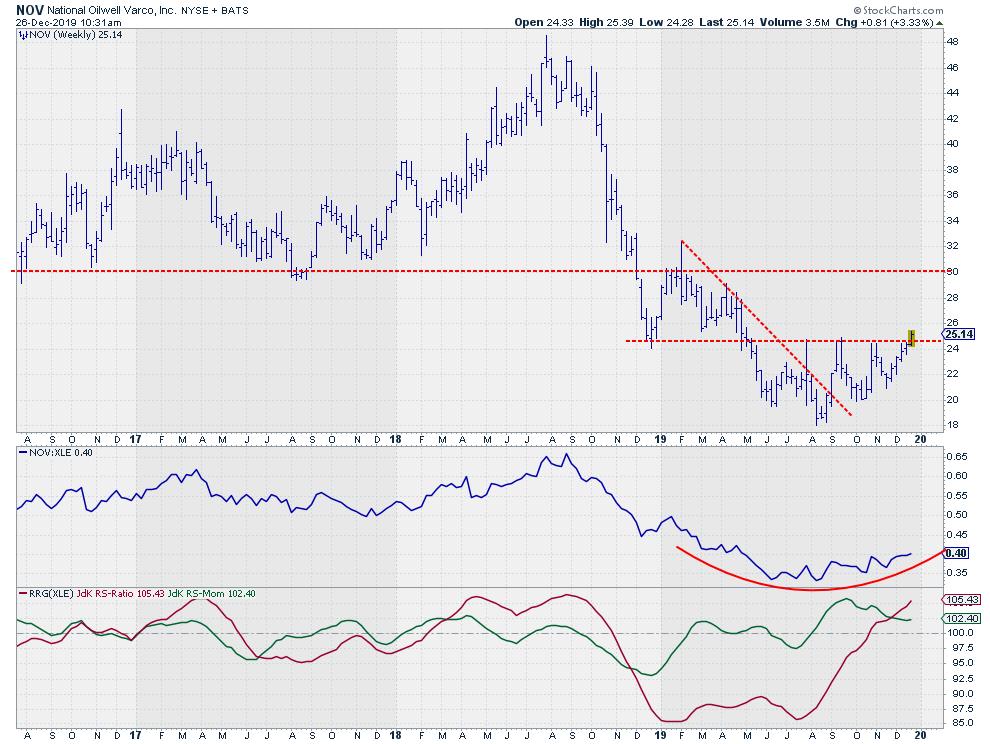 NOV - Weekly bar chart with RS and RRG-Lines
On the above Relative Rotation Graph, the Energy sector (XLE) hooked back towards a positive RRG-Heading while inside the improving quadrant. In terms of the JdK RS-Ratio, it is still the weakest sector, but things seem to be starting to improve.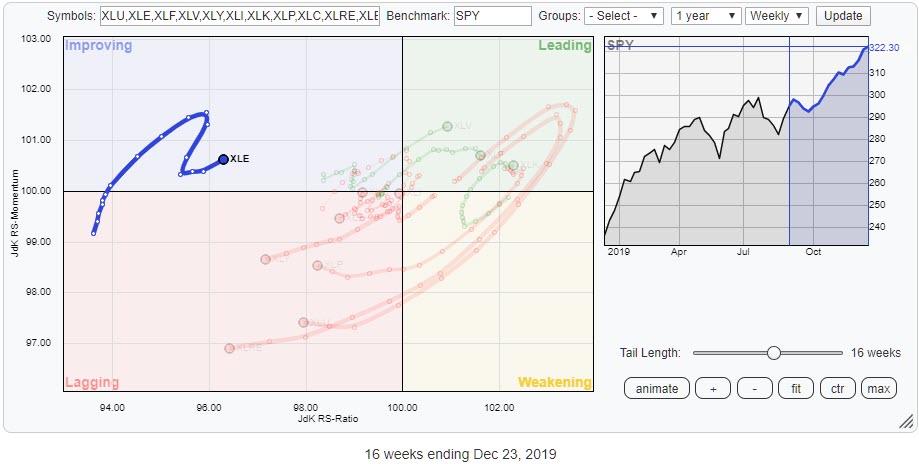 Although the sector as a whole may not be ready for you to fully invest in, there are definitely a few stocks inside the sector that are worth an extra look. One of these names is NOV, National Oilwell Varco.
The chart above shows how NOV dropped from $48 to $18 within a year, from August 2018 to August 2019. After the stock found support in the area around $18, a consolidation process started that lasted a few months and currently seems to be on the verge of being broken upwardly.
On the weekly bar chart, price is peeking above the horizontal barrier at $24.75. If we are able to hold above this level at this Friday's close, the road is free for a rally towards $30, where the next overhead resistance level is found.
From a relative perspective, the RS-Line is completing a rounding bottom and has just started a series of higher highs and higher lows. The RRG-Lines are now both comfortably above 100, positioning NOV well inside the leading quadrant and at a positive RRG-Heading.
When the improvement in the Energy sector manages to continue, NOV could be one of the stocks leading the charge.
--Julius
---
My regular blog is the RRG Chartsblog. If you would like to receive a notification when a new article is published there, simply "Subscribe" with your email address.
Julius de Kempenaer
Senior Technical Analyst, StockCharts.com
Creator, Relative Rotation Graphs
Founder, RRG Research
---
Want to stay up to date with the latest market insights from Julius?
– Follow @RRGResearch on Twitter
– Like RRG Research on Facebook
– Follow RRG Research on LinkedIn
– Subscribe to the RRG Charts blog on StockCharts
---
Feedback, comments or questions are welcome at Juliusdk@stockcharts.com. I cannot promise to respond to each and every message, but I will certainly read them and, where reasonably possible, use the feedback and comments or answer questions.
To discuss RRG with me on S.C.A.N., tag me using the handle Julius_RRG.
RRG, Relative Rotation Graphs, JdK RS-Ratio, and JdK RS-Momentum are registered trademarks of RRG Research.