Insulet Corp. (PODD) had an exceptional year in 2019, as the stock powered to new highs on the heels of triple-digit growth during its first three earnings reports of the year. The insulin pump maker for diabetics peaked in price in December and has been consolidating ever since.
An increase in the number of diabetes patients worldwide has made insulin pumps a growth market and PODD is benefitting as analysts are calling for 227% earnings growth for next year. The stock broke out of a 7-week base today - putting it on track for further upside.
DAILY CHART OF INSULET CORP. (PODD)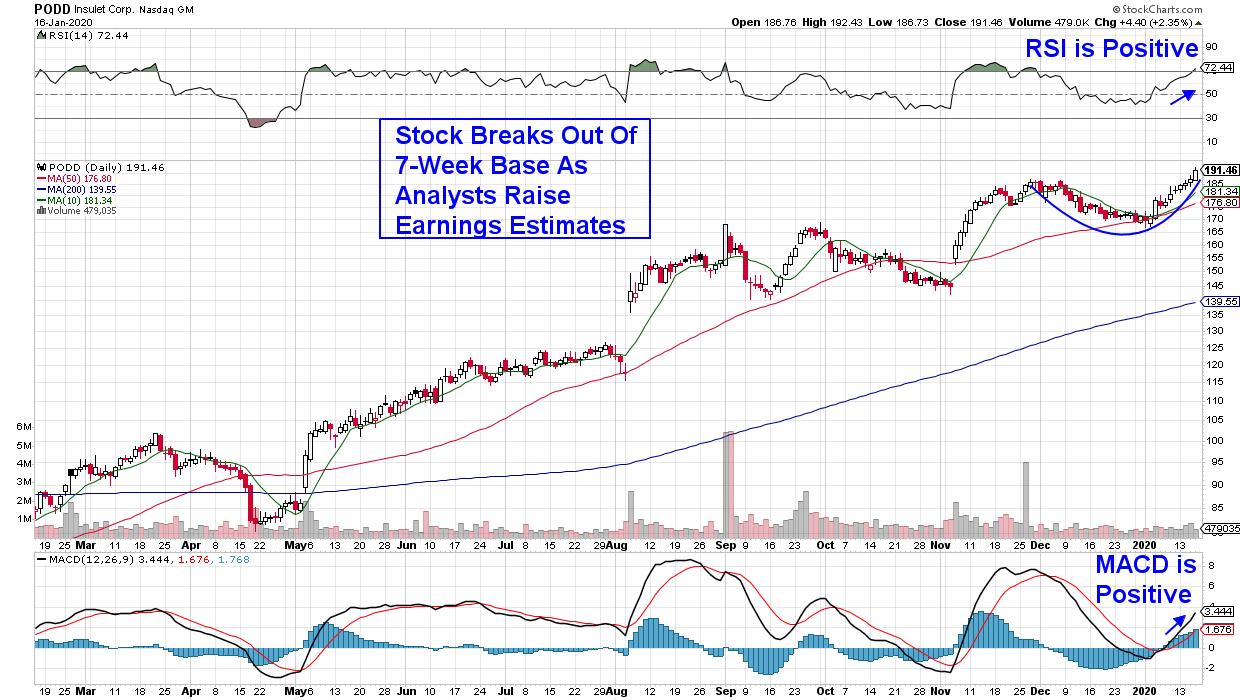 In addition to bullishly breaking out of a base, Insulet Corp (PODD) has a positive MACD and, while the RSI is positive, it's above 70 and has entered an overbought position. Stocks can oftentimes still go higher when the RSI is above this level; however, an overbought RSI points to the need for a pullback at some point in the near future. This would be an ideal entry point provided PODD finds support at its shorter-term moving averages.
And while the stock is technically sound, the most important driver of this and any winning stock is its ability to produce strong earnings. In fact, high earnings is the number 1 characteristic of stocks that go onto great heights, as outlined in William O'Neil's top seller How To Make Money In Stocks, and PODD's triple digit earnings outlook would certainly qualify.
My many years working with professional money managers while with William O'Neil & Co. has put me in a unique position to help investors uncover these winning stocks. For those who'd like to trial my bi-weekly MEM Edge Report for a nominal fee, CLICK HERE!
Earnings season is shaping up to produce some powerful stocks and you won't want to miss out!
Warmly,
Mary Ellen McGonagle