I believe all 5 FAANG stocks - Facebook (FB), Apple (AAPL), Amazon (AMZN), Netflix (NFLX) and Alphabet (GOOGL) - will end 2020 higher than they started. The question is, how much higher? Which one is THE stock to own? If you asked me which company I believe is simply the best in terms of products, customer service, etc., there'd be little hesitation. It's AAPL. But that's why it has the highest market capitalization in the world. That's not the question here. Personally, I believe AAPL is quite risky because it's been priced for perfection heading into 2020. One hiccup and AAPL will find itself mired in a lengthy basing period. It's been on a rampage higher and it cannot afford any disappointments. But, as you'll see with the 10-year weekly charts below, AAPL is easily the most overbought of the 5 on an absolute and historical basis. That could spell trouble in terms of 2020 performance.
Here are the five 10-year weekly charts, with relative charts vs. the S&P 500 in the panel beneath each. Take a look at them and form your own conclusions; I'll give mine below.
Facebook (FB):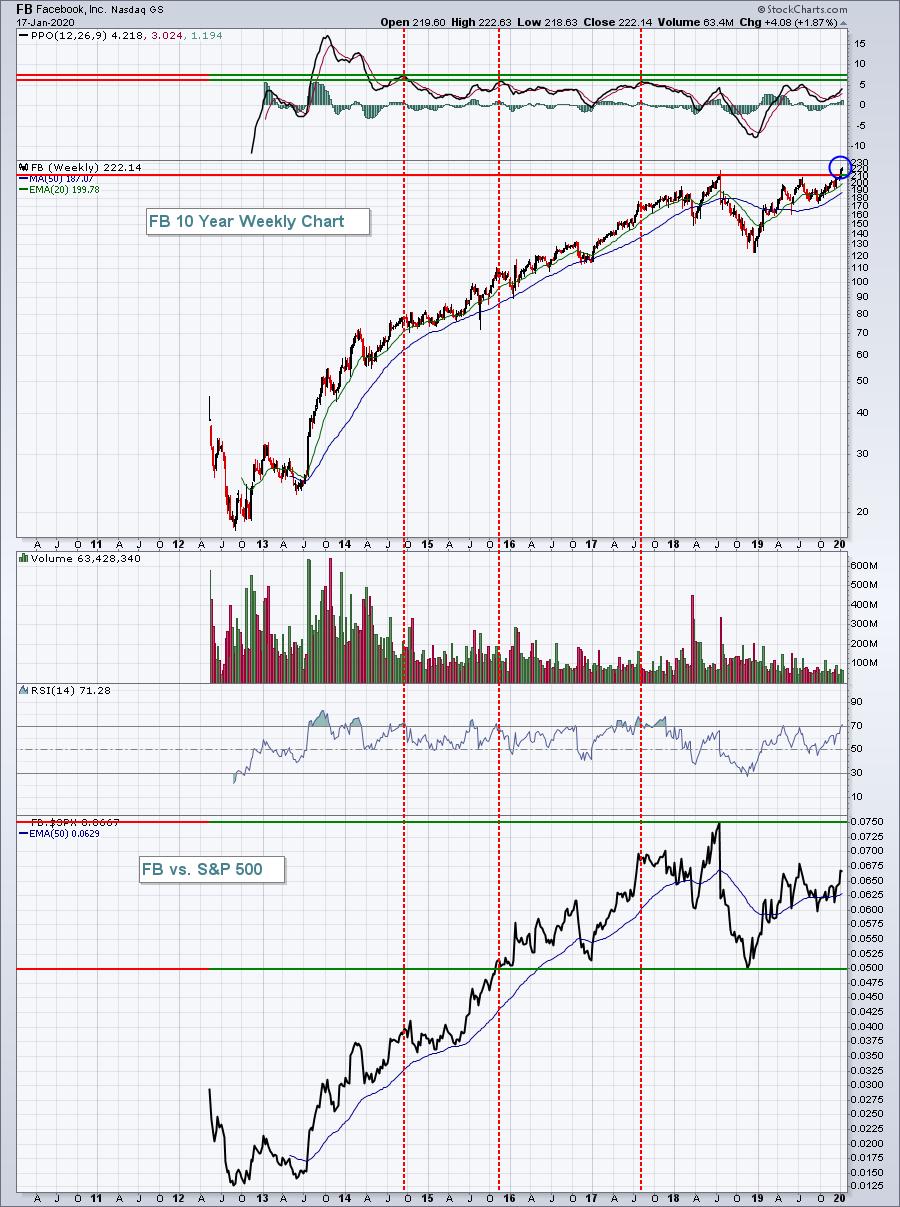 Apple (AAPL):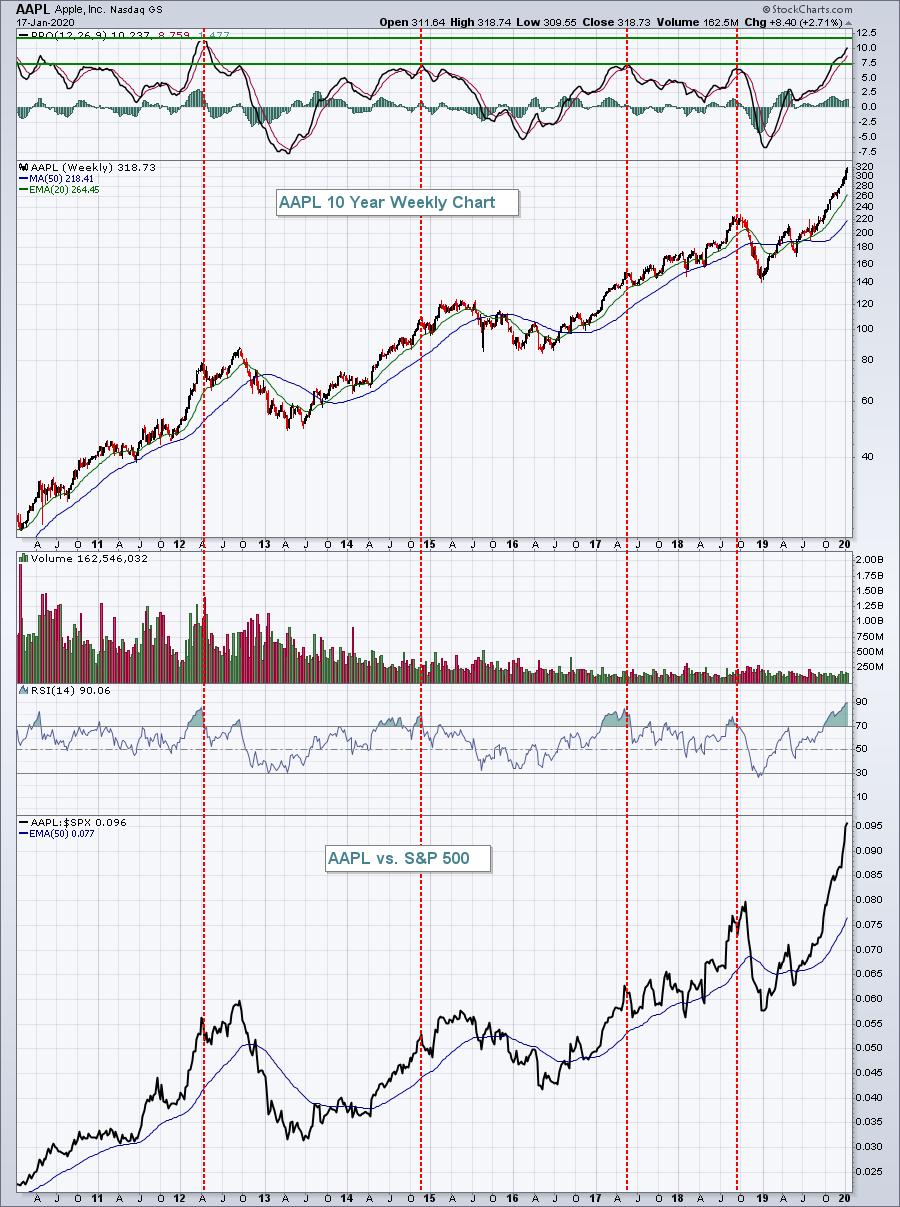 Amazon.com (AMZN):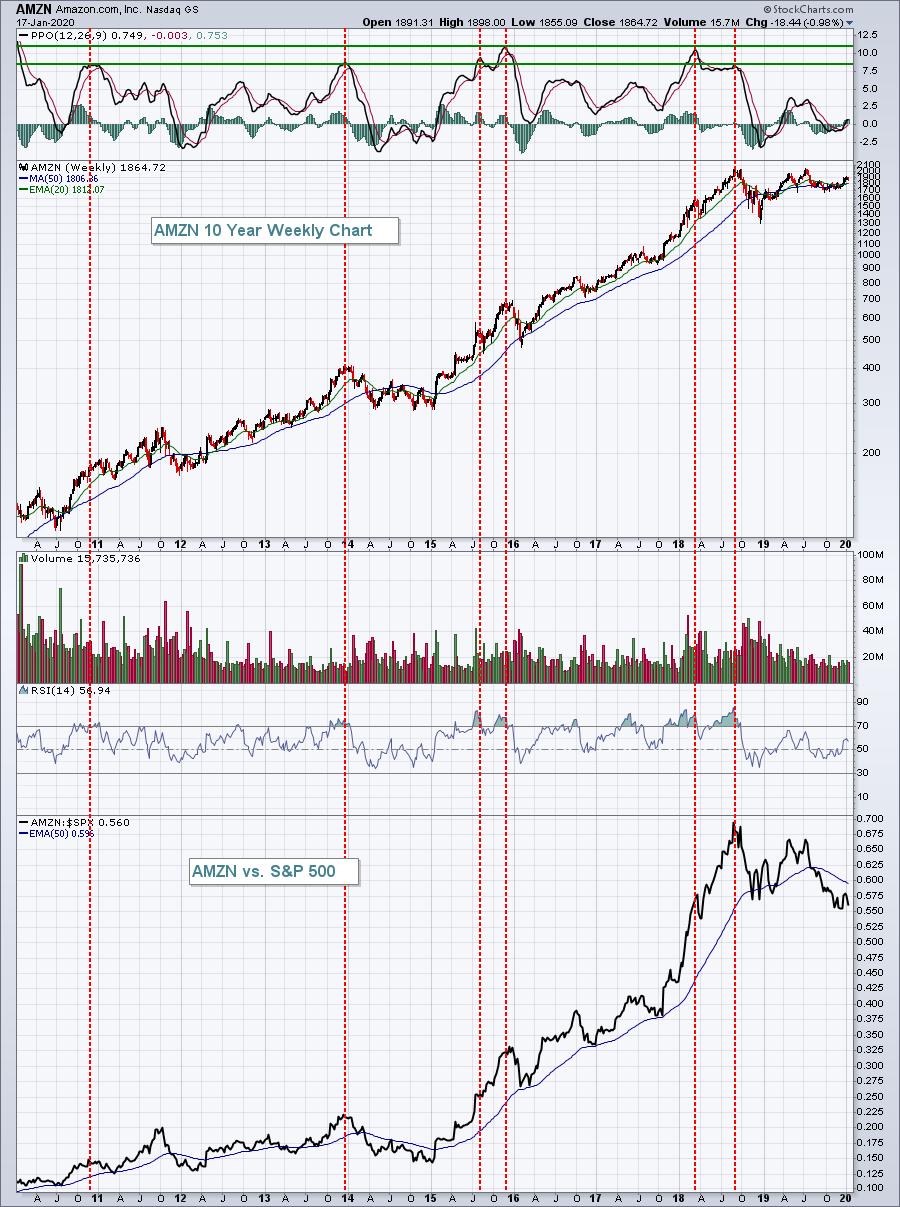 Netflix (NFLX):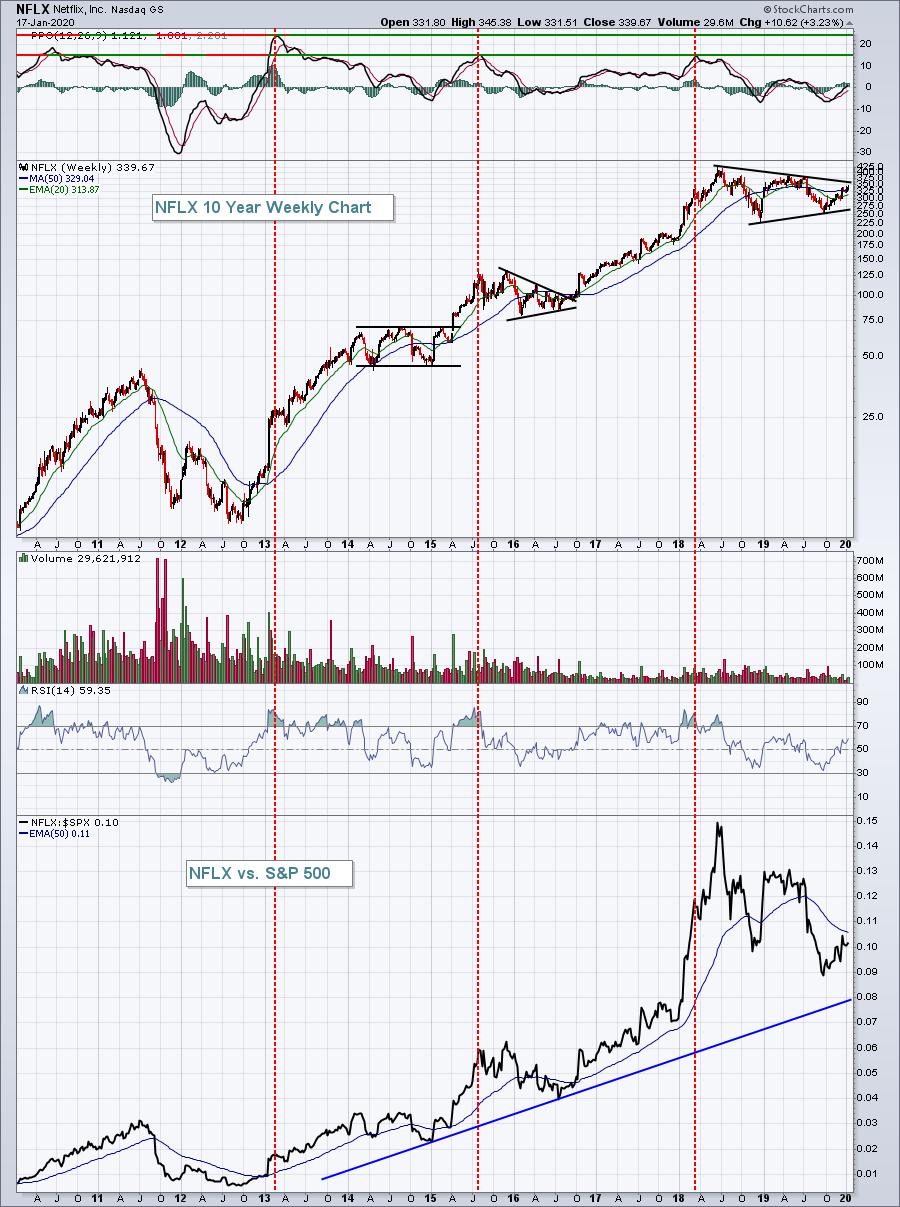 Alphabet (GOOGL):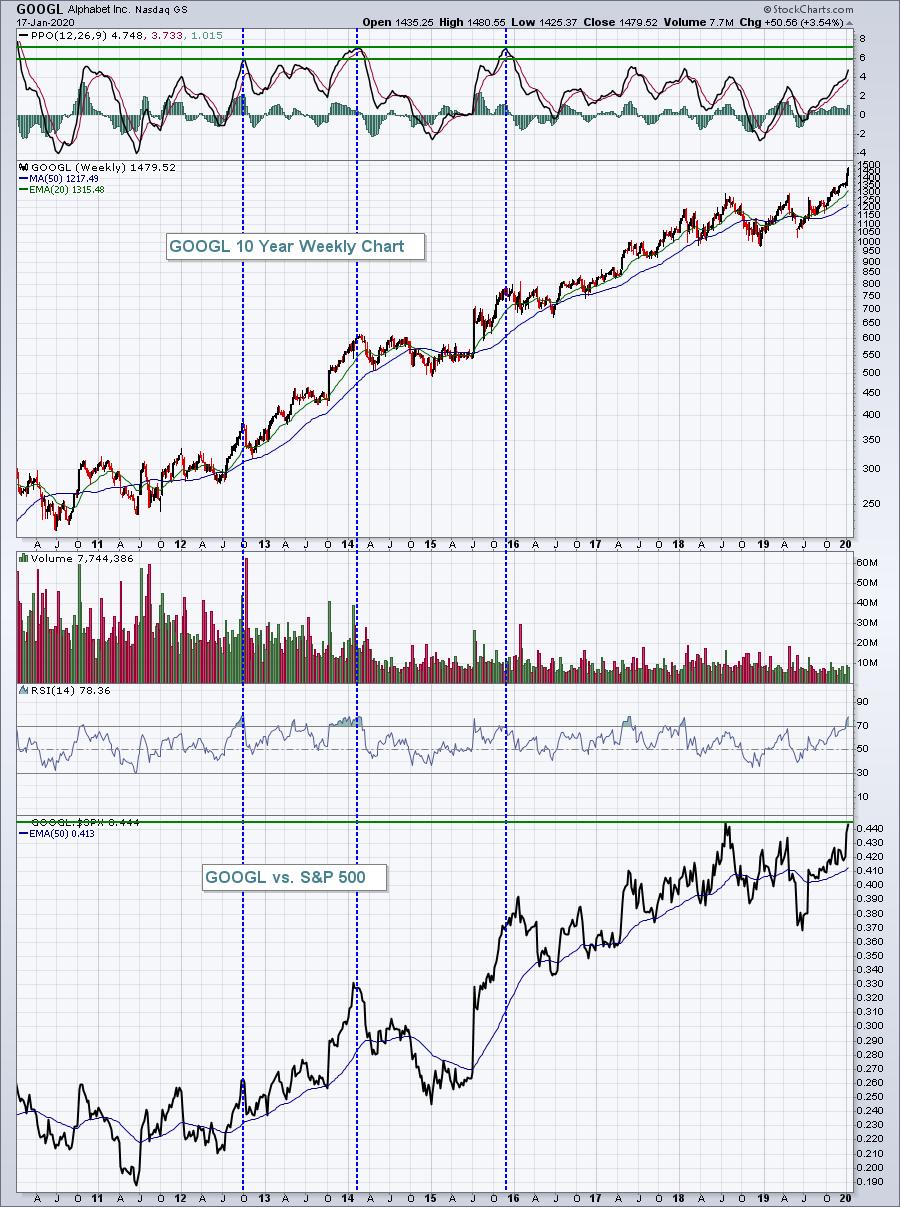 There are the charts and how each of the 5 FAANG stocks have performed on both an absolute and relative basis throughout this bull market. One thing that comes across quite vividly is that we see rotation between the stocks; they are rarely overbought and extended all at the same time.
So which one appears poised to outperform? I'm going to start by simply narrowing it down, eliminating them one at a time.
The first to go - AAPL. If I had to bet which one of the FAANG stocks is most likely to post blowout quarterly results in the next couple weeks, I'd go with AAPL. A stock rises like this for one primary reason; Wall Street has visited with company management and they LOVE what they're hearing. I expect you'll see consensus estimates roasted. Look for raised guidance too. But the problem with AAPL, in my opinion, is that the price already reflects this. AAPL has gained nearly 50% since early October!!! It's extremely overbought by any measure. It's time for a rest. I will be shocked if AAPL turns out to be the best-performing FAANG stock of 2020. This one was easy for me to eliminate.
Next to be eliminated? AMZN. First, it's part of the consumer discretionary sector (XLY), which has seen its leadership stripped in recent months. Furthermore, broadline retail ($DJUSRB) is trading beneath where it was in August 2018. AMZN has been trading down vs. its broadline retail peers for over a year. Listen, AMZN is a great company and one we should watch if it breaks out and begins to show leadership again. I don't want to assume that will happen in the near-term. I'm passing on AMZN for now, despite the fact that it's a GREAT company.
Second runner up? NFLX. Ok, it hurts for me to say this. Why? Well, look at the relative strength panels at the bottom of each chart, look to see where each of the five stocks were 10 years ago and then look at where they are now. NFLX has blown these other FAANG stocks away in terms of relative performance vs. the S&P 500. There haven't been many companies that have performed better than NFLX in the past decade. I love the company and love their products. Their business model is validated as both AAPL and AMZN are trying to penetrate their market. NFLX is the leader in a growing industry, which always suggests an investment is warranted. The problem? Like AMZN, it's consolidating and floundering a bit relative to its peer group in internet stocks ($DJUSNS). I believe NFLX will breakout and explode higher, but I don't know when. That's why I'm eliminating it.
That brings me to just two stocks - FB and GOOGL, both internet stocks. Let me first show you the chart of the DJUSNS: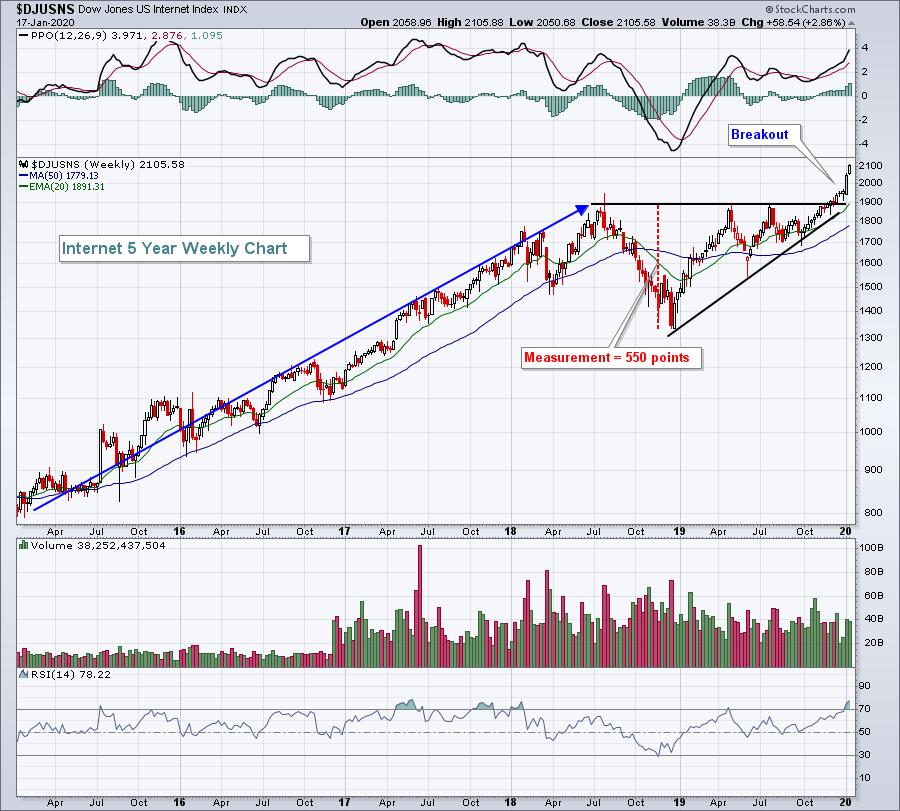 The industry group has broken out of a consolidation pattern (some might see an ascending triangle, some might call it a cup with handle) that measures 550 points higher from the breakout. So a fundamental consideration in my FAANG argument is that I love the internet stocks in 2020. That's why NFLX is #3 and FB and GOOGL are battling for the top spot. I like internet more than computer hardware ($DJUSCR, think AAPL) and broadline retail (think AMZN).
FB and GOOGL have both broken out of bullish continuation patterns. So which is it?
I'm taking FB. FB just overcame a 40% drop in 2018 that likely chased away a number of weaker hands, then consolidated near the July 2018 high for months before just recently breaking out. It's now moving into blue sky territory with weak hands in the rearview mirror. GOOGL also broke out, but is already more than halfway toward its measurement from its recent sideways consolidation breakout.
Earnings reports are right around the corner and can always change the character of a chart. NFLX to me is the biggest wild card, because it's been the fastest 10-year grower among the five in terms of share price and it's in a great industry group right now. If NFLX blows away earnings estimates this week and can clear its current symmetrical triangle, I'd have to at least consider giving it the nod. But as of right now, I'm going with FB.
Speaking of earnings, I love to predict how companies will report based on whether they're being accumulated or distributed by Wall Street. Three months ago, I gave EarningsBeats.com members 15 stocks heading into earnings season that I expected would report strong revenues and EPS based on my relative strength interpretation. Here are those 15 stocks and how they've performed over the past 90 days: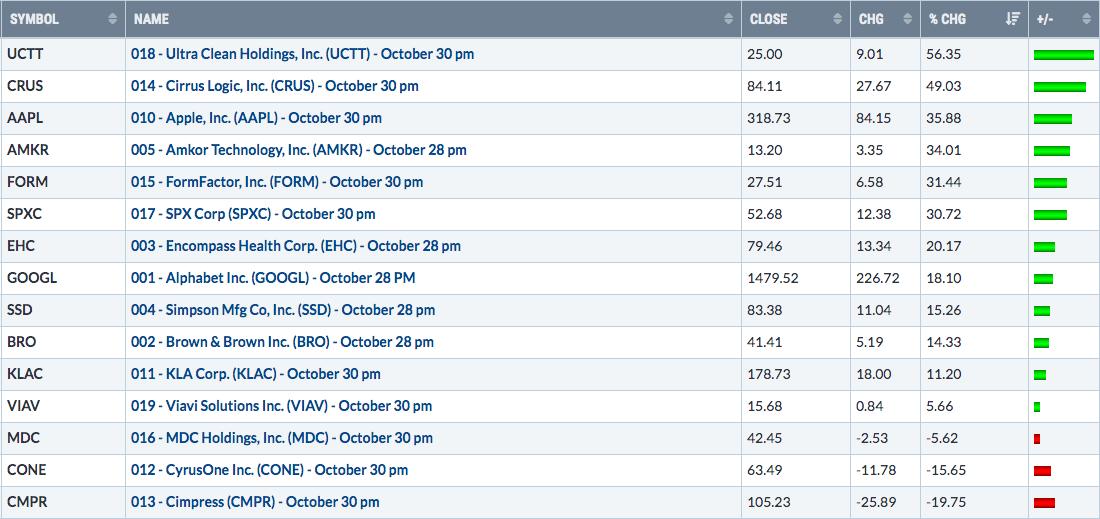 The results were strong this past quarter and I'm looking to release 15 more on Tuesday at 4:30pm during my "Q4 Earnings Sneak Preview" webinar. To attend, you simply need to be a member of the EarningsBeats.com community, which includes our free newsletter, EarningsBeats Digest. CLICK HERE to sign up and for more information.
Happy trading!
Tom