This market has definitely been rewarding the Top 5 tech companies. Their recent surge in the last few months has been nothing short of remarkable. While we have seen surges like this before and the compression focus into a few of the leading names, it seems a little narrow to keep naming those as the names that one should continue to expect more from right here.
There have been numerous stocks that have been beaten down throughout 2019; one of those industry groups has been marijuana-related trades. After a high-flying 2018, we saw a morning-after syndrome over and over in 2019. Early in 2020, however, a few names have started to turn up. For example, CRON and CGC are looking a little better, and there are other names that are less well-known that are starting to perk up as well. Let's focus in on Canopy Growth Corporation (CGC).
First of all, CGC's price is up 16% in a week, so that gets hard to hold as a short position. When price accelerates like that, it can force them to buy to close the short position, which accelerates the upside pressure. It is still the early days as the RSI has not tripped above 50 on this weekly chart, but low entries come with some risk.
In the purple panel, the stock has stopped underperforming the $SPX and is close to 3-month relative strength highs.
The full stochastic gave an early buy signal back in November on the sudden reversal of the low. After jogging sideways for a month, this week is starting to see the acceleration in the price action. The stock was well over $50 last year, so getting back to the old highs would be a double. Based on the volume, there are some investors who have been starting to accumulate the stock. The major long-term momentum trend is shown on the PPO. I like at least four months to reverse a downtrend. From the May highs of 2019, there is a nice downtrend starting to turn up. We also need to get through the long red line that goes back two years.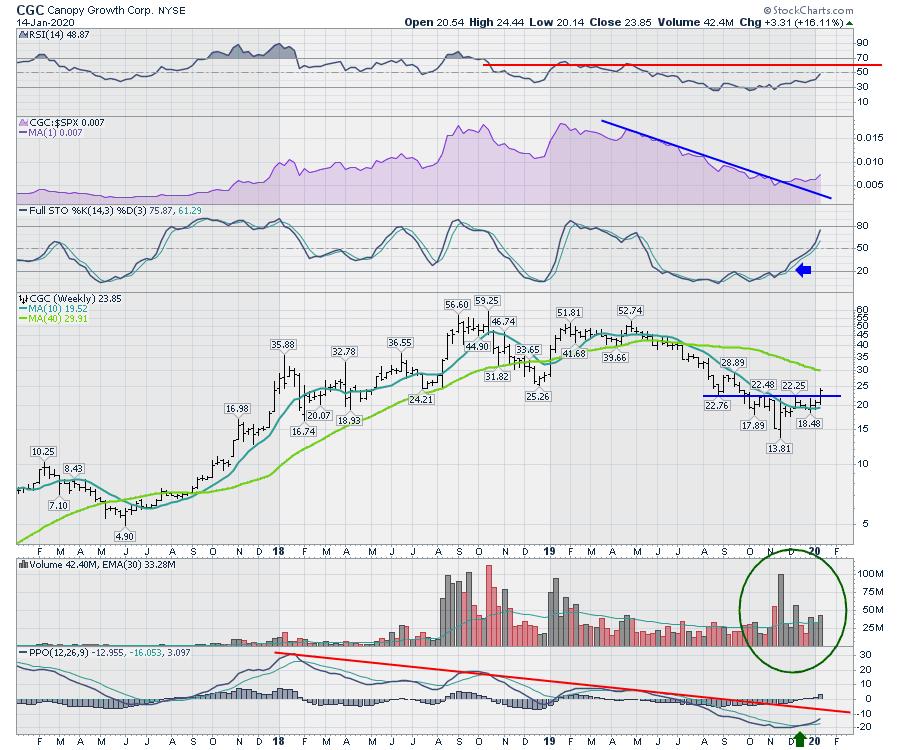 As a trading stock, this looks ready to move on with good volume and a nice little base built. When this trend starts to improve, price can move quickly. If the stock starts to fail, don't be a hero. There are lots of fundamental reasons this could trade lower, but technically it looks like the start of something bigger. Set your stop and ride the new trend to the upside.
If the former leaders can start to get a bid here, there could be some healthy upside as an industry starts to emerge.