A week ago, I published an article here in the Don't Ignore This Chart blog highlighting two renewable energy stocks ($DWCREE) - SEDG and ENPH. Both have gained in the 25%-30% range in one week. It illustrates how trading leading stocks in leading industry groups can pay off. Every quarter, we announce our 10 equal-weighted stocks that will comprise our Model Portfolio. The entire portfolio is made up of such stocks - leaders in their respective industries - and SEDG is one of our 10 Model Portfolio stocks. Our Model Portfolio, as of a few moments ago, was higher by 160% since its inception on November 19. 2018, less than two years ago. By comparison, the S&P 500 is up roughly 26%. Here are our current Model Portfolio stocks and how they're performing relative to the benchmark S&P 500: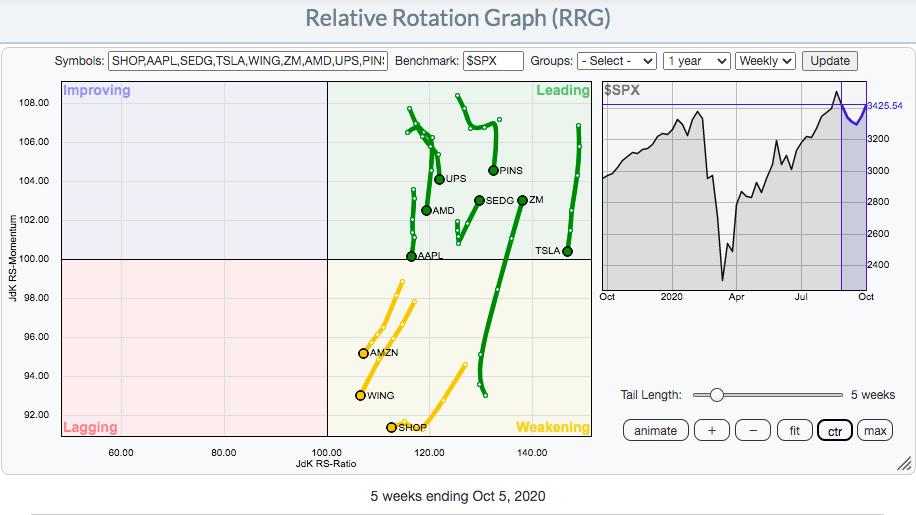 Note that all 10 stocks are to the right of center, highlighting the fact that all 10 stocks are relative strength winners. This is exactly what we want to see and also exactly what has led to our tremendous outperformance over time.
On Saturday, at 11:00am ET, Grayson Roze, VP of Operations at StockCharts.com will join me for a free webinar, "The Power of StockCharts Tools with EarningsBeats Research Engine". Then, on Monday at 4:30pm ET, I'll host another free webinar, "Sneak Preview: Model ETF Portfolio". We'll be looking to duplicate our portfolio success, but this time with ETFs. We'd love to have you join us for either or both of these highly educational events. For more information and to sign up for our free EB Digest newsletter (no credit card required and you can unsubscribe at any time), CLICK HERE!
Happy trading!
Tom Bowley, Chief Market Strategist, EarningsBeats.com