Emami Limited is one of the leading and fastest growing personal and healthcare businesses in India, with an enviable portfolio of household brand names such as BoroPlus, Navratna, Fair and Handsome, Zandu Balm, Mentho Plus Balm, Fast Relief and Kesh King.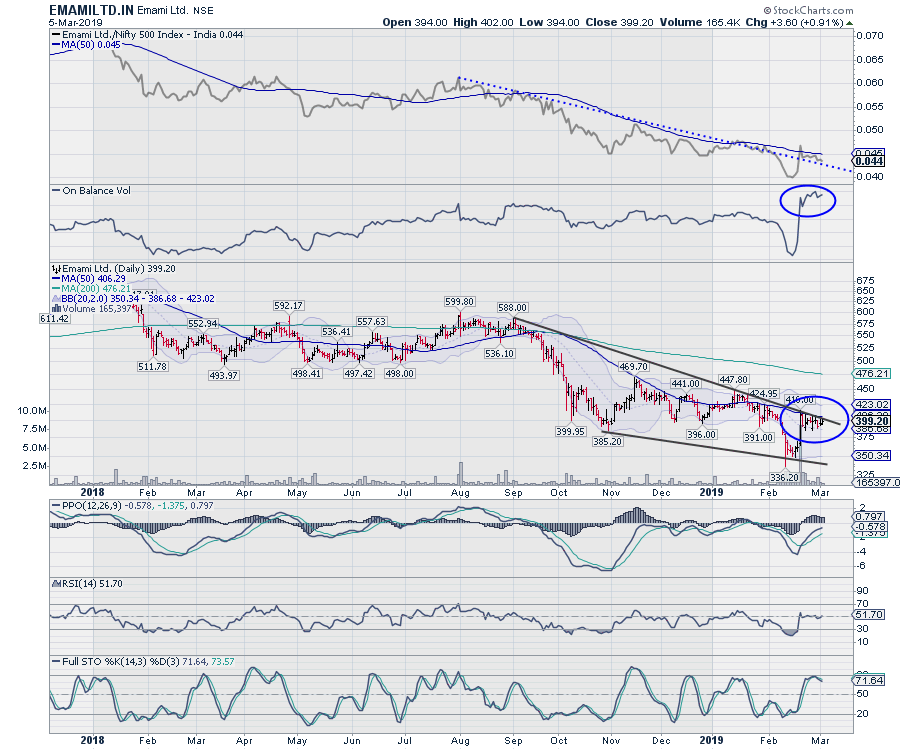 The stock price of EMAMILTD.IN has been under-performing the general markets for the past couple of months. After testing high near 599, the stock has remained in a corrective decline. It tested its lows near the 336-mark and witnessed a sharp pullback from there. However, a few signs have emerged that point towards a likely reversal of this downtrend.
The current price is facing a resistance from a falling trend line, which is drawn from 588 and joins subsequent lower tops. A small flag pattern is observed as the stock price consolidates in a narrow range. The 50-DMA, which is presently at 406, also runs along this falling trend line.
The RS Line, which has been falling over the past couple of months, can be seen reversing its trend. While the stock prices consolidated, the On-Balance Volume (OBV) has seen a sharp up-move. This is a bullish sign, acting as a confirmation of volumes. The daily MACD remains in buy mode, while weekly MACD has shown a positive crossover and is now bullish, trading above its signal line. The weekly PPO has turned positive. RSI is seen breaking out of a formation while also marking a higher bottom. Additionally, RSI is showing a bullish divergence against the price.
The stock is expected to see some upward revision in prices over the coming days. If the present pattern is resolved on expected lines, the stock may test the 450-470 levels. Any move below 350 will be negative for the stock.
Milan Vaishnav, CMT, MSTA
Consulting Technical Analyst
www.EquityResearch.asia
---
Disclosure pursuant to Clause 19 of SEBI (Research Analysts) Regulations 2014: Analyst, Family Members or his Associates hold no financial interest below 1% or higher than 1% and have not received any compensation from the Companies discussed.
Announcement from the Author
{{ announcement.content }}