Graphite India Limited - GRAPHITE.IN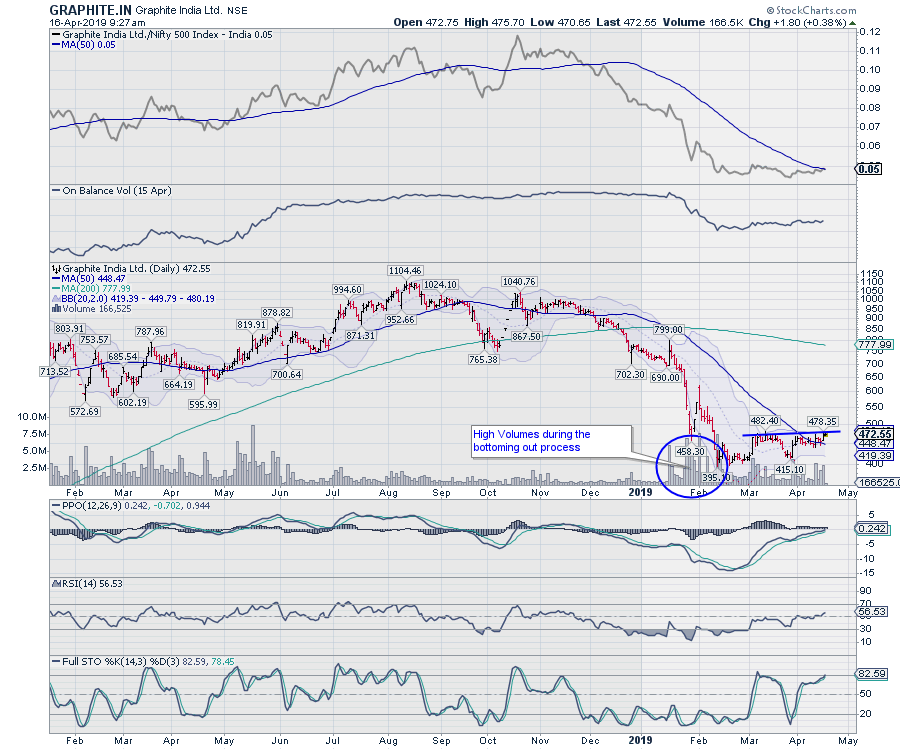 GRAPHITE looks to be confirming its bottom in the 395-415 zone. After marking a low near 395, the stock has formed a base in the 395-415 zone; having experienced a sideways move over past couple of weeks, a breakout appears likely. The RSI, which is a leading indicator, has already marked a fresh high with a bullish divergence. It can be seen breaking out of a pattern formation and moving higher. The volumes increased heavily while the stock marked its lows, something that often marks a potential bottom.
The Daily MACD is in continuing buy mode while PPO is positive. The weekly MACD can be seen sharply moving towards a positive crossover. While remaining oversold on weekly Stochastic, it is improving its relative performance against the broader CNX500 Index, as indicated by the RS Line. The stock has penetrated its 50-DMA, which is 450. The Bollinger Bands are over 71% narrower than normal, which suggests lower than usual volatility in this stock. Therefore, the probability of volatility increasing with a sharp price move has increased for the near-term. The stock can return potentially return ~12%-15% from its present levels of 470. Any move below 435 will be negative for the stock.
Milan Vaishnav, CMT, MSTA
Consulting Technical Analyst
www.EquityResearch.asia
---
Disclosure pursuant to Clause 19 of SEBI (Research Analysts) Regulations 2014: Analyst, Family Members or his Associates hold no financial interest below 1% or higher than 1% and have not received any compensation from the Companies discussed.
Announcement from the Author
{{ announcement.content }}