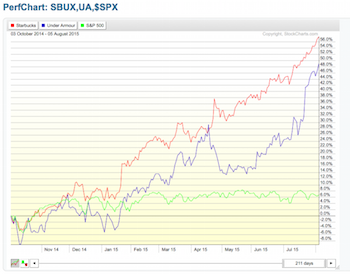 Harvey Baraban is a Wall Street insider. As the former CEO of Baraban Securities, he managed 1,500 brokers and trained over 30,000 men and women for certification as full-service stockbrokers. In the 1970s, he partnered with billionaire investor Gerald Tsai who was famous for starting the first publicly-sold Fidelity Growth Fund. Considered to be the father of momentum investing, Tsai also had an extraordinary record running the Manhattan Fund for years based on his momentum investing principles. I recently asked Harvey Baraban to write about the key insights he learned from Tsai. Here is what he wrote:
I was fortunate to have had Gerald Tsai as both a partner and a mentor. He taught me the ropes of how to be a successful trader using momentum as my key technique. With momentum investing being very much in the news today as the style of choice, I thought it would be appropriate to review the meaning of momentum because the phrase "in momentum" is quite different than a "momentum stock".
A "stock in momentum" is a stock that is rising and capturing new buyers, simply based on the fact that the stock is rising and showing only small pullbacks of less than 7% during its rise. The continuous rise in the stock is based more on technicals than on fundamentals. As you know, in the world of money management, portfolio managers have to compete with their peers as to performance. A rising stock owned by leading fund managers forces other managers to buy the stock in order to match or exceed the leading managers' performance. These insiders know that in order to maintain the momentum label, these stocks rarely trade below their 50-day moving average. If or when they do, they become suspect. It is usually fundamental news that takes a stock out of momentum. The news could be a disappointing EPS report, a major analyst downgrade or a company's negative guidance as to its future business or management changes.
---
These stocks in momentum can be enormously profitable trades for those investors who are disciplined in monitoring their routines and adept at pulling the sell trigger when appropriate. In the example below, note how Starbucks ( SBUX) is outperforming the market, its sector, and its industry group. Also note how money is flowing strongly into the stock, as evidenced by the On Balance Volume line. The format I'm using is from the ChartStyles pull-down menu labeled 'Gatis Roze'.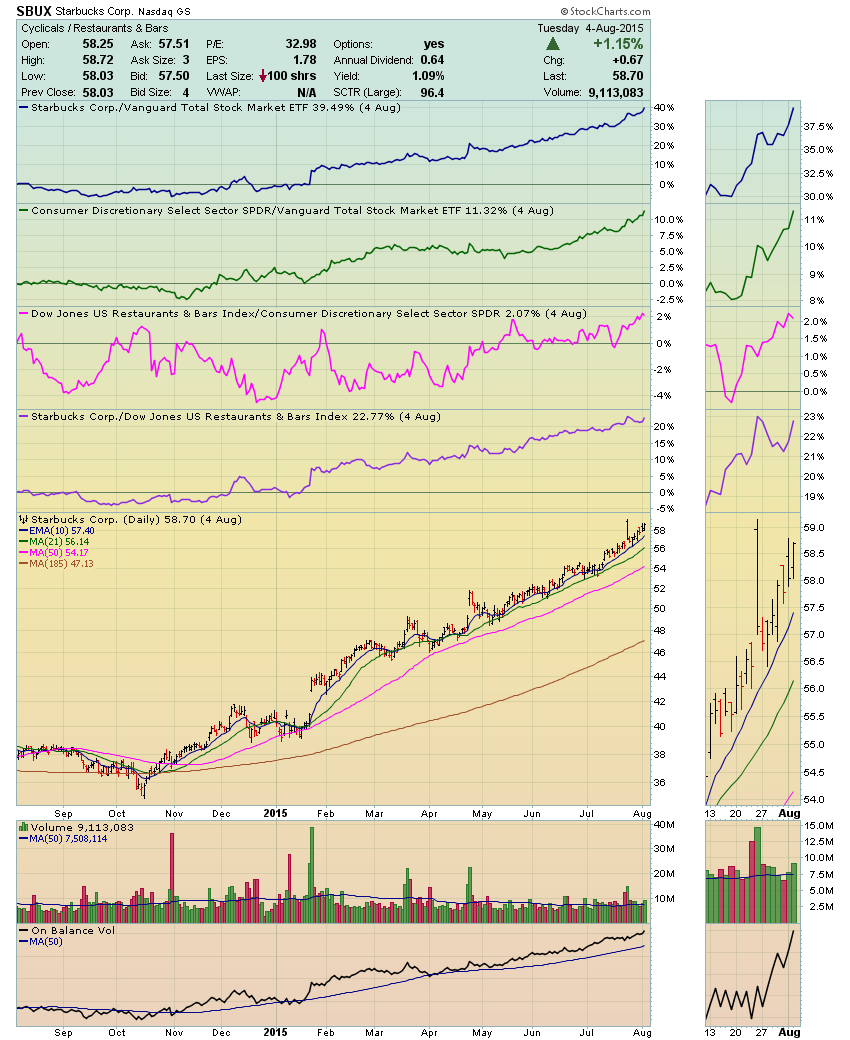 On the other hand, for a stock to earn the label of a "momentum stock" it must meet the following requirements:
1) The stock must be trading within 7% of its year's high.
2) The short interest in the stock must be rising or staying neutral, but not dropping.
3) It must have large institutional ownership of at least 45% or greater.
4) It should be a mid-cap stock with a market cap of $100 billion or less.
5) The 20-day moving average should act as support on any short-term pullback.
6) The daily volatility of the stock needs to be high, usually over 1.25%.
7) The stock price needs to be $20 or higher.
Under Armor (UA) is a momentum stock. The UA chart shows it is outperforming the market, but it is doing so with less conviction than Starbucks (SBUX). Its sector is the same as SBUX – consumer discretionary – and UA is outperforming its industry group. But that industry is less impressive than the restaurant and bar group to which SBUX belongs. While UA is showing positive money flow, its On Balance Volume is not as impressive as that of SBUX.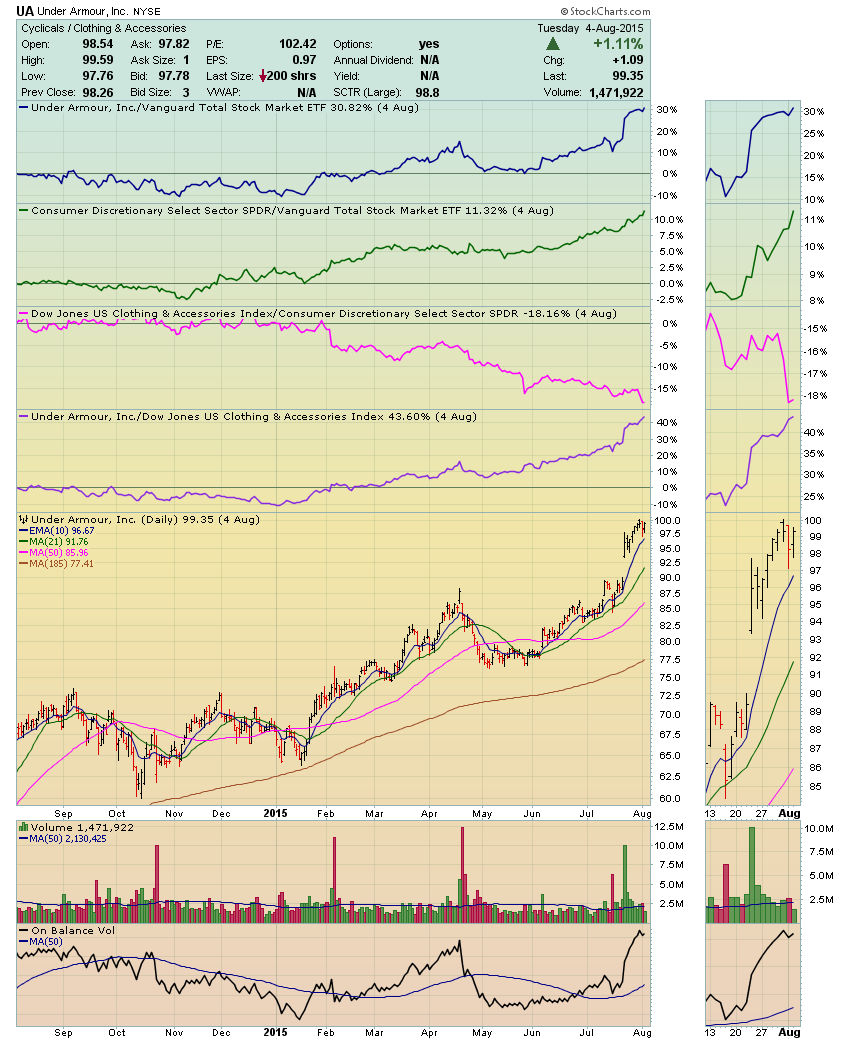 I will be discussing specific momentum stocks in detail at my Seattle Roundtable on August 29, 2015. If you would like to attend, please contact me at harveybaraban@hotmail.com. Remember this: the markets reward wisdom and experience. Investors can continue to improve their skills and profitability at any age as long as the passion continues. Modestly-speaking with over five decades in the market, I am a case in point!
Trade well; trade with discipline!
-- Harvey Baraban and Gatis Roze
P.S. Click HERE for information on my future appearances & seminars.
October 17th, 2015- ASSET ALLOCATION WORKSHOP with Gatis Roze & Chip Anderson.
P.P.S. For both convenience & consistency, please click HERE to automatically receive my blog once a week as soon as it comes out.