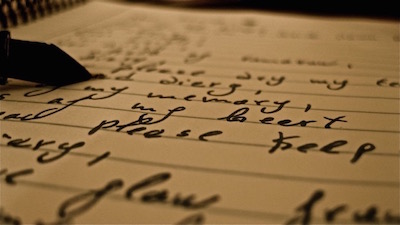 I'll show you mine, if you show me yours! What were you thinking? We are talking journals here. During periods of extreme market volatility – such as we presently have – no action can be the right action to achieve your long term goals. Understand that periodic corrections are to be expected and can actually work on your behalf if you continue making contributions to take advantage of dollar cost averaging.
Okay, that's the serious stuff. We all need some levity this week, so here's my suggestion. My trading journal looks like a kid's scrapbook with multiple colored Hi-lighter pens. What does yours look like? With the present market such as it is, I thought we could all have some fun as we go through the alphabet and simultaneously through our respective journals to see what pops out of the pages under each letter alternating between green and red highlighters.
I've chosen key words from my journal that are in green (i.e. bullish). These words are printed in CAPS below. Those words that were highlighted in red (i.e. bearish) are in small-sized letters. So, here's what pops out from my trading journal.
---
ALPHA Acid Test ASSET ALLOCATION Acquisition
BREAKOUT Back End Load BASING Bankmail
CONFIRMATIONS Callable Bond CALENDAR EFFECT Cartel
DATA MINING Derivatives DEFENSIVE Death Cross
EARNINGS Easy Money EXECUTION Economic Espionage
FUND FAMILY Fees FINE TUNE Fast Market
GENOMIMCS Gaps GUT Gordon Gekko
HEAD & SHOULDERS Hedge Funds HEAT MAPS Headlines
INDUSTRIES ID Theft INTUITION Icarus
JEFF BEZOS Jekell & Hyde JESSE LIVERMORE Junk Bonds
KEY CURRENCY Kaboom KNOWLEDGE Kickbacks
LAWS OF SUPPLY & DEMAND Late Fee LADDERING Leakage
MOVING AVERAGES Managed Futures MATURITY Margin
NET ASSET VALUE News Trader NO LOAD Negative Return
ON BALANCE VOLUME Oversold OPT-OUT Off Balance Sheet
POINT & FIGURE Panic PARITY Patent Troll
QUICKNESS Quant Fund QUADRUPLE TOP Quiet Filing
RELATIVE STRENGTH Ratings REBALANCE Raider
SEASONALITY Shorting SECTOR STRENGTH Sacred Cow
TECHNICALS 12-B-1 Fees TEST & RETEST Taxable
UPTREND Ultra Funds USA Undervalued
VIX Variable Rate Mortgage VISUAL ANALYSIS Vanishing Premium
WATCHLIST Walkaway WEARABLE TECH Wash Rule
XLP xlu XLV Xetra
YIELD Yo-Yo YIELD CURVE Yen
ZONE OF SUPPORT Zero-Coupon ZACKS Zombies
Hopefully, you are grinning just a bit! Till next week.
Trade well; trade with discipline!
-- Gatis Roze
Developer of the StockCharts.com Tensile Trading ChartPack.
Presenter of the Tensile Trading DVD, Stock Market Mastery.
P.S. Click HERE for information on my future appearances & seminars.
October 17th, 2015- ASSET ALLOCATION WORKSHOP with Gatis Roze & Chip Anderson.
P.P.S. For both convenience & consistency, please click HERE to automatically receive my blog once a week as soon as it comes out.