There's nothing quite like a warm pumpkin spice latte (or a cold brew with a bucket of wings) to help ward off the anxiety of investing in the current markets. With August shaping up to be the most volatile month of the year, I'm gonna wager that U.S. traders have packed on a few pounds seeking the solace that a tasty meal can bring.
In fact, Americans overall are visiting restaurants at a record rate. While it's too early for August sales numbers, the industry is on track to reach a record high by the end of the year. All of this is good news for an industry that's growing at a healthy 4% rate.
While select restaurants have continued growth prospects, it's primarily fast food companies which are also viewed as defensive, as their lower prices make their offerings attractive in a slowing economic environment.
Below we'll review 4 of the top names in this area and as you'll see, they've been outperformers. In fact, 2 of these stocks were added to the MEM Edge Suggested Holdings List months ago and are part of a select list of outperformers. I urge you to take a trial of this bi-weekly newsletter, as it'll help you navigate these tricky markets.
DAILY CHART OF WENDY'S CO. (WEN)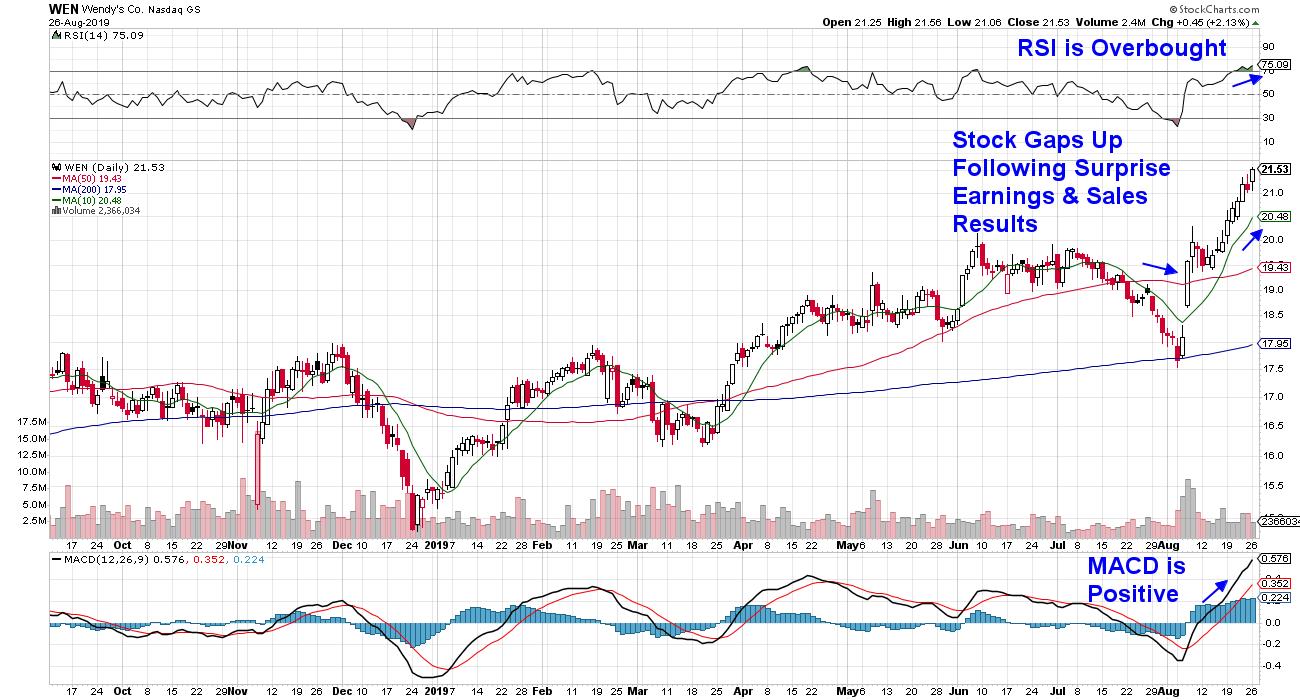 Let's begin by taking a look at Wendy's Company (WEN). This 1.9% yielder gapped up on big volume earlier this month after serving up 2nd quarter results that surprised to the upside. The move pushed the stock out of a 2-month base, from which it has advanced significantly as analysts continue to raise estimates.
The unexpected results came from a menu shift toward healthier chicken sandwiches as diners are shifting away from beef. In addition, the company has leveraged a high-profile social media presence into added sales, which were boosted last quarter by remarks from a famous rap artist.
While the stock is extended a bit from its $20 buy range, the near-term uptrend for WEN is firmly in place.
DAILY CHART OF CHIPOLTLE MEXICAN GRILL (CMG)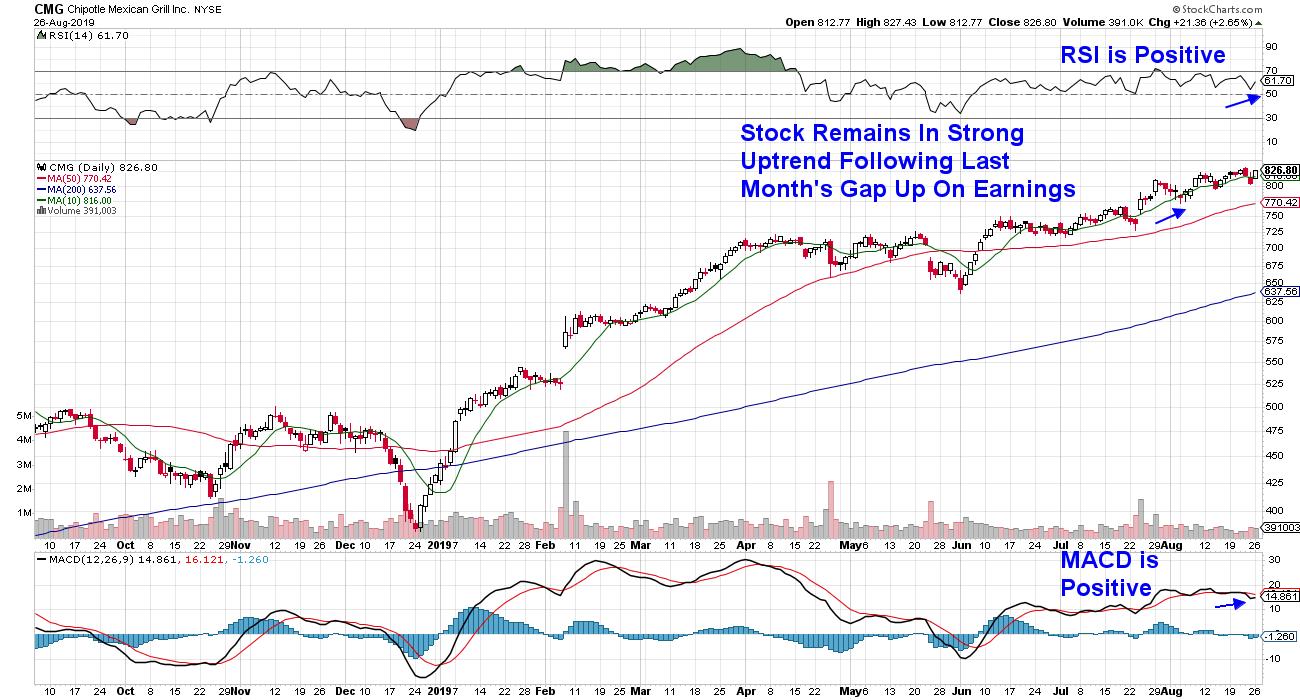 Next up is Chipotle Mexican Grill (CMG), which is another stock that gapped up following strong earnings. The company reported a 40% increase in year-over-year earnings for their 2nd quarter and increased their outlook for both this year and next. The fast grower is also meeting consumers' healthier palettes by offering Lifestyle Bowls that cater to vegetarians.
CMG's biggest area of growth has been digital sales, which offer a convenient way to order and then pick up food. The company posted a 99% increase in already-strong online sales and analysts continue to revise estimates higher.
DAILY CHART OF WINGSTOP INC. (WING)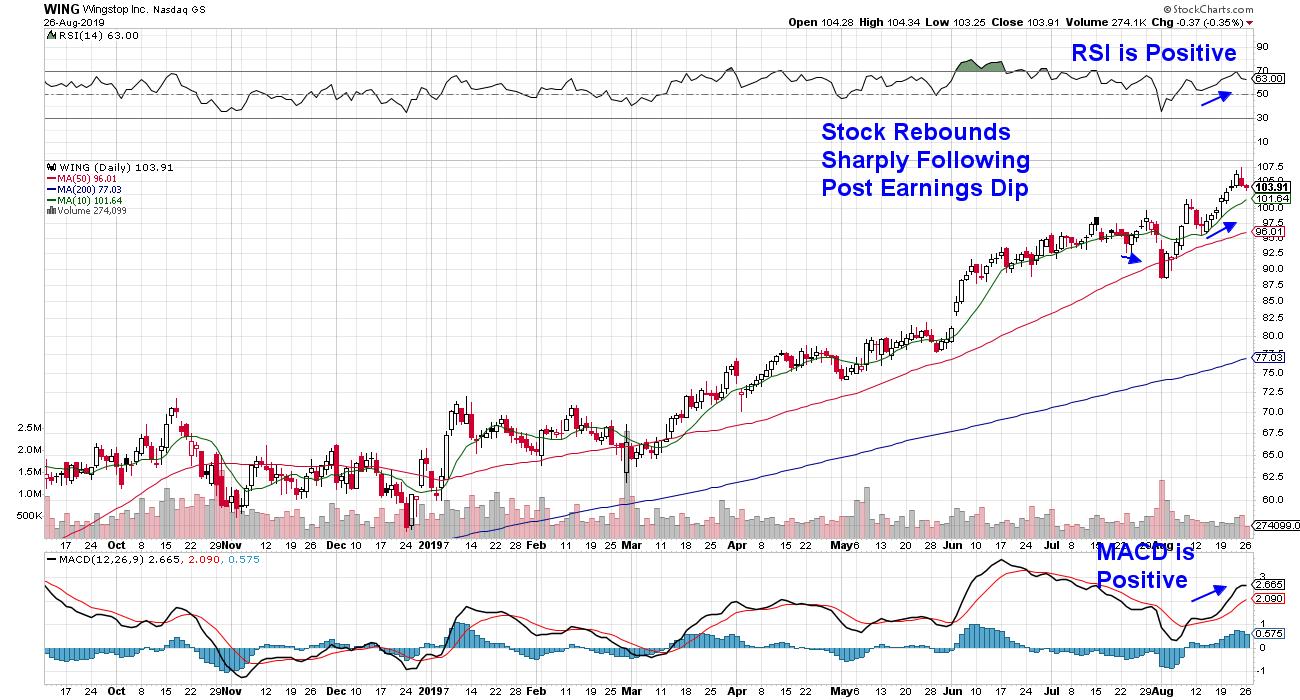 Lastly, the fastest growing among Restaurant stocks has been Wingstop Inc. (WING), which posted 12.8% same-store sales for their 2nd quarter, the best in the fast food industry. The markets responded by pushing this stock up 8.7% following their results, which puts it a bit extended near-term.
There are certainly other outperformers in this area that I've highlighted in past blog articles, such as Dunkin Brands (DNKN), which is seeing growth due to an expansion among their coffee offerings. The 1.8% yielder just broke out of a 10-week base and appears poised to trade higher.
Each of the stocks mentioned above are up at least 4% for the month while the S&P 500 is posting a loss of 3.4%. In addition to offering a defensive balance against the currently volatile markets, these companies offer growth prospects that will carry them higher once the markets resume their uptrend.
For those interested in getting alerted to outperforming stocks, such as these, that are in growth as well as defensive (Utility, Staples, Healthcare and REIT) areas, use this link to take a 4 week trial of The MEM Edge Report at a nominal fee. Our defensive picks are some of the top performers in their sector!
Warmly,
Mary Ellen McGonagle,
President