This week's action in the markets is pointing to a shift in money flows out of high multiple Technology stocks and into recently down-and-out Small Caps, Financials and Cyclicals. While it's too early to determine if the shift will remain in place, in the near-term we may easily see a continued upward move into these newer areas.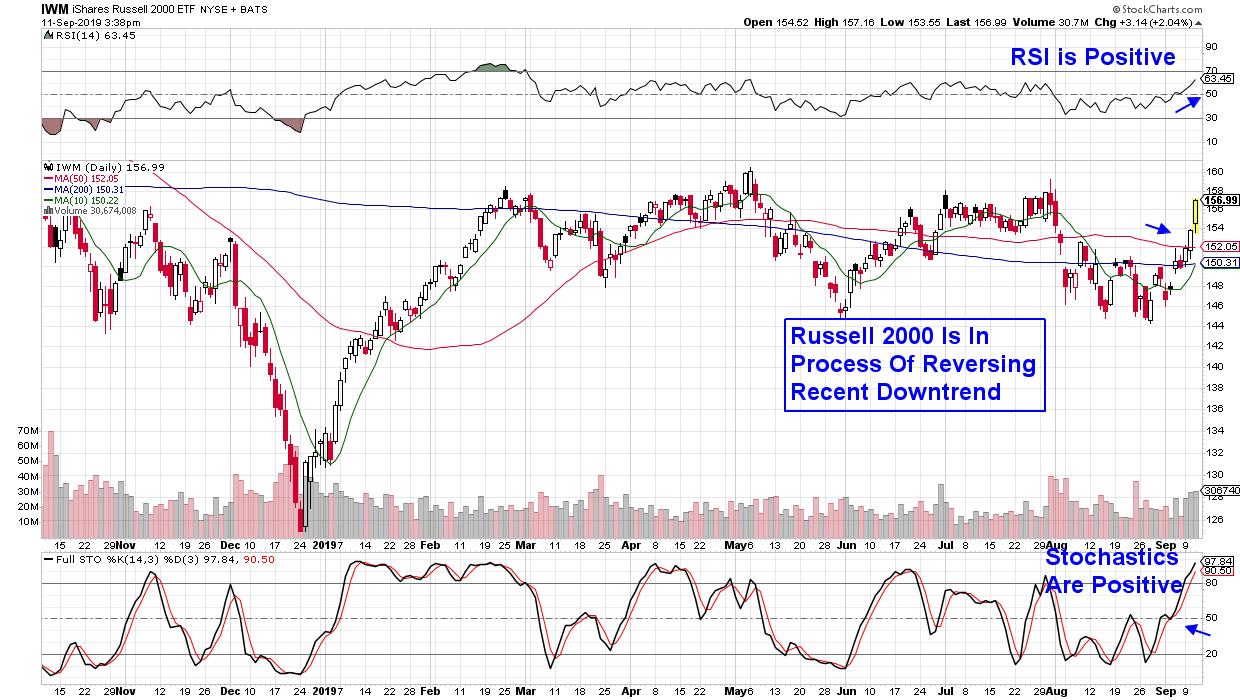 Today, I'd like to share 4 promising small-cap stocks that are in the process of reversing their recent downtrends. In screening for these candidates, I mandated that they be trading above key areas of possible resistance, which, from my work, is their 50- and 200-day moving averages. In addition, they needed to have growth prospects that would help propel them higher.
The 1st candidate is John Bean Technologies (JBT), which is part of the Industrial sector, as the company provides services to the airline industry as well as tech solutions to food and beverage companies. JBT was one of the recommended holdings from my MEM Edge Report earlier in the year when it greatly outperformed the markets. However, we removed it from our list when the stock broke below its 50-day moving average following the release of their 2nd quarter earnings. The decline occurred despite the company coming in with earnings and sales that were ahead of estimates and management guiding higher for the remainder of the year.
John Bean has been forming the right side of a base recently as analysts are raising earnings estimates for both this year and next. Today, JBT broke back above its 50-day moving average, which gives the stock room to advance to at least its prior high of $128.
DAILY CHART OF JOHN BEAN TECHNOLOGIES (JBT)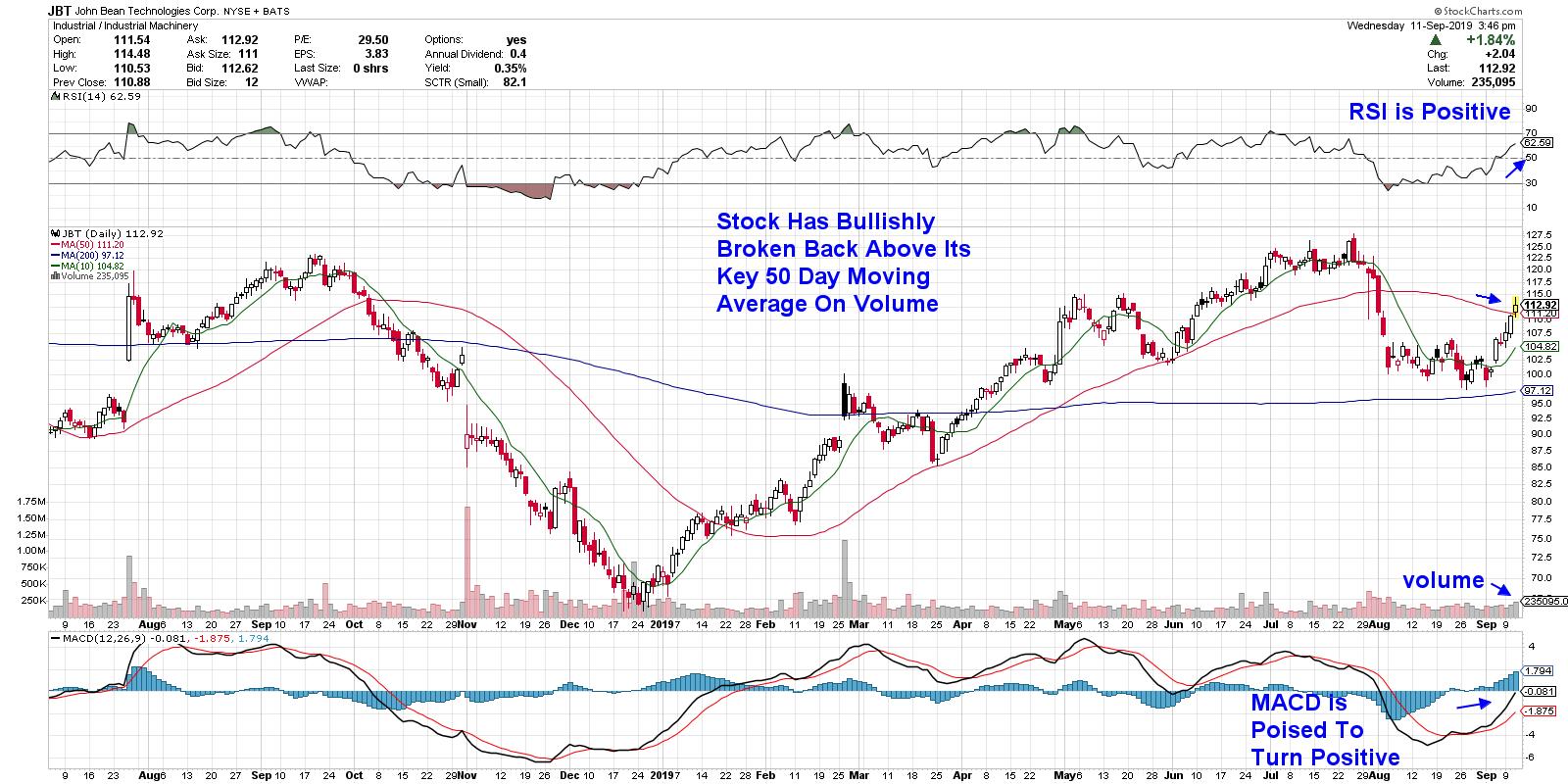 Next up is Comtech Telecom Corp. (CMTL), which develops services for communications solutions. The company reported strong earnings in June that were well above estimates. It has since been consolidating following a 28% gap up in price.
More recently, CMTL has seen money flows into their shares following the company's announcement of U.S. Army funding, as well as being awarded new contracts elsewhere. The pick-up in volume is particularly compelling as the stock is now close to breaking out of a 6-week base. Analysts are projecting 44% earnings growth for next year, which should help the prospects for this 1.8%-yielder.
DAILY CHART OF COMTECH TELECOMMUNICATIONS CORP (CMTL)
Another stock for consideration is Pricesmart Inc. (PSMT), a large warehouse retailer in South America and the Caribbean. The San Diego-based company announced a pickup in same-store sales for August, as well as plans to build a new warehouse club in Colombia.
The growth in sales comes in addition to their strong 2nd quarter earnings report, which was announced in July. This is another stock that had big gains following strong earnings, and is now breaking out of a period of consolidation following positive news. The fact that the stock is now above its key moving averages and has broken out of a 6-week base puts it in a position to trade higher; however, it's a bit extended near-term. I'd suggest being a buyer on any pullback.
DAILY CHART OF PRICESMART INC. (PSMT)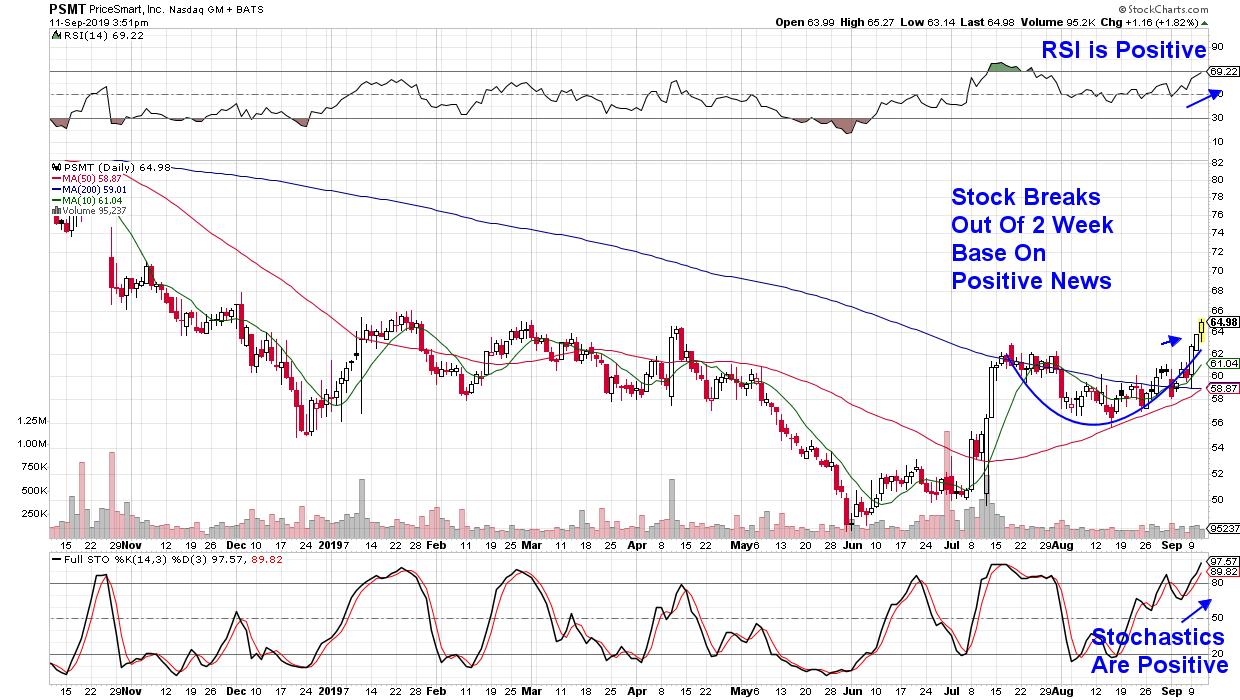 And lastly, Shoe Carnival Inc. (SCVL) has bullishly broken back above its key 200 day moving average which is a key event during a downtrend reversal. The company reported strong earnings 2 weeks ago and pulled back very orderly to its 10 day moving average.
The recent uptick in shares is following analysts' upgrades to the company's annual earnings estimates. This is a common occurrence following the release of a strong report, particularly for smaller-cap stocks that don't have wide coverage from Wall Street. A strong report will catch their attention, leading them to dig into the prospects and upgrade their outlook if warranted.
DAILY CHART OF SHOE CARNIVAL, INC. (SCVL)
In addition to providing some interesting stock candidates, the recent move into small-cap stocks is bullish for the overall markets, as it signals conviction in an expanding economy. That said, these smaller stocks do tend to behave in a bit more of a volatile fashion, so be sure and keep a close watch on any new positions!
For those who'd like to receive more regular commentary from me, as well as alerts to stocks that are poised to trade higher, you can take a trial of my bi-weekly MEM Edge Report at a nominal fee using this link here.
Warmly,
Mary Ellen McGonagle,