By all accounts, it was an incredible first half of the year for many growth areas of the market, before modest gains in July gave way to a dicey August. While September is up a healthy 2.75%, one formerly leading area of the markets has been left behind, leaving many growth investors pondering when - or if - this particular group will come back to life anytime soon.
I'm talking about the once-hot Software stocks, which were up 31% (using ETF IGV) into the end of June, with many leading, individual Software names up 75% or more. Most of these former leaders are well off their prior highs, as a shift to more value-oriented stocks caused heavy selling in these high multiple growth stocks.
DAILY CHART OF MICROSOFT CORP. (MSFT)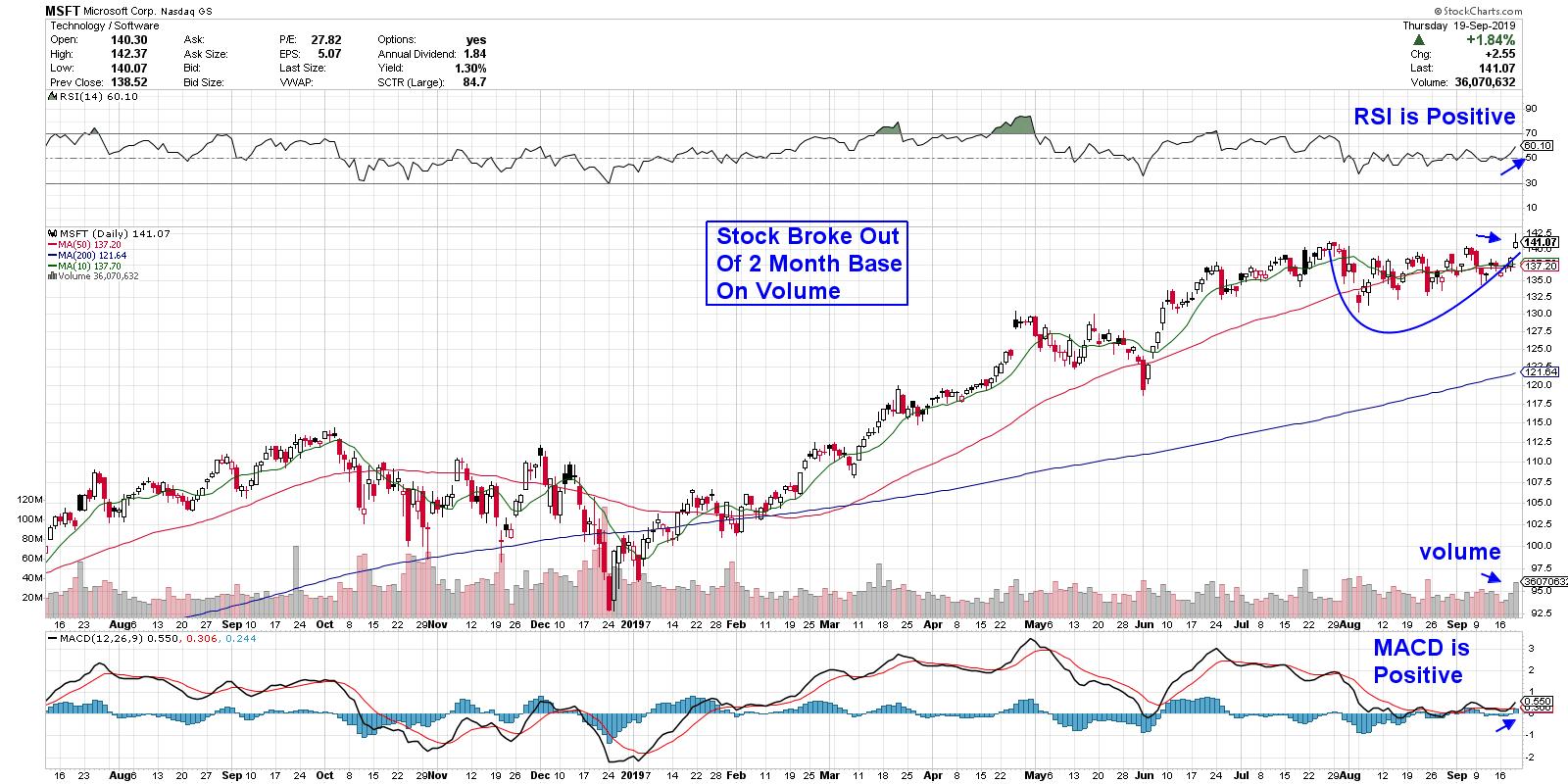 That said, heavyweight Software stock Microsoft (MSFT) broke out to new highs earlier today. Could this be the beginning of a turnaround in other Software stocks that growth investors are seeking? Unfortunately, a review of those former leaders shows a landscape of fallen soldiers that need more resuscitation before they can begin to march to their former glory.
This would include stocks such as former leader Shopify (SHOP) or PROS (PRO), to name two, as both stocks continue to trend downward below key moving averages. To be fair, the weakest names at this juncture appear to be the biggest winners during the first half of the year, meaning their valuations are still considered too high despite a breakdown.
There are some bright spots among Software, however, with interesting stocks that are well worth putting on your watchlist. In particular, should Microsoft's breakout lead to a move back into other stocks in this group, these stocks would do well. Below, we'll review 2 such names.
DAILY CHART OF RINGCENTRAL INC. (RNG)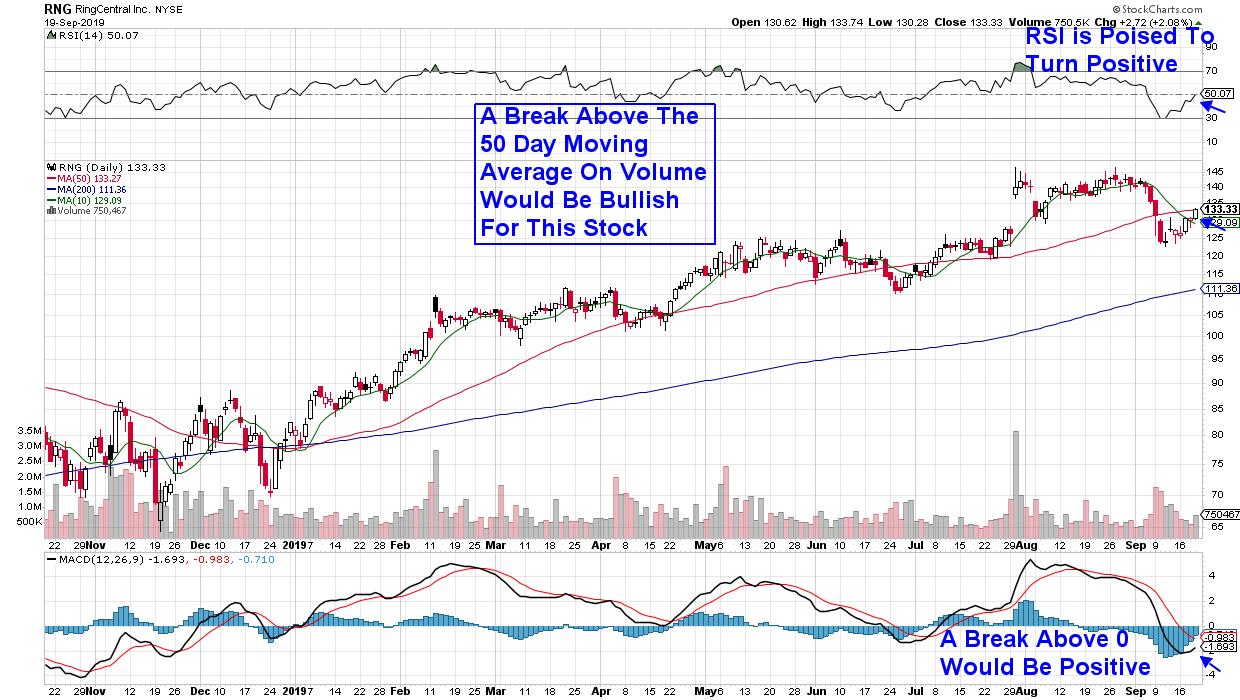 The first candidate is RingCentral (RNG), which provides software to companies so that they can communicate. The fact that the stock broke out to a new high in July on earnings is very constructive, as is the fact that RNG held in well despite a difficult August period. This relative outperformance puts the stock in the ring (pun intended) for leadership status once the group comes back into favor.
As you can see on the chart above, the stock is poised to bullishly break back above its key 50-day moving average. If this were to occur on volume, it would be quite constructive. While the RSI is poised to turn positive, though, the MACD has a bit of work to do before confirming any uptrend.
DAILY CHART OF DOCUSIGN, INC. (DOCU)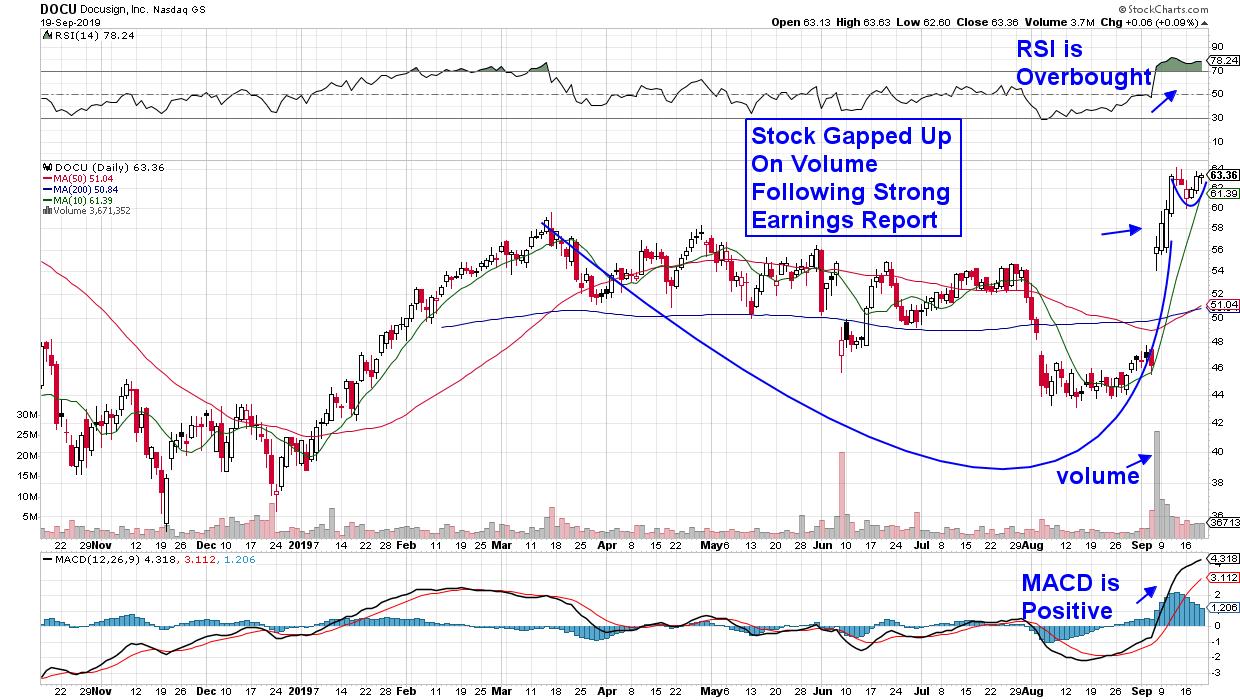 The next Software stock to be aware of also had a gap up in response to strong earnings numbers and is in an even more bullish position than RingCentral. This is Docusign Inc. (DOCU), which provides e-signature solutions with its products.
As you can see by the huge gap up, DOCU's strong earnings report was a big surprise that now has analysts raising estimates for both this year and next. This is a positive, as the stock is currently poised to break out of a smaller 1-week base as bullish sentiment pushes the stock higher.
While a move back into previously leading Software stocks would bode well for a continuation of the market's current uptrend, the good news is that there's been a broadening out to other areas of the markets that's helping keep the markets close to new highs.
If you'd like to find out more about these new leadership areas of the market, as well as a list of the top candidates within them, you can access a trial my bi-weekly MEM Edge Report at a nominal fee. It's filled with market insights you won't find elsewhere.
Warmly,
Mary Ellen McGonagle