"We're entering the seasonally strongest part of the year."
"The New Year tends to be very good for small caps."
"Year three of the Presidential Cycle tends to be good for stocks."
"The Friday after Thanksgiving is usually a bullish day on lighter volume."
How many of these quotes have you heard in recent weeks?
I have no doubt there is a cyclical nature to the financial markets. I would even go so far as to say that there is a natural rhythm to the markets. Edward Dewey performed foundational work in the mid-1900s on the presence of cycles, not just in financial data but in all parts of life.
Here's the thing: cycles are not reality. Cycles are not perfect. Cycles are essentially a model of what should happen given the previous patterns. Seasonal cycles, or those based on the calendar year, deal in probabilities, never certainties.
Let's take that last quote from above and look a little further. "The Friday after Thanksgiving is usually a bullish day on lighter volume." This makes perfect sense anecdotally. You can imagine the senior traders on a long holiday weekend. The junior traders are so excited to be given the honor of trading that they tend to push things a bit higher. Most investors take time off, so volume tends to be light. There's also rarely significant news flow to move the market dramatically in either direction.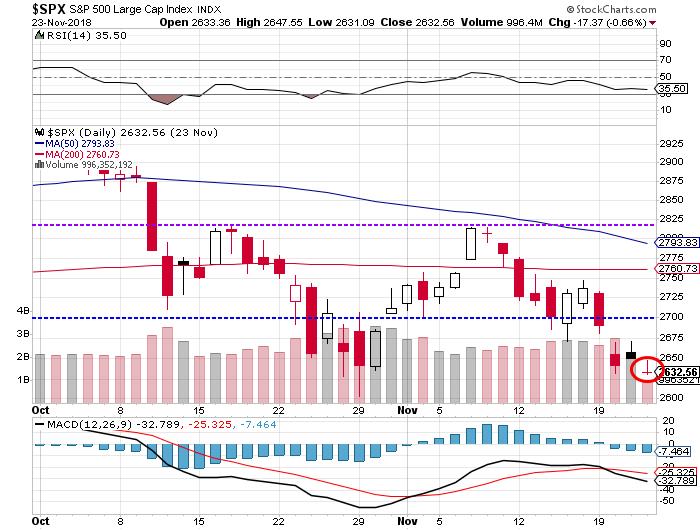 So what happened this year? The S&P was down .66%, the Nasdaq Composite was down .48% and the Dow was down .73%. Instead of a Friday rally, we had a new closing low for the S&P 500. All this on the ultimate bullish day, the day after Thanksgiving.
So what happened to our seasonal playbook? Well, seasonal patterns like the bullish day after Thanksgiving are tendencies, not certainties. My friend Jeffrey Hirsch from the Stock Traders Almanac would tell you that the S&P is up about 62% of the time. Which, of course, means that the S&P is down 38% of the time.
The problem is that even though people know these patterns are just tendencies, they treat them as certainties. ("Well, I'd better wait to sell because this tends to be a bullish day/week/month/year.") I've always been fascinated by cycles and I have no doubt that there is a natural rhythm to the financial markets - but you don't get paid on rhythms, you get paid on returns.
In the end, the market doesn't care what the seasonal tendencies are; what matters is price.
So does year three of the Presidential Cycle tend to be bullish? Yes. Are we now entering the seasonally strongest part of the year? Yes. But despite the probabilities based on historical years, I'm way more interested in this year. Until I see some signs of accumulation for US stocks, the trend is still down.
RR#6,
Dave
---
David Keller, CMT
President, Sierra Alpha Research LLC
---
Disclaimer: This blog is for educational purposes only and should not be construed as financial advice. The ideas and strategies should never be used without first assessing your own personal and financial situation, or without consulting a financial professional.
The author does not have a position in mentioned securities at the time of publication. Any opinions expressed herein are solely those of the author, and do not in any way represent the views or opinions of any other person or entity.