I wrote a while back about Home Bias, which describes how investors tend to stay "close to home" when making their investment decisions. Not only do US-based investors often invest exclusively in American companies, they also overweight companies that are closer to them geographically within the U.S.
I would say the Pacific Northwest portfolio overall has struggled a bit with the selloff in BA, AMZN and NKE, but at least we have MSFT, which is holding up just fine! But I digress...
Home bias is one of the reasons why American investors tend to underweight or just flat out ignore global equity markets. Given the long-term strength of the US Dollar, that has actually been a pretty good bet in recent years.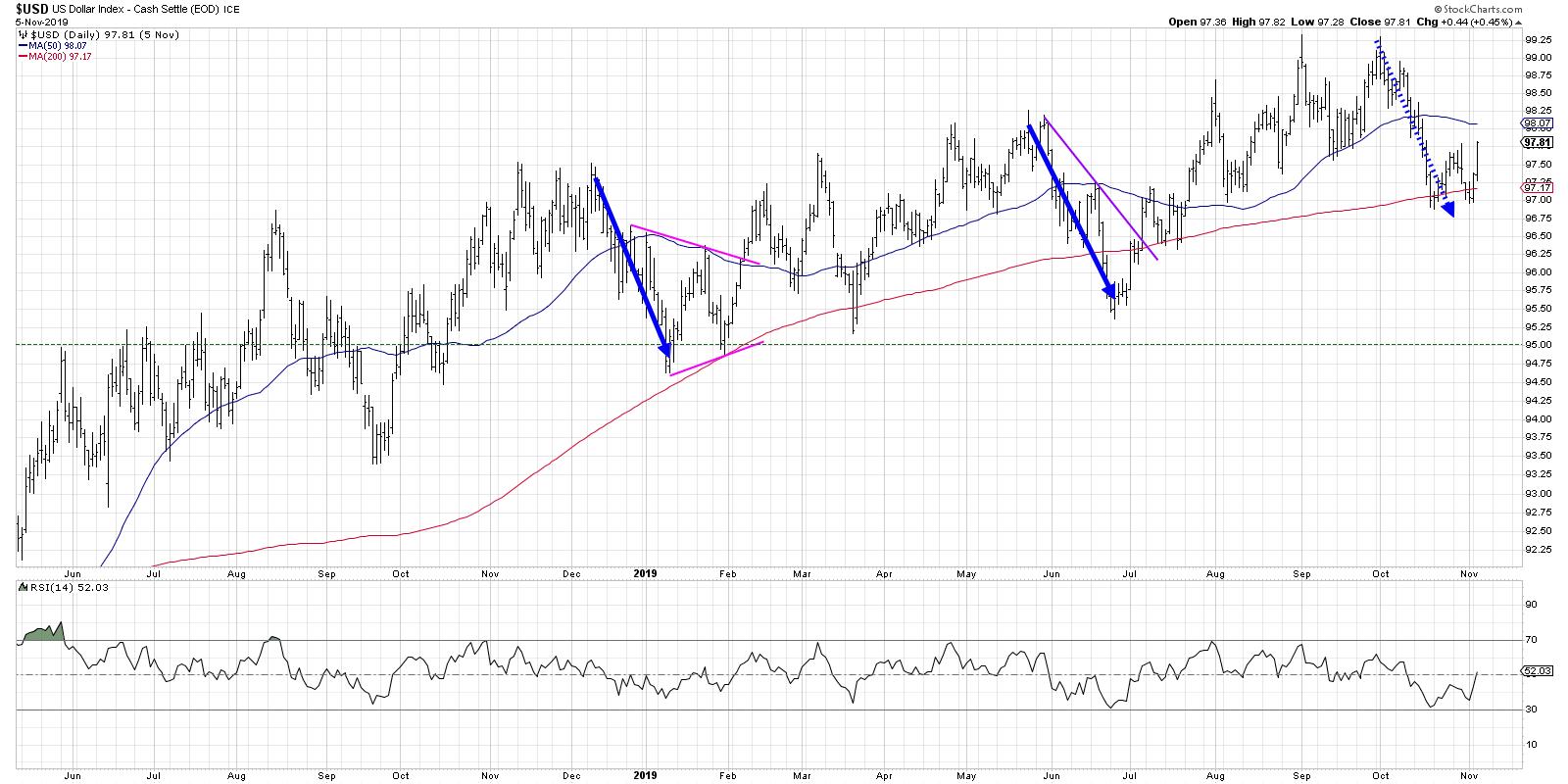 Even though the US Dollar has pulled back a bit recently, this is a similar pattern to what occurred in December 2018 and June 2019. The dollar index pulled back to the 200-day moving average and, in both cases, resumed the long-term uptrend soon after.
If this pattern continues, this suggests that the current pullback in the US Dollar has most likely played its course and the long-term uptrend should continue. That would suggest further outperformance of the US equity markets vs. global bourses.
But what if that pattern in the US Dollar does not play out as expected?
The relative performance of the S&P 500 ETF vs. the All Country World Index (ACWI) illustrates the long-term outperformance of US stocks.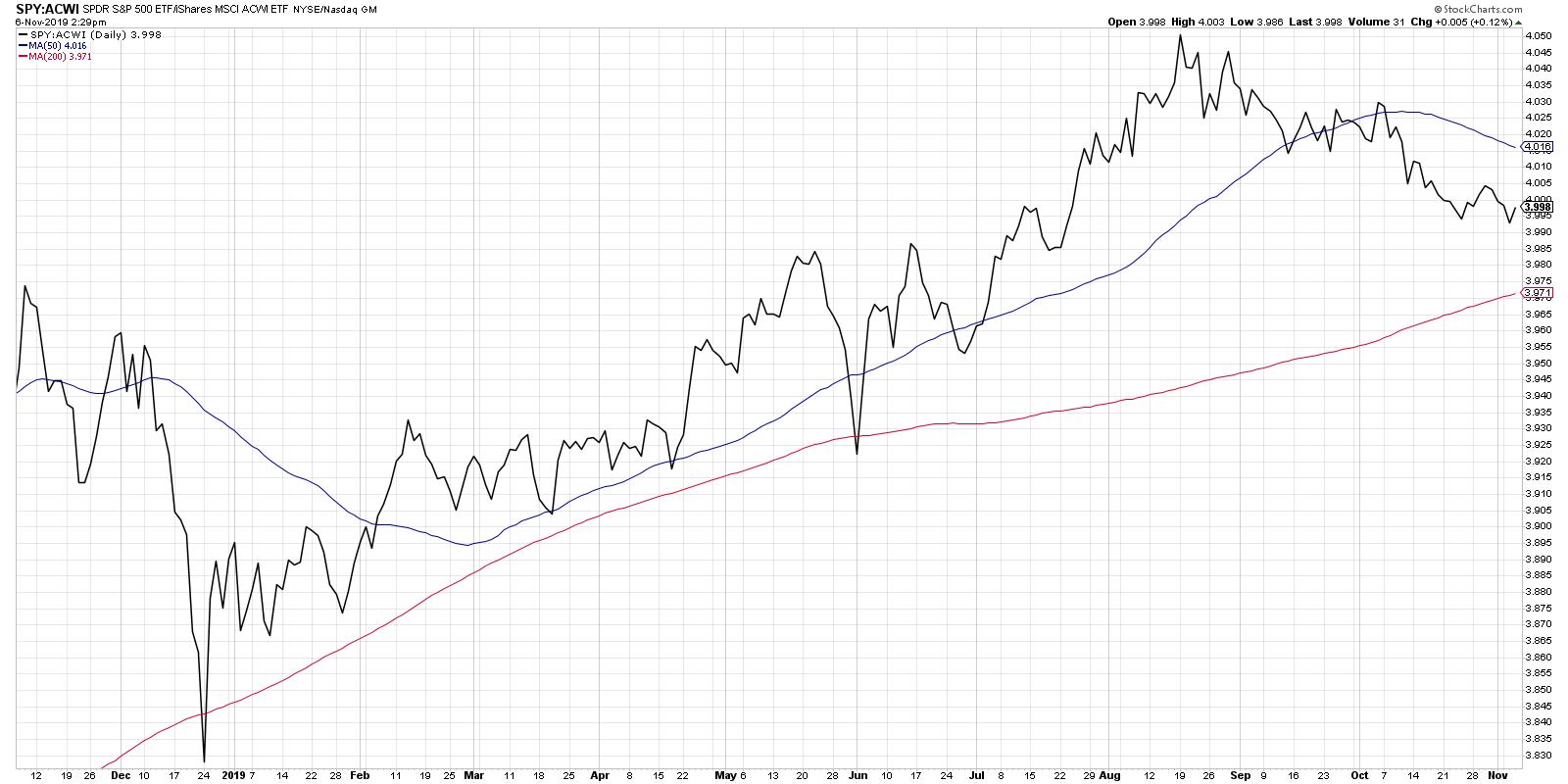 The All Country World Index is a good measure of global equity performance, as it's comprised of 50% US stocks and 50% non-US markets. So this ratio simply shows the US vs. the entire world. For the last two months, this ratio has moved lower, which indicates that non-US markets have been outperforming the US. And remember, this is as the US markets have confirmed successive new highs in recent weeks!
If this ratio continues to move lower, that would confirm further underperformance from US equities. American investors who have gleefully ignored developed and emerging markets in Europe, Asia and elsewhere would be missing out on plenty of potential opportunities to outperform passive investment products based on US stocks.
I feel the future of active management is taking focused, high-probability positions based on market trends. By including global equity markets in your routine, you're simply increasing your opportunities to outperform!
RR#6,
Dave
---
David Keller, CMT
Chief Market Strategist
StockCharts.com
---
David Keller, CMT is Chief Market Strategist at StockCharts.com, where he helps investors minimize behavioral biases through technical analysis. He is also President and Chief Strategist at Sierra Alpha Research LLC, a boutique investment research firm focused on managing risk through market awareness. He is a Past President of the Chartered Market Technician (CMT) Association and most recently served as a Subject Matter Expert for Behavioral Finance. David was formerly a Managing Director of Research at Fidelity Investments in Boston as well as a technical analysis specialist for Bloomberg in New York. You can follow his thinking at MarketMisbehavior.com, where he explores the relationship between behavioral psychology and the financial markets.
Disclaimer: This blog is for educational purposes only and should not be construed as financial advice. The ideas and strategies should never be used without first assessing your own personal and financial situation or without consulting a financial professional.
The author does not have a position in mentioned securities at the time of publication. Any opinions expressed herein are solely those of the author and do not in any way represent the views or opinions of any other person or entity.