Rationales & Targets
We are contrarians, thus when a consensus forms, we look at reasons for an opposing view. Typically, one sided sentiment is meaningful and results in an opposite direction from the consensus forecast. A unanimous opinion is about as rare as a family of black Swans. As noted by Jim Bianco (www.biancoresearch.com) a recent survey of 67 economists showed 100% of the participants expected the 10-year Treasury yield to rise in the next six months. This would occur if the economy began to turn up in earnest and/or the Fed shut the money spigot entirely. The surveys have been consistently bearish on bonds for a long time, yet despite lower yields, they are now even more convinced. And to boot, a separate poll recently showed that not one economist expected the economy to contract. Given the unanimity, we are comfortable about the opposite direction. The economy is likely to weaken for the many reasons we have outlined in recent issues. The Fed is likely to continue their accommodation and stock prices will eventually be impacted by the slower economy.
There is zero reason to change our forecast for a huge corrective phase into the autumn with the possibility that stocks could actually suffer a crash. Too much has been taken for granted. Nasdaq has been the backbone of the bull but is close to breaking down below an 18 month old trendline. If the rally from the April 15th low fails and then takes out the low of 3946 (COMPQX), even the staunchest of bulls will consider taking some chips off the table. That's all it will take for things to turn ugly fast.
---
Millennials Squeezed
John Serico's The Daily Beast blog (see http://thebea.st/1l1VwDR) recently tackled the subject of the ramifications of a rent bubble, placing Millennials in a "financial squeeze." This huge segment of our society is already burdened by income stagnation. The adults in the group are attempting to establish themselves at a time when many are still saddled by student loan debt. As recently reported (see http://on.msnbc.com/1rkZaZm) The U.S. Education Department has reported enrollment in federal student loan debt forgiveness programs has skyrocketed nearly 40% in the last six months. Those with private loans have an even worse problem as lenders are now demanding immediate repayment if a co-signer, such as a parent, dies. The burdens on this generation are rapidly becoming intolerable. Not only are education costs through the roof, but many are either unable to find the quality of jobs they are finally qualified for or are unable to find jobs at all.
There are 80 million Millennials, larger than the Baby Boomers. Forbes has called Millennials (see http://onforb.es/RJ25kg) "The Biggest Generation Of Customers Ever," but this generation is currently unable to consume as expected, which has kept the economy restrained. Serico's blog cites rental costs as a significant factor, linking to Zillo and an astonishing table (see http://bit.ly/1i9fFaA) you have to see to believe. Rental costs in Los Angeles, Miami and San Francisco now average 43.6% of income and we can only wonder how such costs can be accommodated. In many other large cities, the picture is similar with rental costs up significantly from their historical average. Across the U.S., consumers are spending nearly 30% of their income on rent, leaving too little for the kind of recovery the federal government would have you believe is well underway.
It's All About The Numbers
David Stockman served as the Director of the Office of Management and Budget (OMB) for President Ronald Reagan from 1981-1985 and at one point was taken to task by the Chief Executive for his candor about the budgetary process in an article written for the Atlantic monthly which was subtitled, "None of us really understands what's going on with all these numbers." Clearly, Stockman has a history of calling it like he sees it.
In the last few months, Mr. Stockman has become quite vocal in commenting about the statistics released by the BLS, citing a comparison of the cyclical peak at the end of 2007 and the brand new jobs report. At that peak, according to the BLS, there were 138.4 million non-farm payroll jobs. But when last month's great job figures were released, there were only 137.9 million non-farm payroll jobs. Thus, despite the complete bailout of the financial industry, the printing of $3.5 trillion and a 95% increase in our national debt to finance the so-called economic recovery, we remain 500,000 jobs short of the 2007 peak. Moreover, according to the official definitions of the BLS, there were a grand total of roughly seven million unemployed in 2007 but there are currently 10.5 million unemployed now. If this is what a recovery is supposed to look like, it's clearly all about how the numbers are presented and not about people. Stockman reminds us that about half of non-farm payroll jobs are "breadwinner" jobs in core sectors, positions that average roughly $45,000 in pay, just enough to support families. But the "breadwinner" jobs have been on the decline with no growth at all in the Greenspan era and only a 37% recovery in the jobs lost during the recession. The scam Stockman refers to is the only real gains are in part time jobs, correctly claiming "These are 'survival' jobs at best, yet they account for fully one-half of all the born again jobs reported since June 2009 (3.4 million out of 7 million)." As our chart below right illustrates, we have paid a lot for our "recovery" and the results are far less than we should have bargained for. You can read Stockman's comments at http://bit.ly/1i2lxln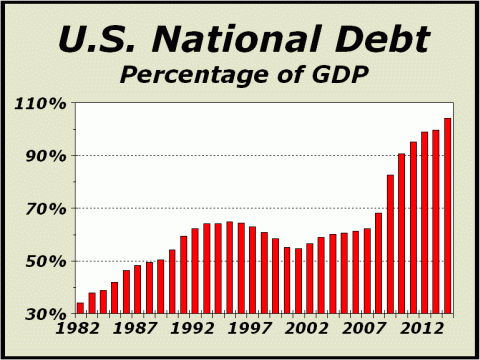 Alan M. Newman
Editor, Crosscurrents
516-557-7171
www.cross-currents.net