A divergence in earnings - is one big factor not yet computed by Street consensus estimates for 2015. By some estimates current figures tend to overstate both growth rates and revenue estimates by up to a third (details).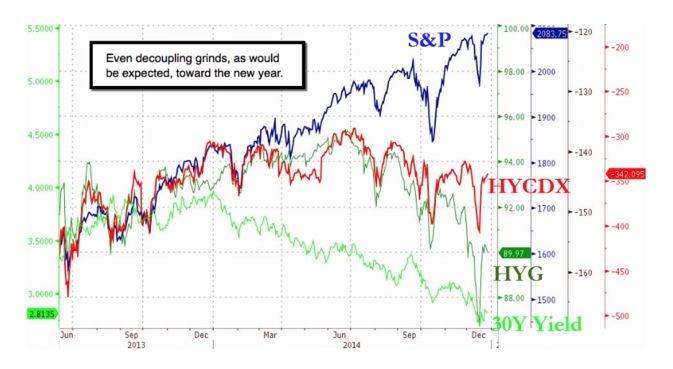 ---
In the process, our Dollar strength forecast has had ramifications that in so many ways are not fully appreciated or matriculated. It's why FX (Foreign Exchange) markets remain one of the critical concerns for 2015 markets.
On top of that there's a bigger-picture demographic issue we don't look at often, but approaching year-end it might be useful to remember folks at a stage in life where they would normally be reducing risk, piled-it-on a bit more than they'd perhaps wish, because of the absence of low-risk yield.
This matters; as the risk-averse (detailed discussion). 'Assumptions' are being made about simply stretching multiples; while not enough about risks of yield-chasing, or developing global disintermediations.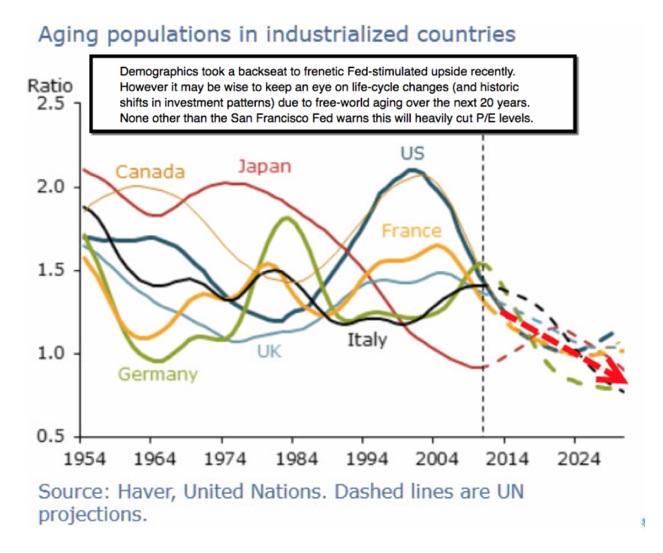 The big variable in whether the estimates are high or low comes down to a single sector: Energy. Up to now; forward estimate reductions for companies in the Energy sector account for most of both earnings and revenue growth rates for 2015. And yes, a correlation with DJ or S&P performance exists.
Our point tonight: simple multiple expansions absent 'actual' better results, even in a world dependent on risk-averse investors and flight-safety-buying, only worked in a central-bank-dependent environment, where managers for sure had the comfort of the Fed wind at their back. (Conclusion follows.)
I look at the continuing decline and lower estimates a bit differently also for a slew of members who care as much about private sector business activity as they do about market performance overall. Why? Because it does relate to 'actual' businesses, and not just investment firm expectations.
With S&P being the top 500 companies basically engaged in business, it's an indicator for future business activity, not just watching inflation's impact on it. Hence the earnings implication (is uninspiring) for now. From a market perspective; (we suggest) this may be very interesting; (discuss the odds of a pattern not dissimilar to early 2014 for members via video).
Daily action - was uninspiring Friday; sort of a requisite series of lifts and pullbacks, with a bit more selling late in the session (typically little need to add ahead of a weekend; and if anything we favored a defensive tone).
It can get a little more spicy as we now reach the final settlement for 2014, as well as trades that settle in 2015. (We discuss remaining potential.)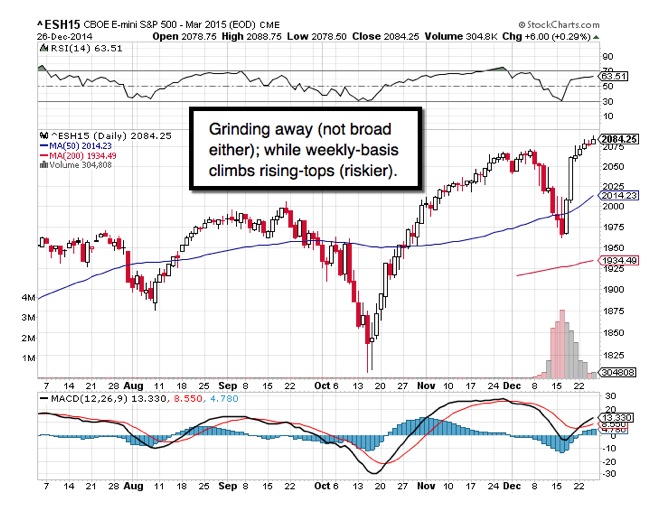 There were several Gold and Foreign Exchange stories circulating; (discuss the Russian rumors and our continuing Dollar uptrend indicated for months).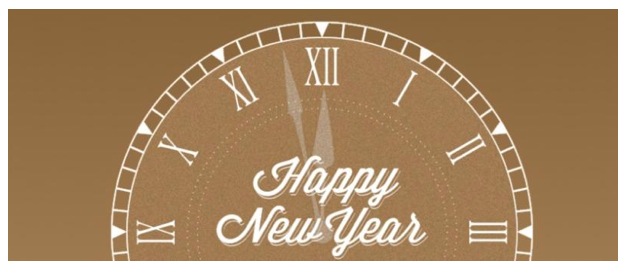 Enjoy your holiday weekend & Happy New Year!

Gene

Gene Inger
www.ingerletter.com