Desperation - is a term I used to describe the market's tenacity in the wake of the ECB's move on Thursday, which managed to keep the markets up in the presence of a strong Dollar and alternating (subsequently weaker) Brent (and WTI) Oil market. For Friday we warned it should be a consolidation with downside fading going into the weekend, and while choppy, we got that.
---
The evolution of this pattern matters, as there is a certain 'dynamic' or 'flow', which we've outlined. That included the rebound expectations; and it would follow that between now and (forward timing projection of how this evolves in the near-term) the market would exhaust recent snap-backs, as part of this is technical, not just monetary, and dates from the fairly recent efforts off the January low to hold the December low. Let me reiterate a potential 'vacuum' awaits that penetration.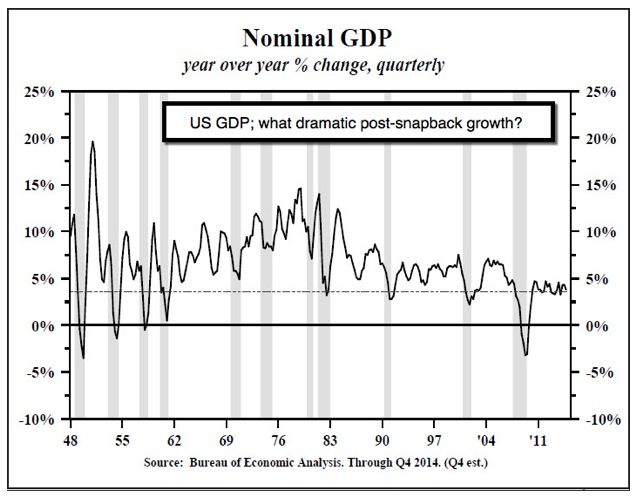 This is why I urge keeping a perspective of 2015's overall pattern projection in-mind, and not get too caught-up too in the hourly or daily nuances. This is evolving closely to our general year-end projections (ideal, as anything one tries projecting days or weeks in-advance will deviate somewhat, even if it mostly unfolds according to the desired flow). That would suggest (redacted) S&P is again (reserved for regular members) absent a 'flash crash' scenario; otherwise it remains what I term a 'process') off the December-January lows.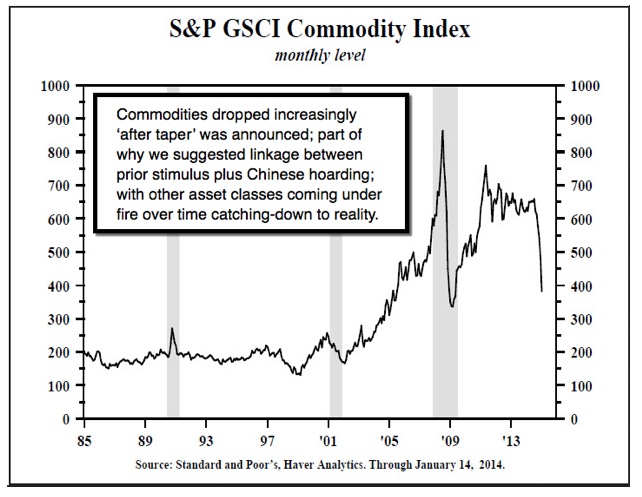 While the glass-half-full crowd argues January is a secondary test of the low in December (and it is just momentarily); we believe it's not (what many are thinking); nor just monetary policy 'dreaming'. Is it desperation (discussed)? They pretend all is now well, or the Fed will again rescue (more). The Street is actually 'fighting the Fed'; while not acknowledging that they are.
Daily action - conformed erratically Friday to the idea of a down-up-down (later day fade) projection made Thursday; and although it took a couple of near or breakeven efforts to establish our bearish stance, the idea intended to leave us 'short' the E-mini / March S&P guideline over the weekend from 2056, 'if' the S&P was able to move toward a close beneath 2053 (to leave some 'cushion' just in case), and as we suspected the market's choppy tone was sort of a consolidation session that would fade toward the weekend.
As it did; we are short ahead of Monday's opening from March S&P 2056; a breakeven stop prevailing on that extended intraday guideline for now. I note (for new members) that retaining a short-sale guideline overnight when we already have a representative 'inflection short' macro guideline active, is an exception to our normally being flat at each day's end for intraday gudelines. We have profited substantially by doing so a couple of times just recently; in each case only when we have good 'cushion' going into the overnight, or in cases where we took gains and played with house money with partial holds.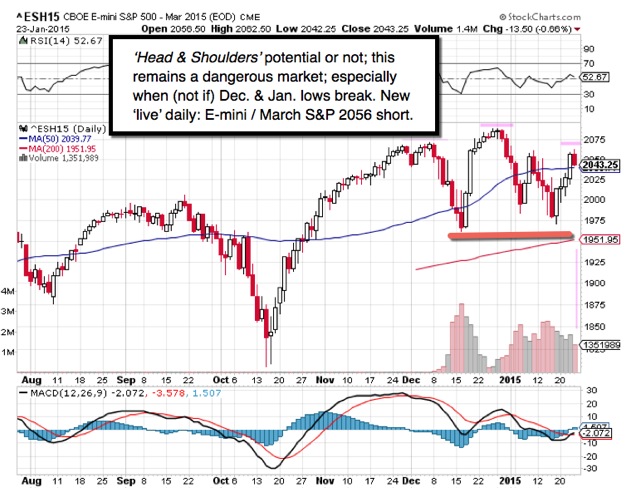 It's an 'exception', because the 2078 March S&P short was the one that was live and gave us a huge 66 handle downside gain; followed by a bounce and a 50 handle downside gain; then some horsing around ahead of ECB / QE, and the current 2056 'intraday' live short guideline held over the weekend. It is presumed so distant now from the 2078 benchmark reference short, and recent swings so wide (most significantly profitable), that we're presuming it as just an inflection point reference now, so the desire to have current (very current) 'skin-in-the-game' 'over-weekend' exposure, since we believed the market would run out-of-steam in the wake of the EU move; especially with Oil still on the defensive and a firm Dollar (note our Dollar comments as we have been bullish on the Dollar for over a year, and concurrently bearish on the Euro since 1.40; now we see a steep upside angle-of-attack).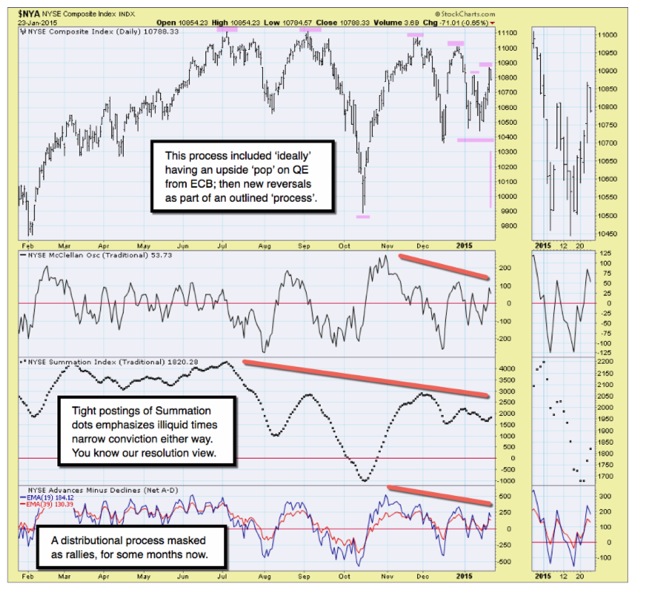 (Nasdaq and VIX charts and comments; as well as remarks about Bullard of the St. Louis Fed, are redacted; as we've shared general analysis; reserving specific forward expectations for our subscribing members.)
So, for now we hold a 'live intraday guideline' short over-the-weekend from the E-mini / March S&P 2056 level; with a breakeven stop; in addition to the overarching macro posture represented by the March S&P 2078 short-sale.

Prior highlights follow:
Whenever monetary moves - intend impacting FX markets in big ways, it's only a matter of time before 'unintended consequences' increasingly are felt. (Balance of discussion for members; please visit ingerletter.com to join.)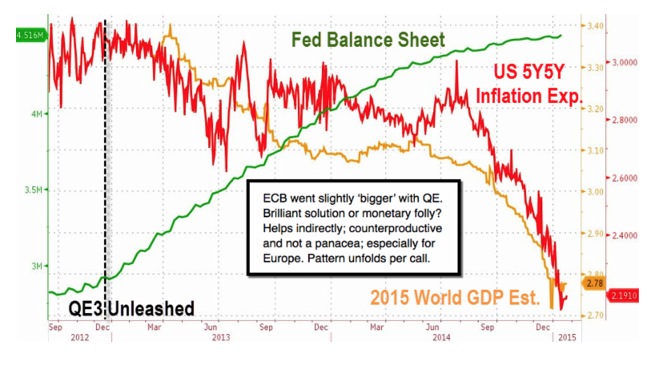 The main question is the timing of the return of 'volatility', and most analysts will cross their fingers and hope that the ECB 'bought more time, rather than just created more currency swings or a massive short-squeeze. Economies in Europe (rest of topic shared in full report).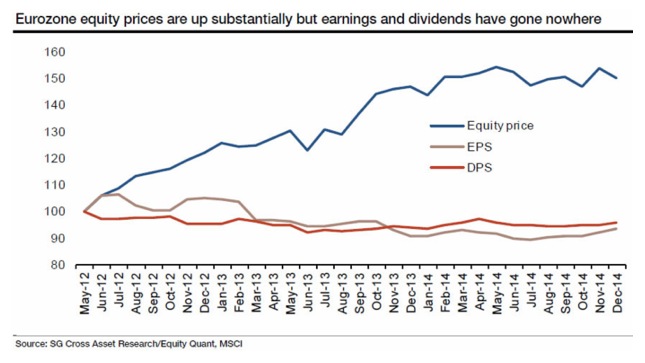 Aside the monetary debate, we know this is a big earnings reporting time of course; and that's where attention is likely to turn next. Because so many of the multinationals (likely responding to the Dollar strength and loss of price elasticity abroad) already trimmed estimates, it may not be too hard for them to meet or exceed lowered thresholds. (Topic: how markets view that.)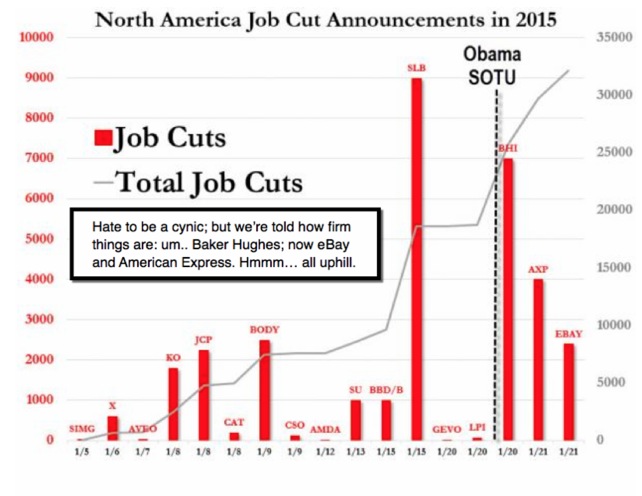 In sum: bulls are again in more-leveraged positions; creating exposure to air-pockets on the next descent. Technically, there's some argument as to whether we are building a 'right shoulder' of a 'head & shoulders' top for S&P futures. (Technical discussion of this continues for members.)
Bottom-line: stock markets were (noted all December) on borrowed time. Then we had a post-FOMC year-end 'grind' that many 'wanted' to believe in; while it had no particular impetus to move it forward. Markets started to fade as suspected just as soon as sales would settle in 2015. I wouldn't be too enthused about prospects of thrilling rebounds, especially post-ECB as they're compelled to shift focus to other market issues, like earnings.
We're newly short March S&P at 2056 ahead of an exciting week.
Enjoy the weekend!

Gene

Gene Inger
www.ingerletter.com