As we look towards the 2nd half of 2015 the market continues to be choppy with our major Indices pivoting on the day to day news out of Greece. The Dow and SP 500 closed out the 1st half of the year little changed and we continue to hold in 7 Month basing patterns. Lets take a look at the current setup on the SP 500 and discuss some key near term levels. As we can see in our chart below after a hard push lower on Monday the SP 500 caught near our 2,051 200 EMA. We define the 2,040-50 region as significant give we have a confluence of horizontal, 200 EMA and Weekly trend line support in that region. Our bias remains overall positive as long as that key area holds within reason: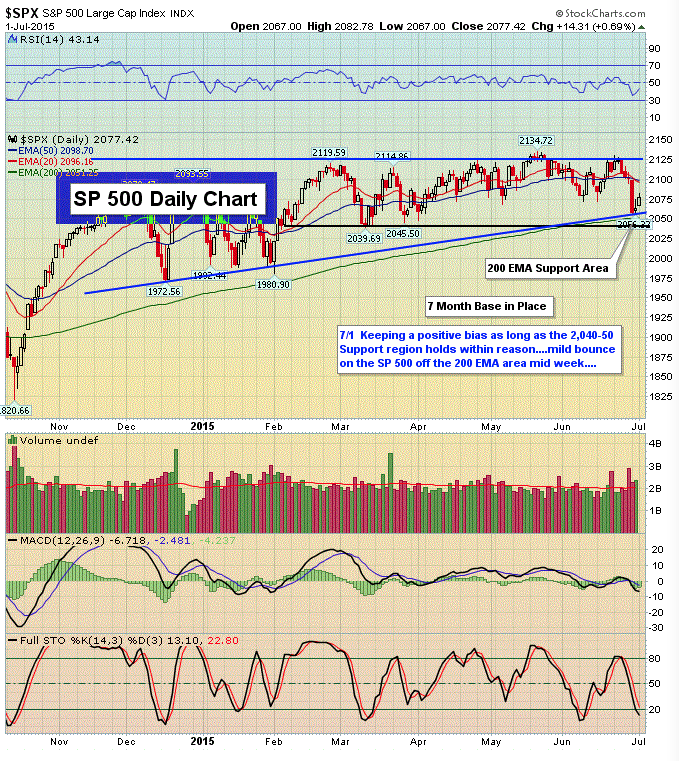 The Stochastic is now into oversold territory and we've saw a mild bounce today ahead of tomorrow's employment report. We expect the focus to remain on Greece ahead of the July 5th vote with early reports suggestive of a "yes" vote coming out of the region which would then force the Greece leader to make some concessions if that does in fact occur. In terms of resistance we have 20/50 EMA and gap resistance on the SP 500 coming in at the 2,096-98 area on the chart above so that will be an important short term level for both bulls and bears to keep tabs on in the days ahead. Typically we like to see those major EMA's cleared and then successfully backtested.
---
Moving onto the Dow we are in a similar 7 Month basing pattern. After a deep move lower on Monday we caught some footing near the 200 EMA currently at the 17,656 level which caught the move down on Monday. Given some horizontal and trend line supports in the 17,600 region this is also a key level to keep tabs on near term. We tend to give a heavier weighting to the SP 500 in general given its 500 stocks versus the 30 in the Dow but nevertheless another index we track closely. Resistance comes in at our 20/50 EMA's in the 18k region along with our base top near 18,300-350 seen below: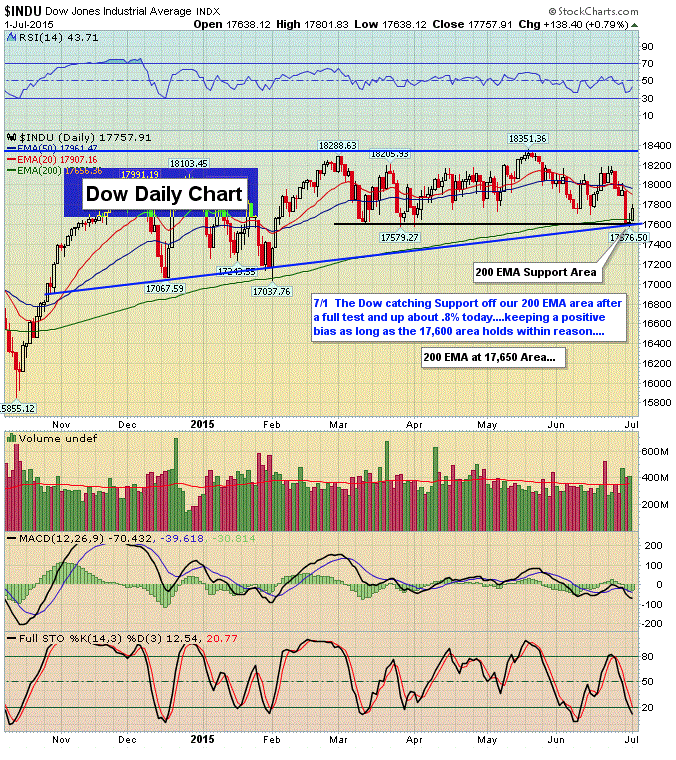 Next, lets take a look at the Nasdaq this time focusing on the Monthly timeframe. We wanted to feature this chart to show the proximity to our all time high seen back in the year 2000 period. For June we tested but closed well below that key pivot area and have been trading more or less laterally for the past 4-5 months holding just below this key resistance area of 5,132 as seen on our chart below. Whether this level caps us for a while or we are able to get through after a period of basing out remains to be seen but its an important area big picture to keep tabs on: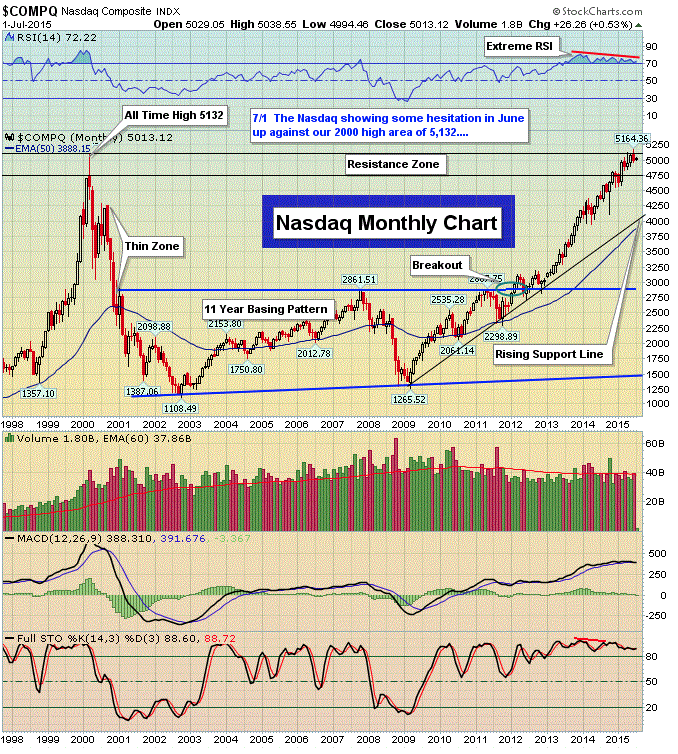 On the sentiment front don't kid yourselves in to thinking that froth is calming down. It's not. I am receiving these notes from people telling me things have gotten fearful. That financial stations are saying folks are now very fearful. Many of you may have seen this dial that shows how fear is ramping up quickly. How we've gone from complacency to fear, lots of fear over the past few weeks. Not the case folks. Sorry, no sale. The bull bear spread per the Investors Intelligence survey is still a very poor 34.1%. Bears are still near record low readings. Bulls pulled back a bit but we're still well over 30% and that's not fearful folks. We touched 29% two weeks ago but went from there to 36% and 34%. Again, not good. Greed and froth are still the names of the game. It seems only a strong correction would finally put fear in the hearts of traders and allow this reading to head towards the teens or lower. Don't be fooled by thinking now things are calmer and froth has disappeared. That's just not the case at all. You take froth along with those questionable monthly index charts and add in Greece and you have the potential for something not so nice which is why the folks from Greece need to vote yes on Sunday to the conditions of the euro zone. That would at least take away some negativity towards stocks. A day at a time here folks as we see what tomorrow's employment brings.

Enjoy the 4th!!!
Jack Steiman
Robert New
Please join us for a free 3 week trial at www.TheInformedTrader.com