SPX Monitoring purposes; long SPX 10/16/17 at 2557.64.
Monitoring purposes GOLD: Short GDX on 10/13/17 at 23.84.
Long Term Trend monitor purposes: Neutral.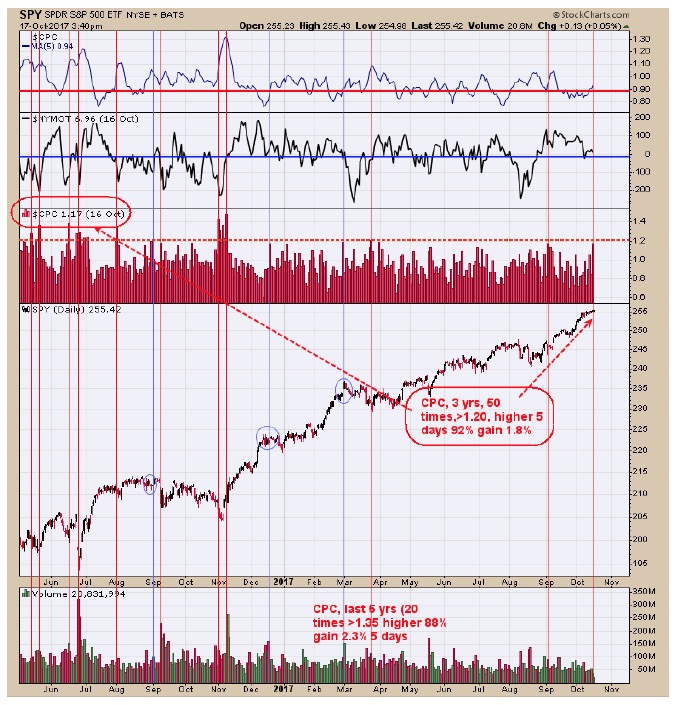 ---
The Total put call ratio (CPC) closed yesterday at 1.17. Total put call ratio (CPC) closing at 1.20 and higher predict market will be higher 92% of the time in the next five days with an average gain of 1.8%. On the chart above we market with red vertical lines the times the CPC closed at 1.20 and higher. The blue vertical lines show the failures. True that CPC didn't close above 1.20 yesterday but 1.17 does lean to the bullish side. The RSI study we did yesterday supports the CPC prediction. Long SPX on 10/6/17 at 2557.64.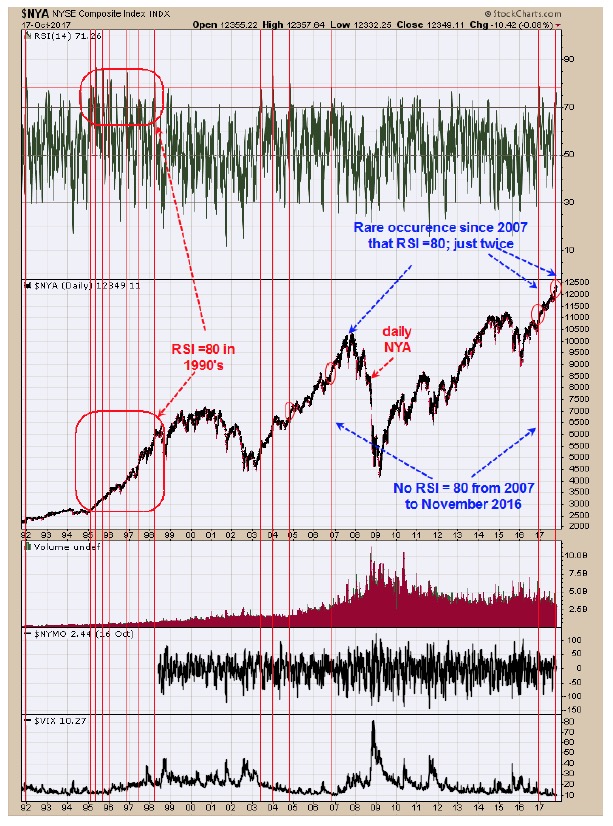 The chart above goes back to 1992 (25 years back) and the red vertical lines show when the NYSE RSI reached 80. As you can see it was a common occurrence for the RSI to reach 80's in the mid 1990's in that mega rally as that rally was persistent. RSI reached 80's just four times between 2003 to 2007. From 2007 to late 2016, nothing. In December 2016 and again in October 2017 RSI reached 80 and suggests a bullish momentum condition for the market. It is also worth noting that RSI did not reach 80 range at the major tops of 2000 and 2007 suggesting there is not major top forming here.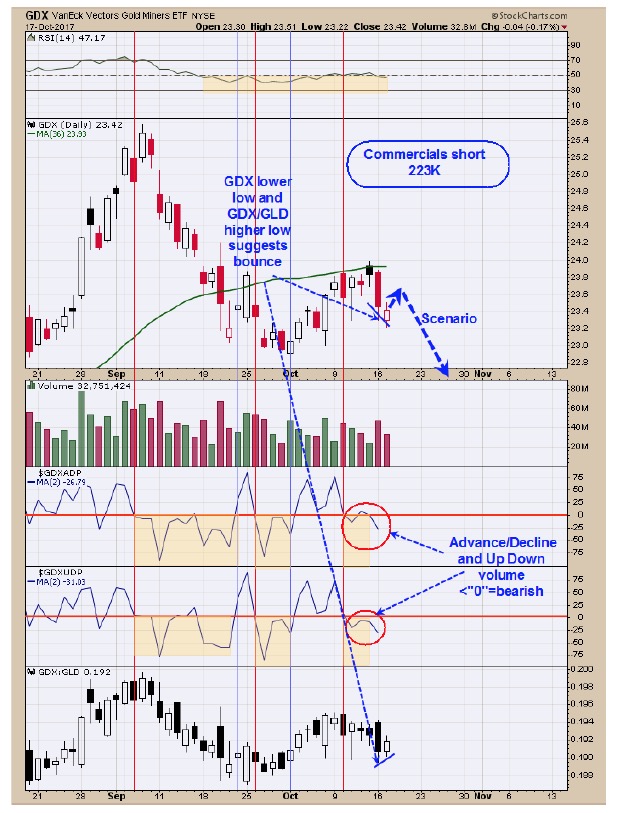 The GDX rally into early last week showed both the 2 day average of the Advance/Decline and Up Down Volume indicators falling below "0" in a bearish manner. Yesterday's decline pushed these two indicators further below "0" and remains bearish for now. Today GDX made a lower low and GDX/GLD ratio made a higher low and closed above yesterday close suggesting GDX could bounce here. However bounce is not expected to last long, maybe a day or two as the picture remains bearish. The Commercials (Smart money) remain short 223K contracts which is bearish for gold. Short GDX 10/13/17 at 23.84
Tim Ord,
Editor
Visit www.ord-oracle.com. New Book release "The Secret Science of Price and Volume" by Timothy Ord, buy on www.Amazon.com.