Market Recap for Monday, June 20, 2016
Over the weekend, a poll indicated that the "remain" camp was winning the Brexit war, helping to relieve a bit of market anxiety that has been building as the UK referendum on whether the British will remain or leave the European Union approaches on Thursday. Global markets rallied on that poll, although opening gains in the U.S. on Monday were trimmed substantially by the close.
---
Industrials (XLI, +0.92%) and consumer discretionary (XLY, +0.90%) led the action on Monday. General Electric (GE) has been showing recent strength and appears ready to make its next breakout. But first it must negotiate key price resistance just above current price. Take a look: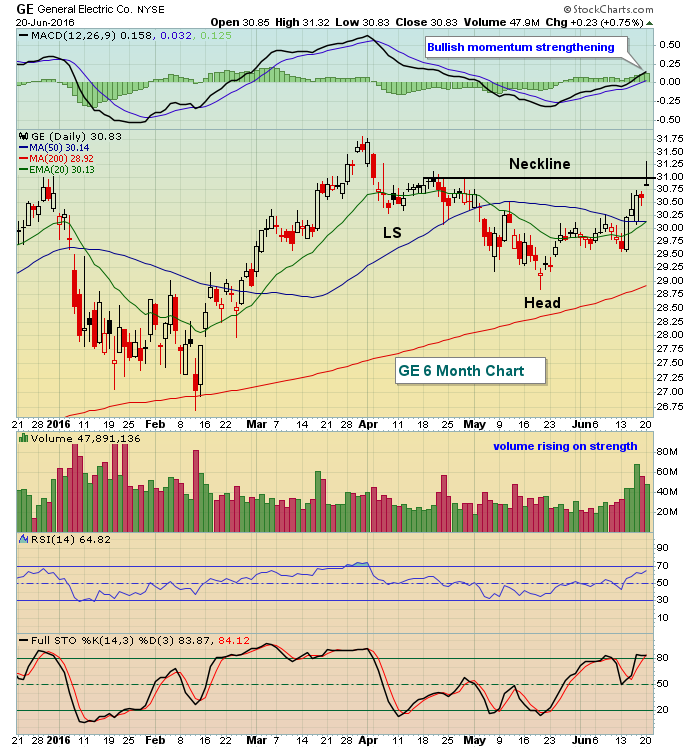 Monday's candle was a bearish shooting star with that long tail to the upside creating a false breakout. GE, however, remains in a potentially bullish inverse head & shoulders pattern so short-term weakness down to test its now rising 20 day EMA would print an inverse right shoulder. That would represent a solid reward to risk entry into GE. While most industrial groups were strong on Monday, airlines have recently broken down and should be avoided near-term. This group is highlighted below in the Sector/Industry Watch section.
Eight of the nine sectors advanced on Monday, with only the defensive utilities (XLU, -0.38%) retreating.
Pre-Market Action
The 10 year treasury yield ($TNX) had been on the rise but is pausing as it approaches yield resistance near 1.70% and its declining 20 day EMA, currently at 1.69%. A break above both these levels would suggest more money could rotate away from treasuries and that could help to fuel an S&P 500 rally. Traders moving back into treasuries, however, would send the yield lower again and likely signal more weakness ahead for U.S. stocks.
Currently, Dow Jones futures are riding the wave of upward momentum created at the open on Monday and fueled by a perceived improvement in the likelihood that the UK referendum is going to end with a vote in favor of remaining in the EU. The Dow futures are up by 27 points at last check. Overnight, the China Shanghai Composite fell slightly, but other Asian markets mostly rallied. In Europe this morning, we're seeing strength again.
Fed Chair Janet Yellen will speak before the Senate Banking Committee at 10am EST and her remarks will be closely monitored.
Current Outlook
Expect market action to remain quite volatile this week as more opinion polls surface regarding Brexit. A few opinion polls suggesting that momentum was strengthening in the "remain" camp sent global markets soaring yesterday. Clearly, opinion polls over the next couple days could have the opposite effect if those polls show any renewed strength in the "leave" camp. That makes trading here in the U.S. a bit dicier than usual. Volatility had subsided after the VIX hit nearly 23 last week. On Monday's low - with the S&P 500 soaring - the VIX touched 16.59 before closing at 18.37. It's important to note that the 16-17 support range has been critical during market downtrends, especially during the 2000-2002 and 2007-2009 bear markets. Check out the VIX holding support on Monday: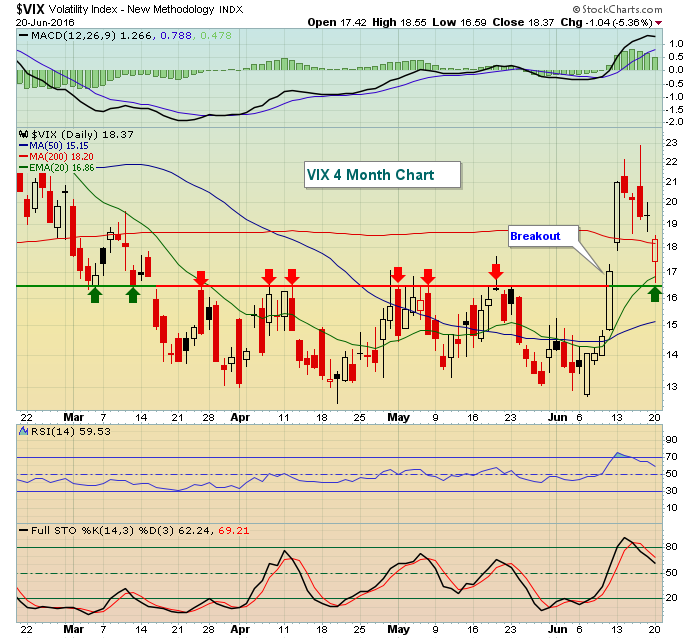 As long as the VIX remains above that 16.50 support line, we could see impulsive selling kick in and bears regain the upper hand. Higher VIX readings are truly the bears' best friend, especially during volatile periods like the one we're experiencing now with Brexit.
Sector/Industry Watch
Airlines ($DJUSAR) finally broke down last week. We've seen multiple successful tests of support on the DJUSAR near 200, but that support failed to hold and now this group is an "avoid" until it can restore its index above the key resistance levels shown below: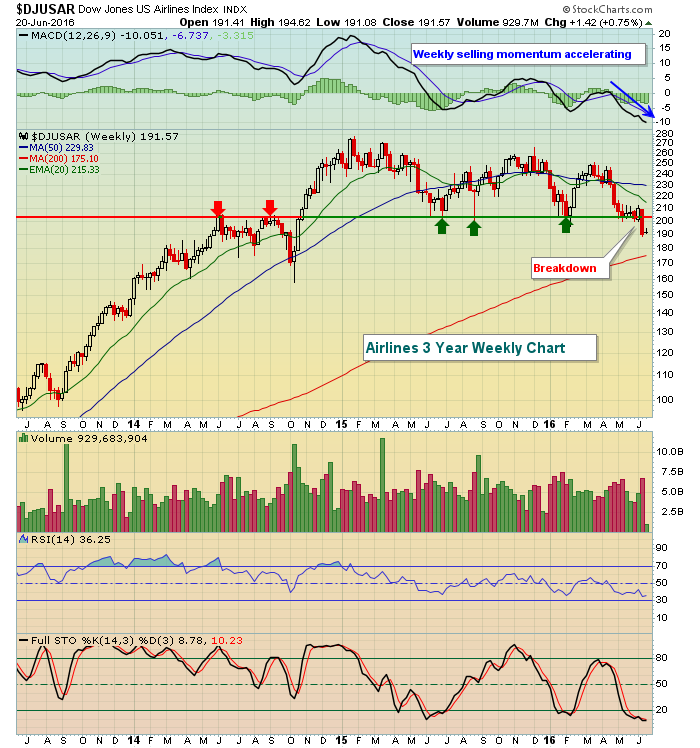 Price resistance will be near 200 and the declining 20 week EMA is currently at 215. That range of 200-215 will represent overhead resistance. To the downside, the low near 160 from October 2014 is now in play. If crude oil prices ($WTIC) break out to fresh highs again, look for airlines to test that 160 area.
Historical Tendencies
Yesterday, the Dow Jones U.S. Health Care Providers Index ($DJUSHP) bounced off rising 20 day EMA support. That's noteworthy because the DJUSHP typically enjoys strong Junes. Take a look at this seasonal chart: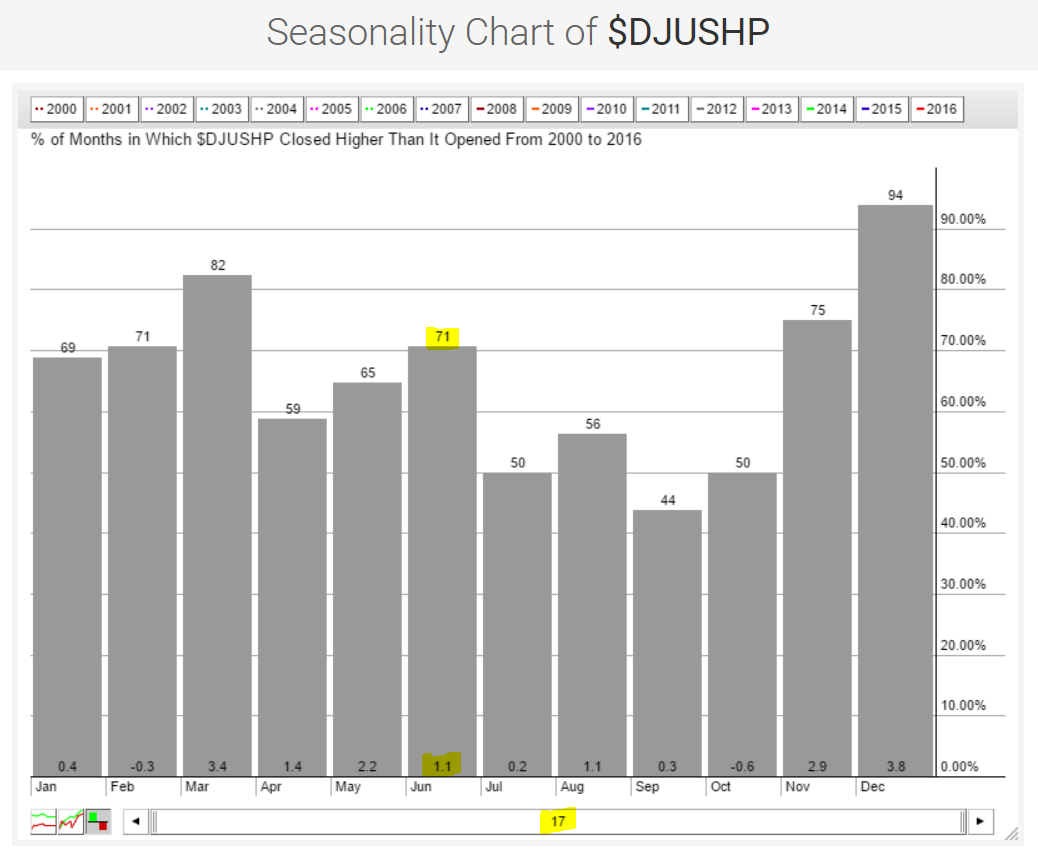 While June isn't the best month for the DJUSHP, it's June performance is notable because this is one of just five industry groups in the U.S. that average more than +1.0% returns during the month of June.
Key Earnings Reports
(actual vs. estimate):
KMX: .90 vs .92
LEN: .95 vs .87
(reports after close, estimate provided):
ADBE: .52
FDX: 3.26
KBH: .16
Key Economic Reports
None
Happy trading!
Tom