Market Recap for Friday, September 22, 2017
Friday was a bifurcated kind of day on Wall Street. We saw a small loss on the Dow Jones, while there were slight gains on the other major indices. The Russell 2000, in particular, saw relative strength and gained nearly 7 points to finish at 1450. That's a big level of price resistance as you can see below:
---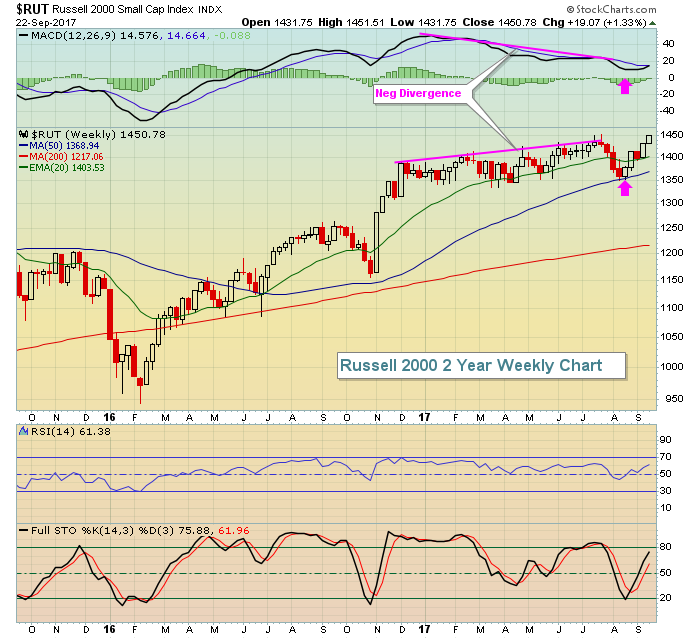 The sideways consolidation on the RUT has helped to resolve the momentum issues that were present over the entire summer. Now small caps appear poised to turn higher after we saw a 50 week SMA test and nearly tested MACD centerline support (pink arrows).
Energy (XLE, +0.51%) and industrials (XLI, +0.26%) were again the relative leaders, while the higher treasury yields have continued to work against utilities (-0.82%).
Pre-Market Action
There's little in the way of earnings or economic reports due out today so the U.S. equity market will likely take its cues from global equity markets and the U.S. treasury market. The 10 year treasury yield ($TNX) is slowly declining from its recent peak at 2.29% and that move lower suggests traders are hedging their bets a little as we enter into a seasonally unfavorable week.
Crude oil prices ($WTIC) are up more than 1% in early trade, above $51 per barrel. That should help to continue relative strength in energy shares. Global markets are mixed today.
With just 30 minutes left to the opening bell, Dow Jones futures are down 16 points.
Current Outlook
The Dow Jones and the 10 year treasury yield ($TNX) continue to align together perfectly. At the end of last week, the DJI fell slightly, responding to slightly lower treasury yields. Here's the chart: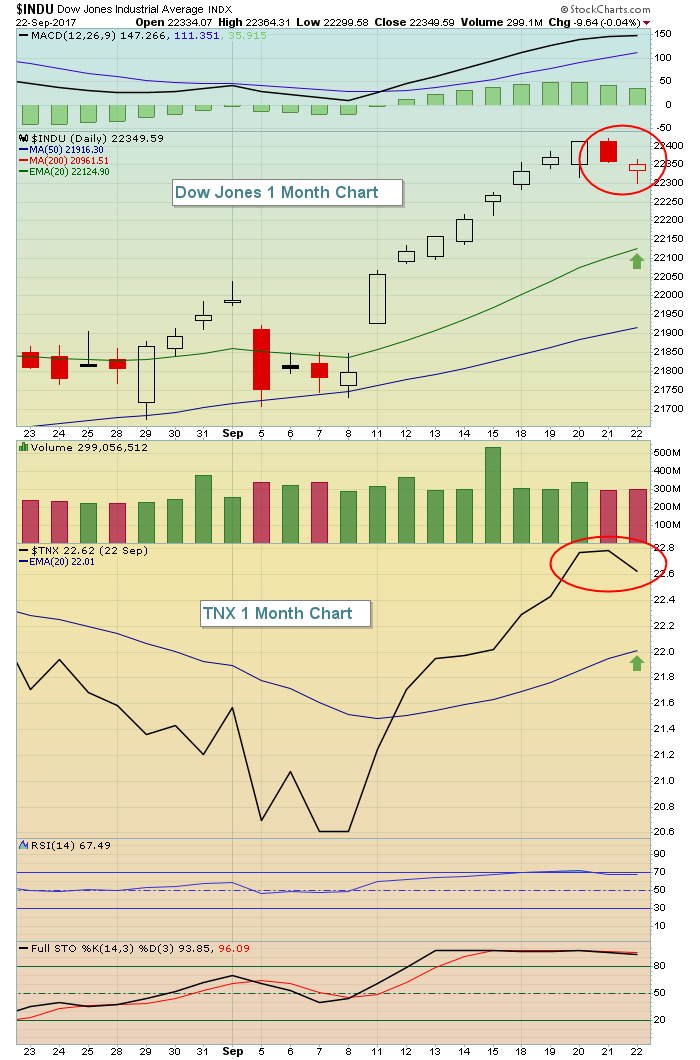 I've inserted green arrows above to mark the rising 20 day EMA tests that could arise if we see further selling this week. Last week's selling was quite mild, but we could see the selling accelerate early this week to challenge those rising 20 day EMAs.
Sector/Industry Watch
Pipelines ($DJUSPL) was the only industry group within the energy sector that fell on Friday and the group has lost key support at its rising 20 day EMA, not a great sign. I'd be careful with this area of energy until the group can reclaim its 20 day EMA. Check it out: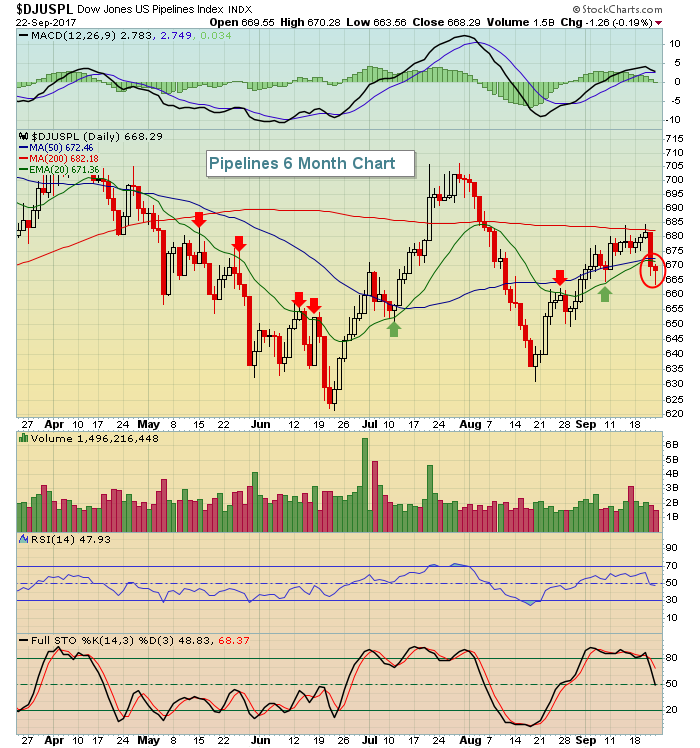 The red circle shows the breach of the rising 20 day EMA. Previously, I've marked key 20 day EMA resistance tests (red arrows) and 20 day EMA support tests (green arrows).
Monday Setups
I like Wipro Ltd (WIT) for a couple reasons as my setup this week. We've seen a significant pullback after WIT cruised higher in July. That's created an opportunity as the price decline has now tested the rising 20 week EMA in each of the past two weeks: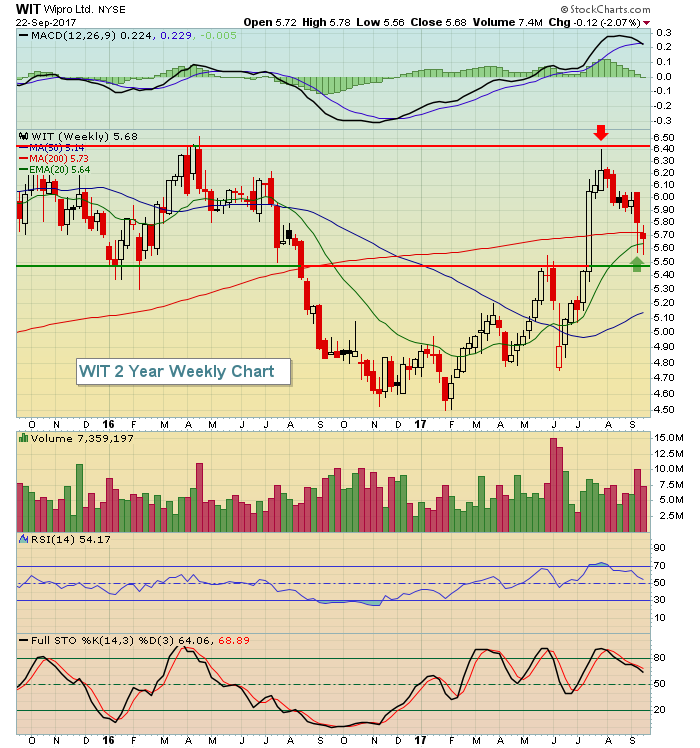 The 5.50-5.60 level was resistance in the past and should provide excellent price support, along with the rising 20 week EMA, currently at 5.64. The second reason I like WIT is based on the upcoming favorable seasonality. I've provided more on this in the Historical Tendencies section below.
Historical Tendencies
Wipro Ltd (WIT) is about to enter its strongest period of the calendar year by far. So as it's testing solid price support and its rising 20 week EMA, the next three calendar months tend to be very kind to WIT shareholders. Check this out: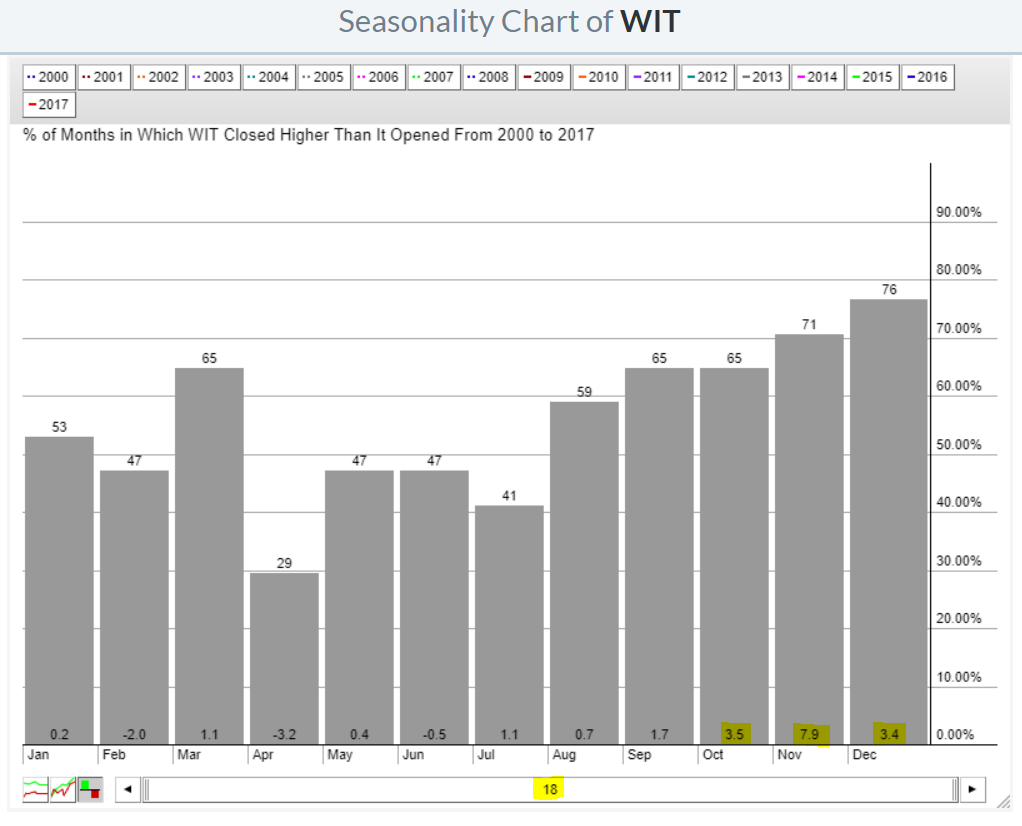 Over the past 18 years, WIT has averaged gaining 14.8% in the fourth quarter alone. Those are great annual returns, let alone one quarter.
Key Earnings Reports
None
Key Economic Reports
None
Happy trading!
Tom