Market Recap for Wednesday, September 27, 2017
U.S. stocks were lifted at least in part by rising treasury yields. The 10 year treasury yield ($TNX) spiked 8 basis points and that represents a significant selloff in treasuries. Those proceeds tend to be reinvested in equities and that was certainly the case on Wednesday. The Russell 2000 ($RUT) has been on fire and it rose nearly 2% in another emphatic relative strength statement. The NASDAQ gained more than 1% and both the Dow Jones and S&P 500 rose as well. Clearly, however, the day belonged to the more aggressive stocks found on the Russell 2000 and NASDAQ.
---
Financials (XLF, +1.22%) and technology (XLK, +1.02%) led the advance. Investment services ($DJUSSB) was the clear leader among financial industry group and their recent breakout and strength continued in a big way on Wednesday. Here's the chart: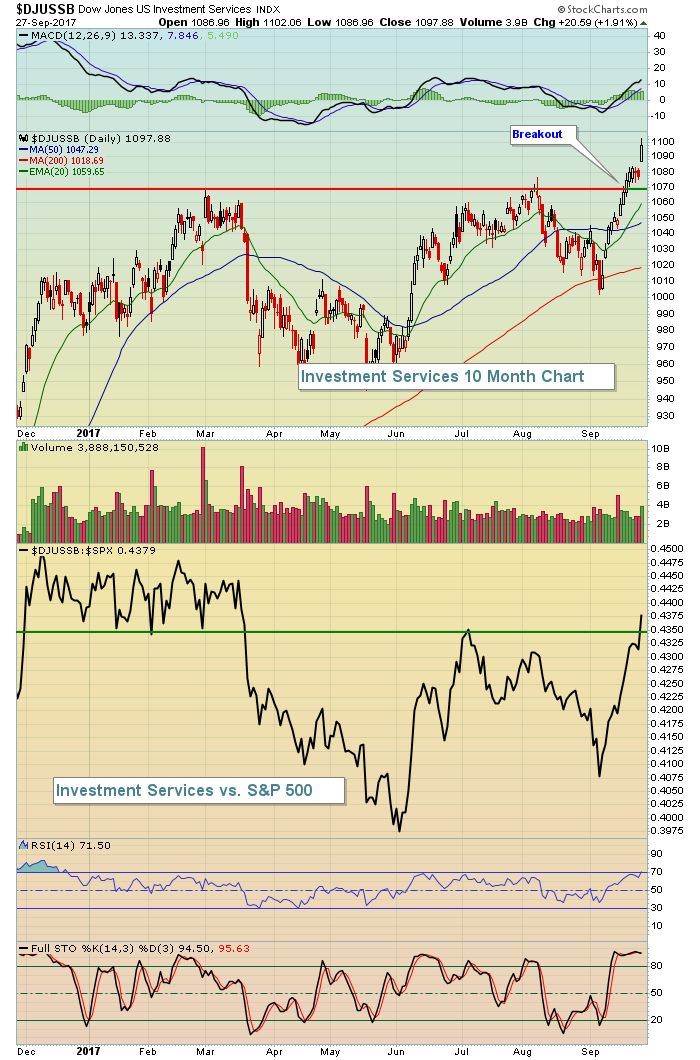 Financial stocks, in particular, benefit from rising treasury yields and that was certainly the case on Wednesday as banks ($DJUSBK), asset managers ($DJUSAG) and life insurance companies ($DJUSIL) all surged higher in unison with treasury yields.
Technology also had plenty of support, namely from semiconductors ($DJUSSC) after Micron Technology (MU) reported much better than expected revenues and earnings.
Pre-Market Action
Despite the TNX on the rise, U.S. futures are taking a hit. Perhaps it's just profit taking after big gains in some areas on Wednesday, but currently Dow Jones futures are down 48 points with 30 minutes left before a new trading day begins.
Crude oil ($WTIC) has pushed back above the $52 per barrel level and that could provide a further lift for energy shares (XLE). Global markets are mixed and that could temper enthusiasm in U.S. stocks.
Current Outlook
As I've discussed in other blog articles, rising treasury yields typically result in a rallying equity market. Yesterday was no exception. So one of the keys in the very near-term will be to watch the TNX and see if the rise can continue past the 2.40% level: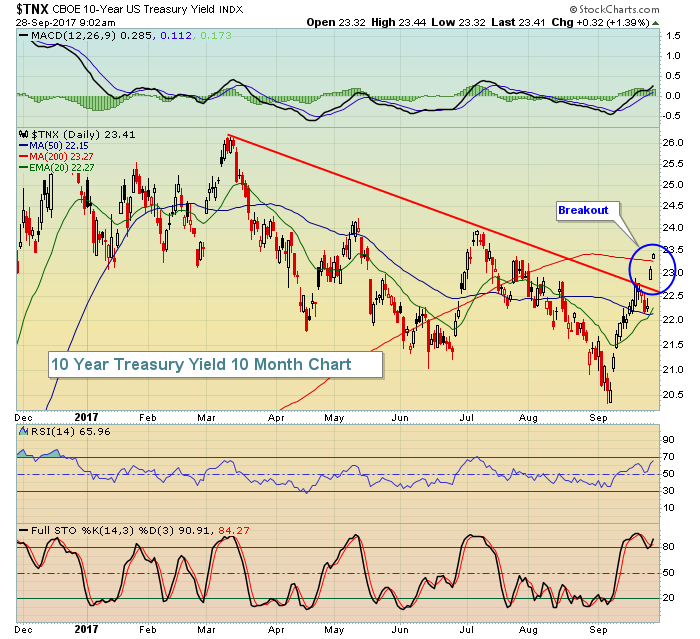 Given a further rise in the TNX this morning, I'd expect to see more buying of U.S. equities as a result.
Sector/Industry Watch
Like energy, retail stocks (XRT) have been brutal underperformers throughout 2017. However, it's difficult to ignore the recent relative strength and absolute breakout. Check this out: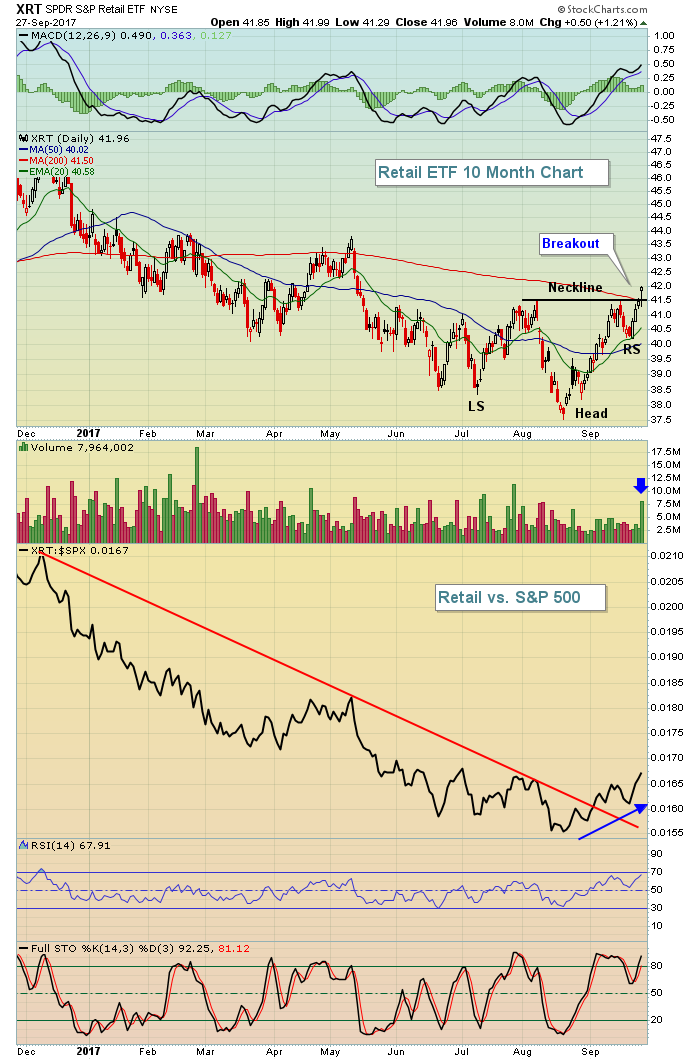 Yesterday's breakout looks to me like confirmation of a bottom. We are now seeing relative strength in retail stocks and the bounce off the rising 20 day EMA with momentum strengthening (rising MACD) tells me that this group has just begun to rise. The breakout of the bottoming reverse head & shoulders pattern on high volume confirms it.
Historical Tendencies
Since 1971, the NASDAQ has risen 55.85% of trading days. But from the 26th of calendar months through the 6th of subsequent calendar months, that percentage increases to 58.14%. The NASDAQ's annualized return for this bullish period is +21.30%, or approximately double the average annual return of the NASDAQ over the past 46 years. It's the anticipation of money inflows and then the actual inflows that drives equity prices higher.
Key Earnings Reports
(actual vs. estimate):
AZO: 15.18 vs 15.15
Key Economic Reports
Q2 GDP (final estimate) released at 8:30am EST: (actual) vs. +3.1% (estimate)
Initial jobless claims released at 8:30am EST: (actual) vs. 275,000 (estimate)
Happy trading!
Tom