Market Recap for Thursday, December 14, 2017
Walt Disney (DIS) announced plans to purchase $52 billion of 21st Century Fox (FOXA) assets and that lifted both the broadcasting & entertainment index ($DJUSBC) and the consumer discretionary sector (XLY, +0.31%), not to mention both DIS (+2.75%) and FOXA (+6.50%). That's the good news. The bad news is that the remaining eight sectors finished lower, as did all of our major indices. The Dow Jones ended its four day streak of closing at all-time highs and actually printed a short-term bearish engulfing candle in the process:
---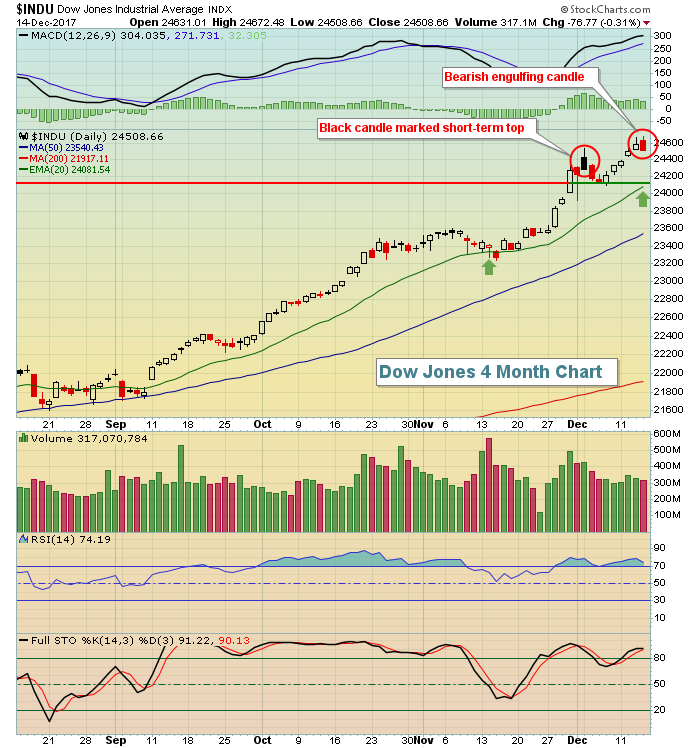 The Dow is extremely overbought and could use a little breather to gear up for a late December run.
Materials (XLB, -1.11%) and healthcare (XLV, -1.01%) were the clear laggards yesterday. Materials were dragged lower in part by steel ($DJUSST), where overbought conditions resulted in sudden profit taking. The longer-term chart still looks solid, but a bit more selling down to price support and/or the rising 20 day EMA wouldn't be a shocker: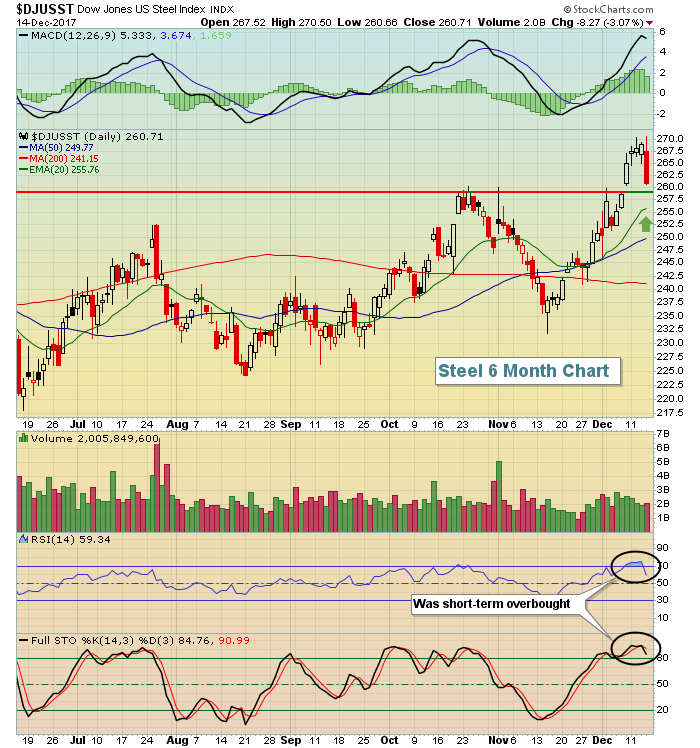 In the healthcare space, biotechs ($DJUSBT) failed to negotiate the gap resistance at 2020 and its reversal and 1.46% drop led the healthcare decline.
Pre-Market Action
Despite the short-term bearish indications based on Thursday's reversal, holiday cheer seems to be lifting traders' spirits as Dow Jones futures are up 88 points as we approach the opening bell. Reversing candles are very short-term indications so keep in mind that any move on the Dow above 24672 would negate the bearish engulfing candle that printed on Thursday.
One level to watch closely is the NASDAQ's all-time high close of 6912 that printed on November 28th. We hit 6901 yesterday on an intraday basis, but sellers took over. With futures higher this morning, we may see the NASDAQ make another run at a record high.
Asian markets struggled overnight with mostly losses, while European markets are mixed this morning.
Current Outlook
Transports ($TRAN) have finally slowed a bit as they struggle to keep that bullish momentum intact. Its intraday high of 10504 on December 4th has served as key price resistance the past ten days or so and that top came on very heavy volume. Therefore, we might see transports continue to consolidate between its rising 20 day EMA and that price resistance. Here's the visual: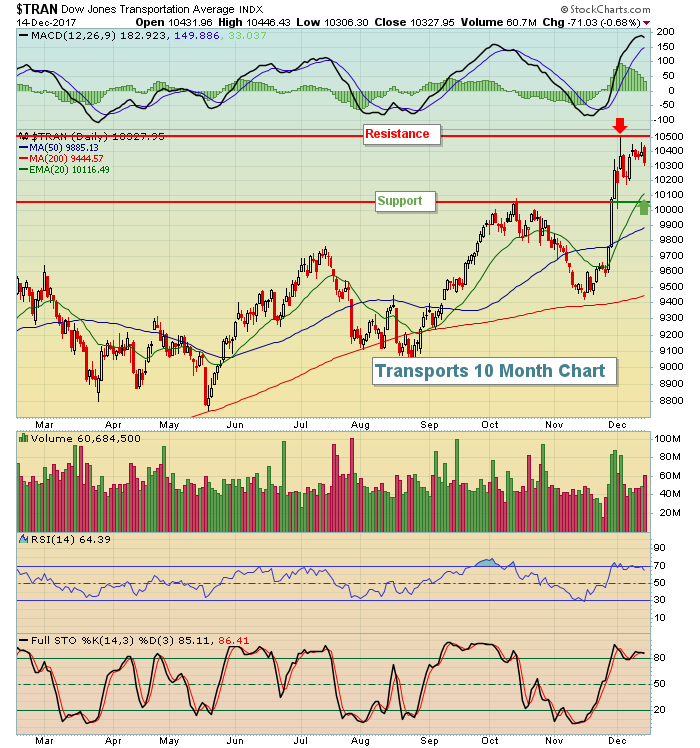 A key to another breakout in the TRAN might lie with airlines ($DJUSAR). Airlines have risen more than 13% over the past month, but are now stalling at gap resistance from July at 282. Yesterday's close? 282. If the DJUSAR can break out, then we'll likely see the TRAN make fresh new highs.
Sector/Industry Watch
After stalling with a negative divergence in place, aerospace stocks ($DJUSAS) have caught fire again. They've been the hottest industry group within the industrial sector over the past week (+2.22%) and price momentum is bullish and accelerating. If there's one problem, it's that the gr0up is now technically overbought:
The DJUSAS is channeling higher and remains quite bullish. But the chart is stretched and at the upper end of its year long channel. I wouldn't be surprised to see some rotation away from this group in the near-term. The initial support would likely be the rising 20 day EMA, although I've drawn two horizontal lines to mark price support levels.
The DJUSAS is now growing a bit riskier because of its overbought conditions. Managing risk will be a key topic of a joint webinar that I'll be doing on Monday afternoon with John Hopkins, President of EarningsBeats.com. EarningsBeats is offering to share its ChartList with StockCharts.com members as a special holiday promotion that will include our webinar on Monday. For more details as to cost and other information, you can CLICK HERE.
Historical Tendencies
The NASDAQ ends its current historically bearish week at the close today. Thus far, the NASDAQ has gained 16 points during the seasonally weak period from December 8th's close to today's close - so it's held up well. Next week will mark the beginning of what's typically a strong bullish run into year end. Next Thursday (December 21) and Friday (December 22) are two of the best days in the second half of December with annualized gains of 118.87% and 102.49%, respectively, and this year will be the final two trading days before the Christmas holiday.
Key Earnings Reports
None
Key Economic Reports
December empire state manufacturing survey released at 8:30am EST: 18.0 (actual) vs. 18.0 (estimate)
November industrial production to be released at 9:00am EST: +0.3% (estimate)
November capacity utilization to be released at 9:00am EST: 77.2% (estimate)
Happy trading!
Tom