Market Recap for Friday, December 15, 2017
Friday's action was extremely bullish. I always love to see "trend days", where prices rise across the board from opening to closing bells. Strength was found in all of our major indices with the Russell 2000 (small caps) leading the charge. The RUT ended Friday with a 1.56% gain with the NASDAQ (+1.17%) also climbing more than 1%. There was a bit of relative weakness in the more conservative Dow Jones and S&P 500, which finished the day 0.58% and 0.90% higher, respectively. But all four moving higher in tandem is always good to see and it continues the bullish action that's been taking place in one of the best historical months (December) of the year.
---
Technology (XLK, +1.14%), consumer staples (XLP, +1.13%) and healthcare (XLV, +1.10%) all posted gains in excess of 1%. Like both financials (XLF, +0.90%) and industrials (XLI, +0.71%), the XLK struggled after recently printing a negative divergence on its daily MACD. But after testing its rising 50 day SMA, it has exploded to the upside and that's quite bullish: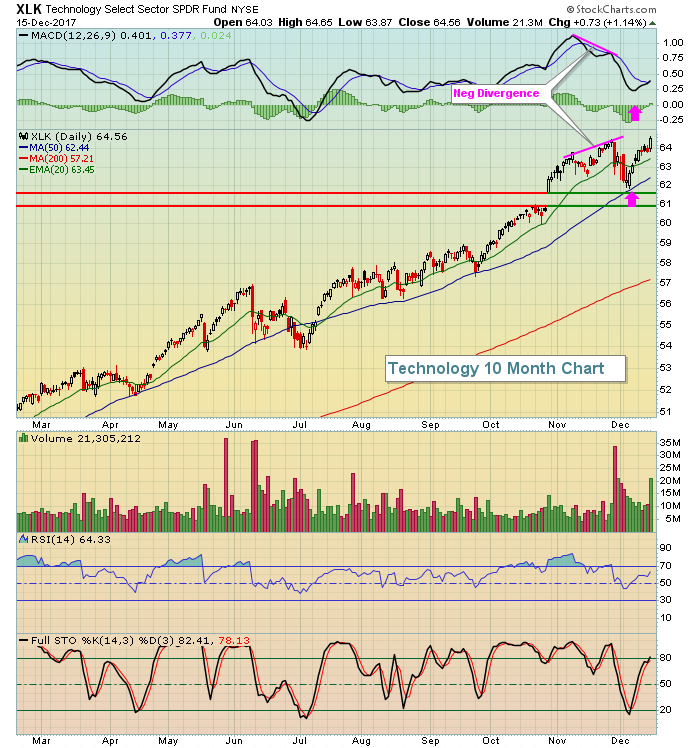 After a negative divergence, I look for a 50 day SMA test, a MACD centerline "reset", or both. I've marked them in the chart above with a pink arrow. We essentially saw a 50 day SMA test, as well as a gap support test when the XLK moved back down to 62. Also note that the RSI fell back into the 40-50 support zone that we generally see after pullbacks within uptrends. The fresh breakout in technology to all-time highs is a great sign for this group into year end.
Energy (XLE, -0.09%) was the only sector that didn't participate on Friday, but I remain bullish this group as long as we don't see a close back beneath the 66.00-66.50 support area. The XLE closed at 68.72 on Friday.
Pre-Market Action
We have seen a huge global rally last night and this morning and it's carrying over to U.S. futures. Overnight, the Tokyo Nikkei ($NIKK) led a strong rally with a 348 point gain (+1.55%). In Europe this morning, we're seeing similar strength as the German DAX ($DAX) has advanced more than 200 points (+1.58%) to lead indices there.
Strength in the U.S. is simply following suit as Dow Jones futures are higher by 160 points with a little more than 30 minutes left to the opening bell.
Current Outlook
If you haven't seen this already, please check out the Russell 2000 historical performance in the second half of December, as I outlined it in my ChartWatchers article over the weekend. It's simply stunning and it's fairly consistent. The numbers don't lie and after the huge advance in the Russell 2000 on Friday (to close at its highest level since topping in early December), I believe the RUT is primed for a breakout to all-time highs as we close out 2017: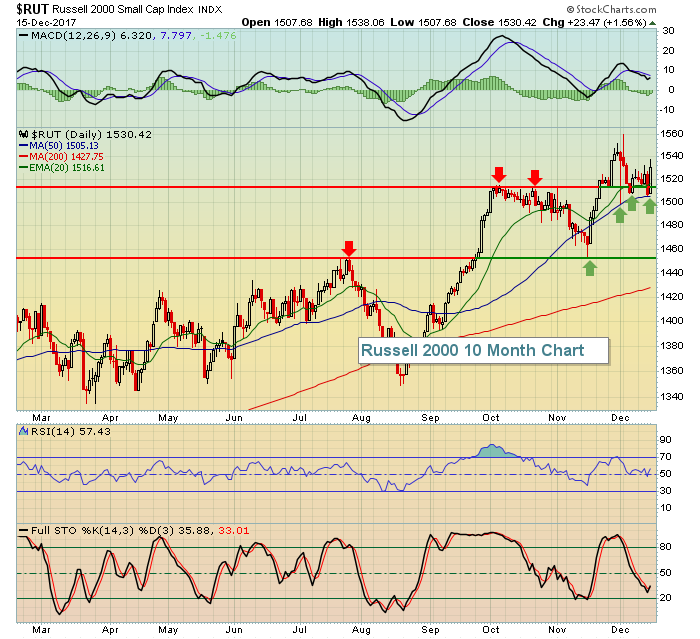 Recent action has been stymied between the 20 day EMA and 50 day SMA. But Friday's strength cleared both moving averages, along with recent price resistance - a good sign as we head into a fresh new year.
Sector/Industry Watch
In addition to small caps (featured above in Current Outlook), the performance of railroads ($DJUSRR) is a great signal as to how traders view the U.S. economy in the months ahead. Small caps do nearly all their business domestically so if their chart is bullish, it's typically a good sign for our economy. Railroads also do their business domestically, or at least in North America (for rather obvious reasons), so it's important to see strength here as well: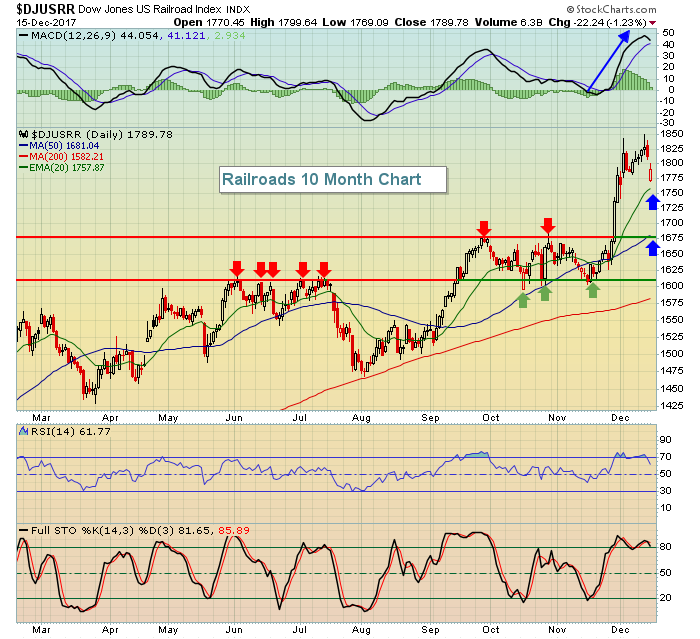 The red arrows mark price resistance and the green arrows mark price support. The blue arrows mark the two key levels of support on any bout of selling. One is at the rising 20 day EMA, which typically provides solid support during uptrends. Should that fail to hold, however, the second blue arrow marks price support as this was prior price resistance - before the late November breakout.
Monday Setups
Every Monday, I provide trade setups that look interesting to me. They all come from my Strong Earnings ChartList, where I accumulate charts of companies that have thrashed Wall Street consensus estimates as to revenues and EPS in their latest quarterly earnings. Then I wait for pullbacks to key support areas to provide solid reward to risk trade setups. Later this afternoon at 4:30pm EST, I'll be joining John Hopkins, President of EarningsBeats.com in a must-see webinar if you're a short- to intermediate-term trader. John will discuss the risk adjusted returns at EarningsBeats and how they've been able to significantly outperform the benchmark S&P 500, while I'll discuss how I scan my StrongEarnings ChartList to find solid trading opportunities. John has also promised everyone a copy of his Candidate Tracker ChartList (which essentially mirrors my Strong Earnings ChartList) so I'll show you how to download this ChartList and save it your StockCharts.com account. CLICK HERE for more details of his special promotion, including this afternoon's webinar.
For this week, I'm watching Atlassian Corp (TEAM) closely. It's in the software industry ($DJUSSW), which broke out to fresh highs on Friday. TEAM has been consolidating in a gap support zone and began to show strength again on Friday with increasing volume: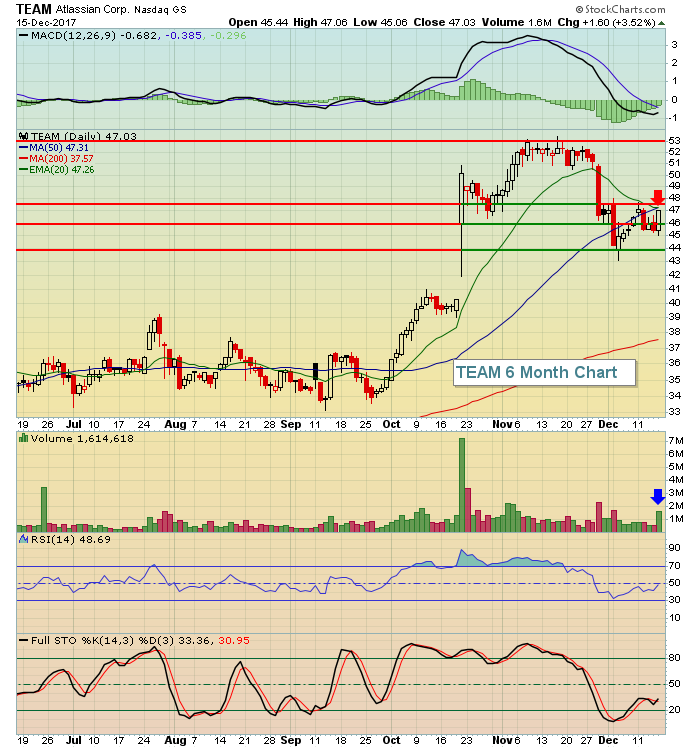 The short-term target on this trade would be at the recent price high near 53. First, TEAM will need to negotiate critical overhead resistance at 47.50 (reaction highs in December) and both the 20 day EMA and 50 day SMA. A breakout above would likely trigger more technical buyers.
Historical Tendencies
December isn't like other calendar months. Most calendar months are fairly predictable in that the 19th through 25th tends to be quite bearish. In my opinion, it's because options expire the third Friday of every month and there tends to be market strength leading up to options expiration - and weakness just after. December, however, doesn't follow that trend. Look at how the S&P 500 performs (since 1950) from the 19th through 25th in all months, except December:
19th: -36.16%
20th: -4.11%
21st: -0.43%
22nd: -15.89%
23rd: -3.12%
24th: -4.00%
25th: -7.57%
Now check out December performance, over the same calendar days of the month:
December 19th: +4.53%
December 20th: - 22.33%
December 21st: +73.65%
December 22nd: +38.05%
December 23rd: +10.84%
December 24th: +45.87%
December 25th: +0.00% (market closed for Christmas holiday)
Key Earnings Reports
(reports after close, estimate provided):
HEI: .57
Key Economic Reports
December housing market index to be released at 10:00am EST: 70 (estimate)
Happy trading!
Tom
Announcement from the Author
{{ announcement.content }}