Market Recap for Wednesday, December 27, 2017
Wednesday's action was characterized by thin volume and low volatility, normal for trading during the holidays. Our major indices moved fractionally higher, with the Russell 2000 ($RUT) being the exception after that index fell during the afternoon session to finish slightly lower.
---
Utilities (XLU, +0.42%) benefited from falling treasury yields and very oversold short-term conditions to log the biggest gain among sectors. On the other end of the spectrum, the most overbought sector - energy (XLE, -0.33%) - saw a bit of profit taking after a near 10% rise over the prior month.
Among industry groups, transportation services ($DJUSTS) continued their recent meteoric rise, gaining another 1.69% yesterday. A big winner in that space has been XPO Logistics (XPO). XPO rose another 3.53% on Wednesday.
Pre-Market Action
Rising oil and copper prices this week led a nice rally in Asia overnight with the Hang Seng Index ($HSI) up nearly 1%. In Europe, the action is mixed. And here in the U.S., Dow Jones futures are up 40 points with a bit more than 30 minutes left to the opening bell. Expect very thin trading as we approach the end of 2017.
Current Outlook
This is typically the season for small cap (Russell 2000) stocks to shine. Since a move up to start the second half of December, however, the RUT has been consolidating in bullish fashion: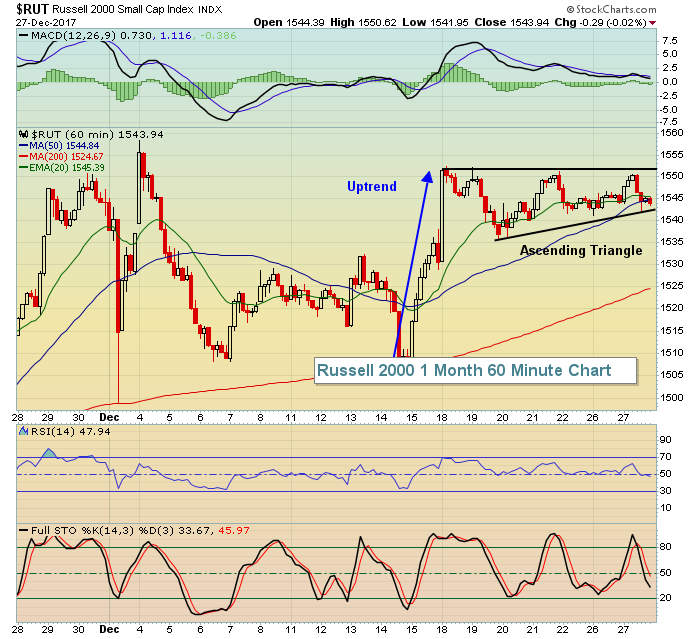 A definitive break above 1552 would measure another 1% higher to just beneath the 1570 level.
Sector/Industry Watch
Over the past month, only two sectors are lower. The big loser has been utilities (XLU, -5.83%), a group that tends to underperform during periods of rising treasury yields. While the 10 year treasury yield ($TNX) has dropped this week, there's clearly been an upward bias in yields since late November and that has stymied the XLU. The other sector that's struggled is technology (XLK, -0.12%). A negative divergence printed in late November and that slowing price momentum took its toll to start December. After regrouping and rallying during the first half of December to set new highs, the XLK has fallen victim to profit taking: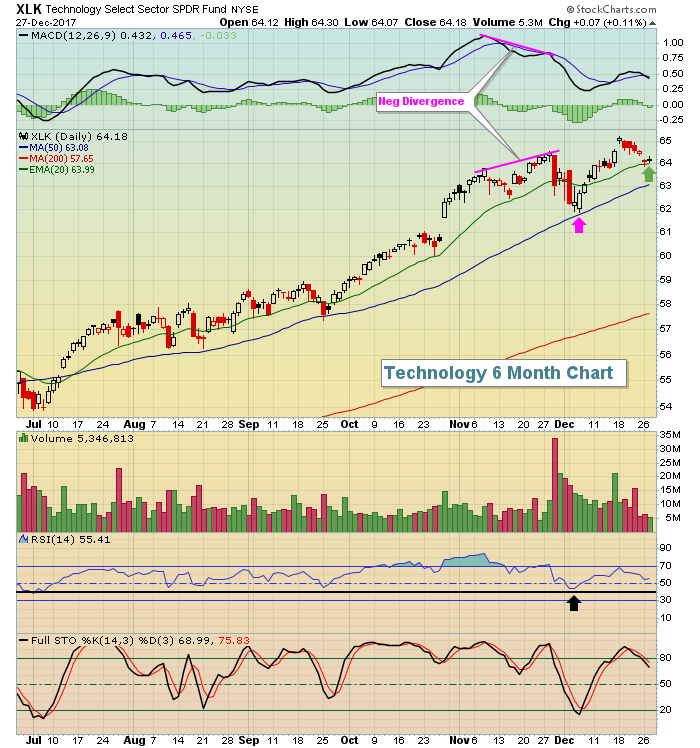 Note the 50 day SMA test after the negative divergence printed. Also, the RSI neared 40 support simultaneously. That combination is typically a test for the bulls and they passed it with flying colors. Currently, the profit taking over the past week or so has resulted in a 20 day EMA test. I'd look for this moving average to hold and for technology stocks to bounce to help lead the major indices higher as we close out 2017.
Historical Tendencies
Since 1971 on the NASDAQ, here are the annualized returns for each of the next several calendar days:
December 28 (today): -13.28%
December 29 (Friday): +55.69%
January 1 (Monday): U.S. stock market is closed for New Year's Day
January 2 (Tuesday): +56.51%
January 3 (Wednesday): +171.61%
January 4 (Thursday): -34.60%
January 5 (Friday): +35.48%
Key Earnings Reports
None
Key Economic Reports
Initial jobless claims released at 8:30am EST: 245,000 (actual) vs. 240,000 (estimate)
December Chicago PMI to be released at 9:45am EST: 62.5 (estimate)
Happy trading!
Tom