Market Recap for Thursday, May 9, 2019
Here's my takeaway from yesterday's action. We had a solid recovery off of earlier intraday lows, but the downtrend remains firmly in place and we need to respect that. Volatility ($VIX) is important to watch because spikes in this sentiment index typically mark very important stock market bottoms. So let's watch to see if nervousness in the market begins to dwindle. Fear drives impulsive selling episodes and the VIX is sometimes referred to as the "fear index".
---
The downtrend this week on the S&P 500 is very well-defined as you can see from this chart and it's accompanied by an uptrend in the VIX: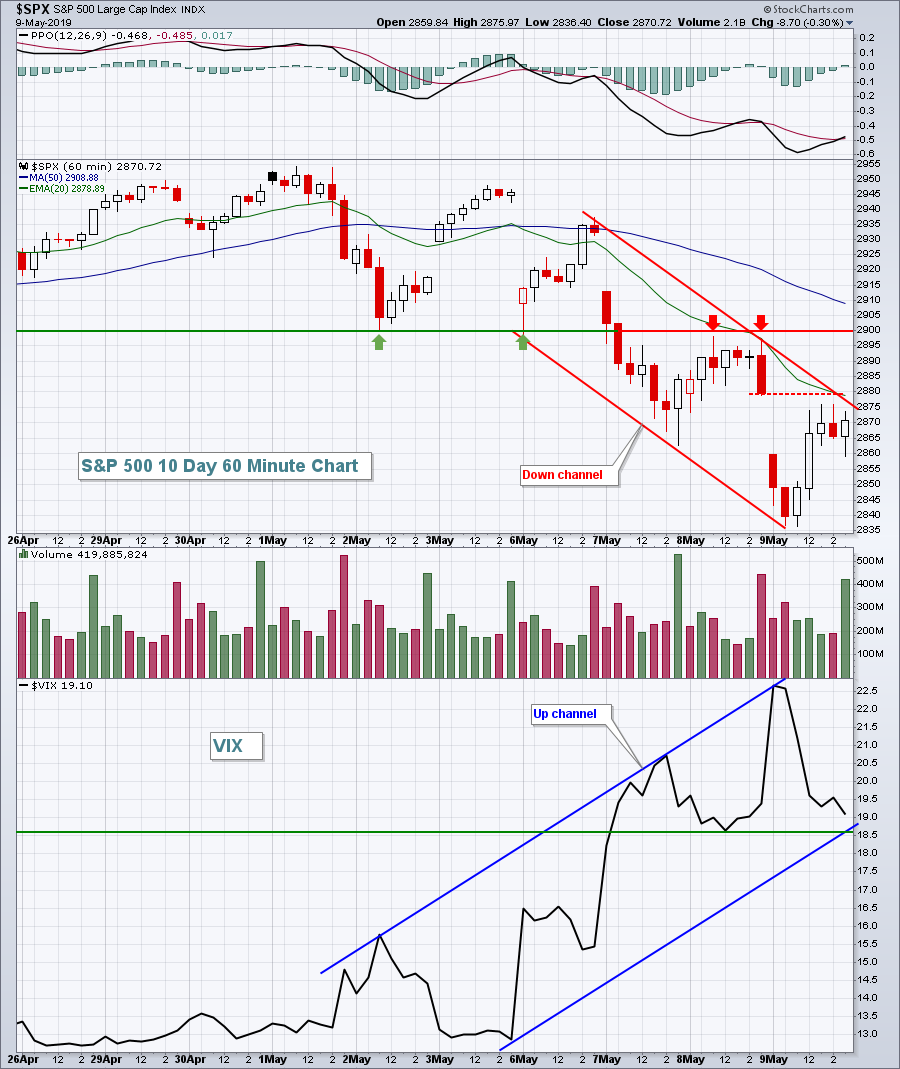 Until these two channels break, I'd remain very cautious U.S. equities. That means if the S&P 500 can first negotiate gap resistance close to 2880, and especially price resistance at 2900, then the worst very well could be behind us. But another bout of impulsive selling that fails to hold yesterday's low at 2836 brings the 20 week EMA, currently at 2815, into play. I view this level as an important level in order to maintain the bullish integrity and character of the advance off of December 2018 lows.
Nervousness in the market was further evidenced by sector leadership. Real estate (XLRE, +0.34%) was the only sector to end the session in positive territory. Energy (XLE, +0.00%) was perfectly flat, and utilities (XLU, -0.12%) and consumer staples (XLP, -0.21%) - two defensive sectors - were among the better performers as well. Materials (XLB, -0.78%) lagged and were joined by technology (XLK, -0.68%) and consumer discretionary (XLY, -0.41%).
Semiconductors ($DJUSSC, -1.78%) were very overbought recently and have much to lose in a continuing U.S.-China trade war. While some selling was inevitable after the powerful advance in 2019, it might be a good idea to understand the various Fibonacci retracement levels where we could see a reversal in this important technology area: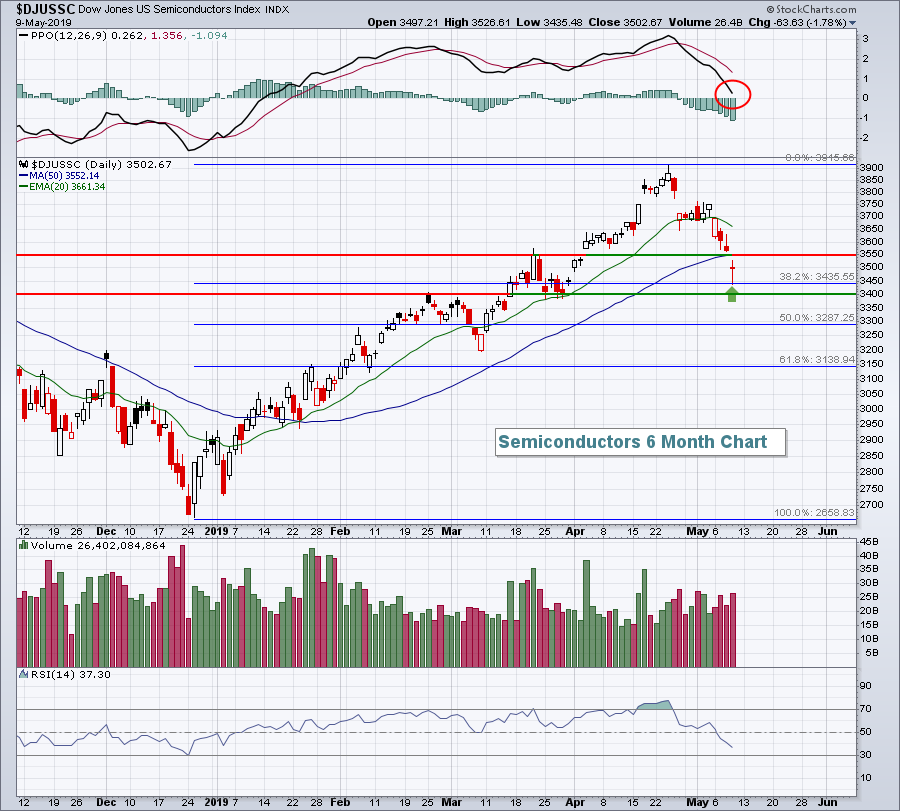 The selling in this influential area literally stopped at that first Fibonacci 38.2% retracement level at 3435. It also fell in the middle of the first two price support levels at 3550 and 3400. I'd like to see the DJUSSC bottom somewhere in this range.
In the midst of all the trade war discussions and rumors, we do still have a number of companies reporting their earnings. Some are good and some are not-so-good. Roku, Inc. (ROKU, +28.11%) was definitely among the good: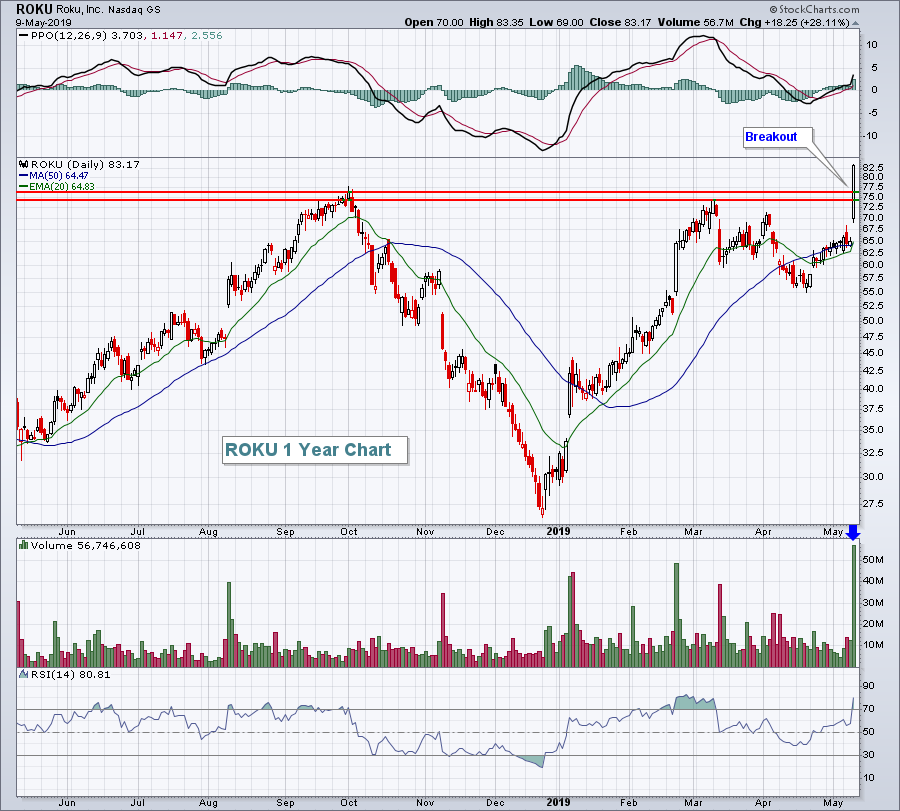 While ROKU has been incredibly volatile over the past year, there is no mistaking what traders thought of its latest earnings report. Volume was its heaviest ever and I suspect we'll see additional highs down the road.
Pre-Market Action
The 10 year treasury yield ($TNX) is down 2 basis points this morning to 2.44% as April CPI, both headline and core, came in below expectations, matching what we saw yesterday at the producer level. In my view, the bond market is screaming at the Fed to lower interest rates.
President Trump indicated "no need to rush" into a trade deal with China just as higher tariffs were set to take effect. While China's Shanghai Composite ($SSEC, +3.10%) rebounded overnight, it still remains well below where it opened the week and is mired in a downtrend. Unless the trade dispute is resolved in quick order, I don't believe we've seen the low on the SSEC. Be careful here.
We're also seeing relief in Europe this morning as the German DAX ($DAX) is up 77 points, or 0.65%. The global rebound isn't having a positive effect in the U.S. this morning, however, as Dow Jones futures are pointing to a triple digit opening loss again. Dow Jones futures were down 149 points with a little more than 30 minutes to go to the opening bell.
Current Outlook
Volatility ($VIX, -1.55%) reversed yesterday and finished slightly lower, but it's still high at 19.10. Big reversals in the VIX can mark significant bottoms in the S&P 500 so that's the good news if you're in the bullish camp: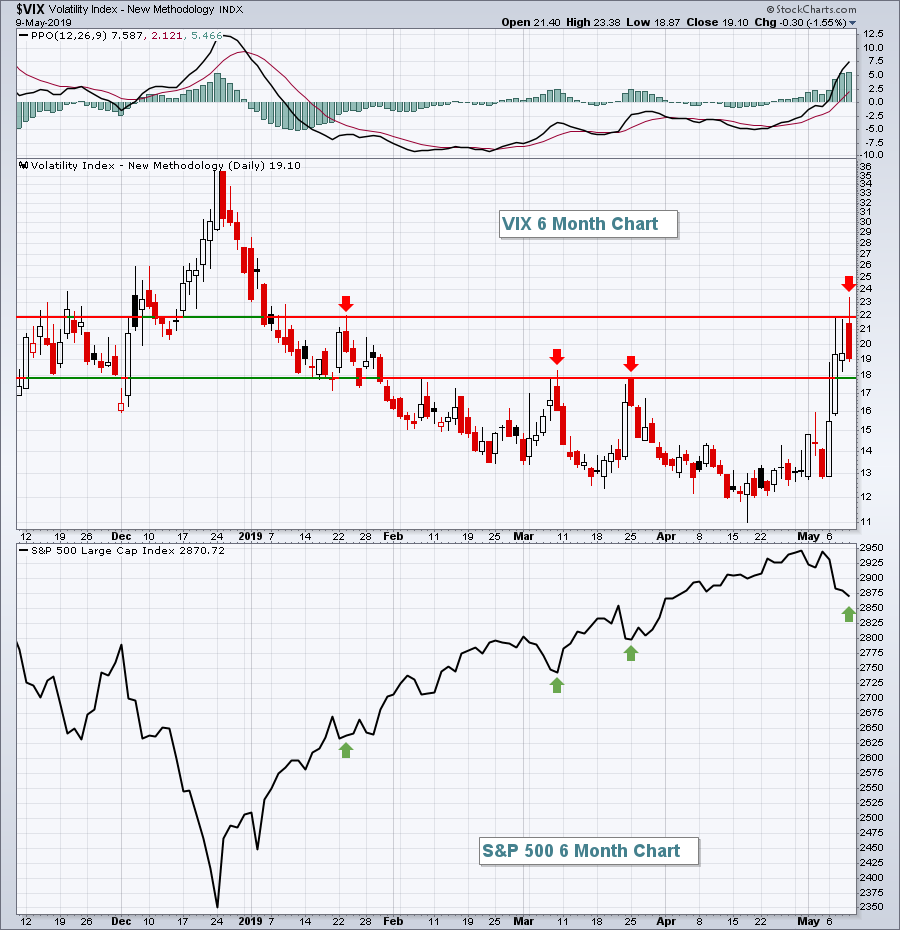 There's still a pattern of higher highs and higher lows on the VIX, so a further confirmation would be to see the VIX drop today beneath 18.87. However, all bets are off if the VIX surges and clears Thursday's high.
Sector/Industry Watch
Health care providers ($DJUSHP, -0.40%) have continued to find their footing in early May after a very rough two month period that ended in mid-April. They've yet to break above the 50 day SMA and their daily PPO remains just below the zero line, but 20 day EMA support is holding for now and volume trends have turned much more positive: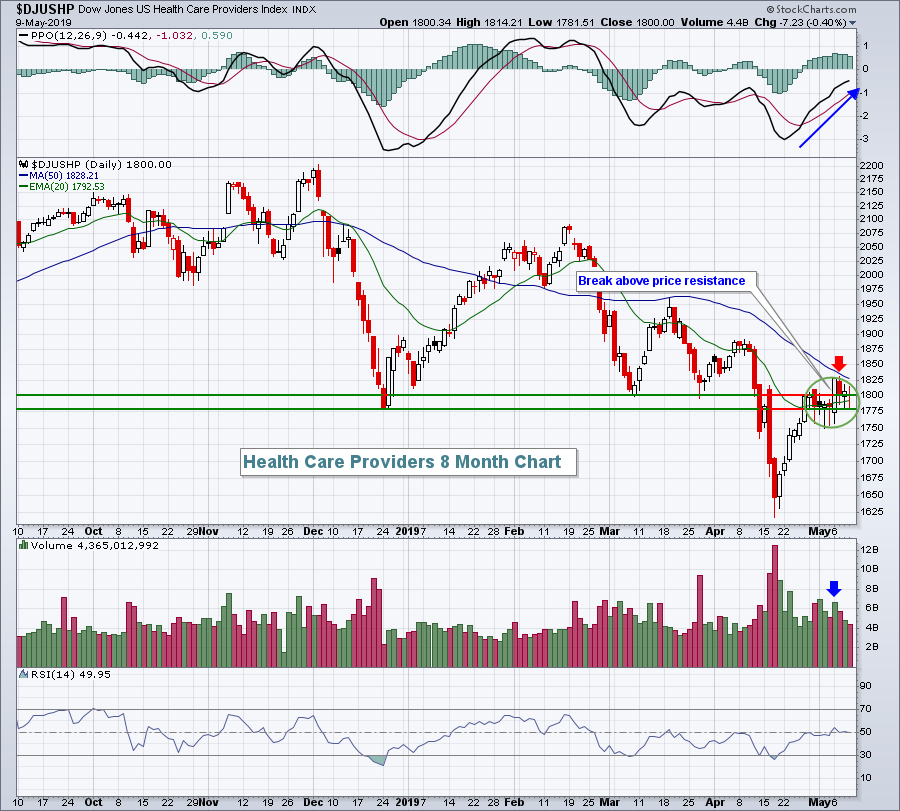 The green circle highlights the trading range for the past two weeks from 1750-1830. The direction of the breakout will be very important, in my view. Should we see a breakout above 1830, then one stock that would likely benefit is reflected in the next section.
Historical Tendencies
Ensign Group, Inc. (ENSG) is a $2.8 billion small cap company in the health care providers space. It's been one of the best performers in its industry for the past six months so if we see a breakout in the DJUSHP that was featured above, ENSG could be a major beneficiary. Also, keep in mind that we've entered a very strong relative strength period seasonally for small cap stocks in general. Finally, ENSG enjoys its own seasonal strength this time of the year. Check this out: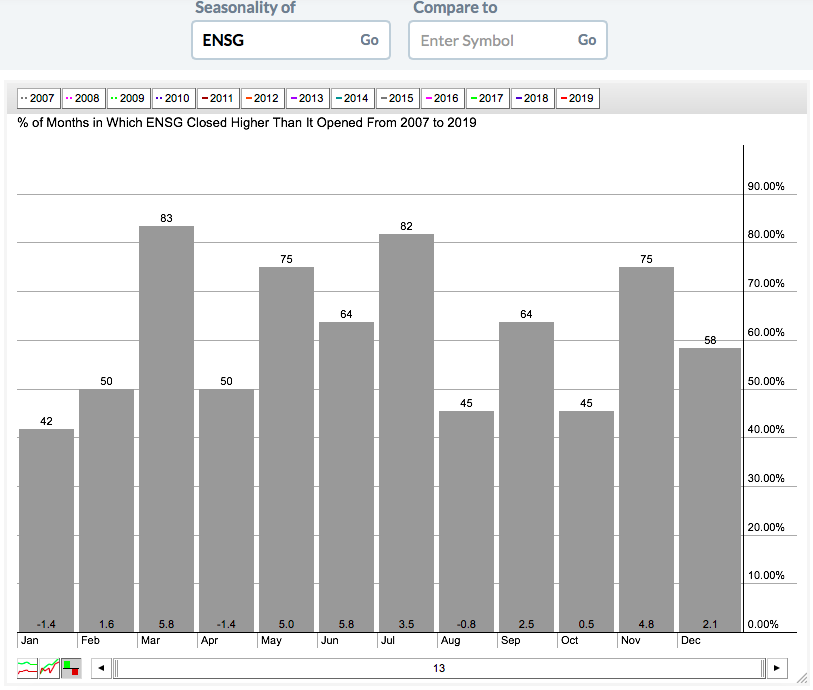 ENSG has averaged gaining 14.3% from May through July over the past 13 years. That's a strong seasonal track record for a stock showing strong relative strength simultaneously. I'd keep ENSG on a Watch List and consider entry on pullbacks to key moving averages or price support levels.
Key Earnings Reports
(actual vs. estimate):
ENB: .61 vs .52
JD: .33 vs .13
LIN: 1.69 vs 1.54
MAR: 1.41 vs 1.34
VIAB: .95 vs .82
Key Economic Reports
April CPI released at 8:30am EST: +0.3% (actual) vs. +0.4% (estimate)
April Core CPI released at 8:30am EST: +0.1% (actual) vs. +0.2% (estimate)
Happy trading!
Tom