Market Recap for Thursday, June 27, 2019
It was mostly a solid day on Wall Street, except for the late selling that carried the Dow Jones to a slight 10 point loss. The problem child for the Dow Jones was Boeing (BA, -2.91%), which fell after providing an update on its 737 MAX planes. Technically, let's watch the 360 price support level for BA as that's been a key pivot area on the stock for some time:
---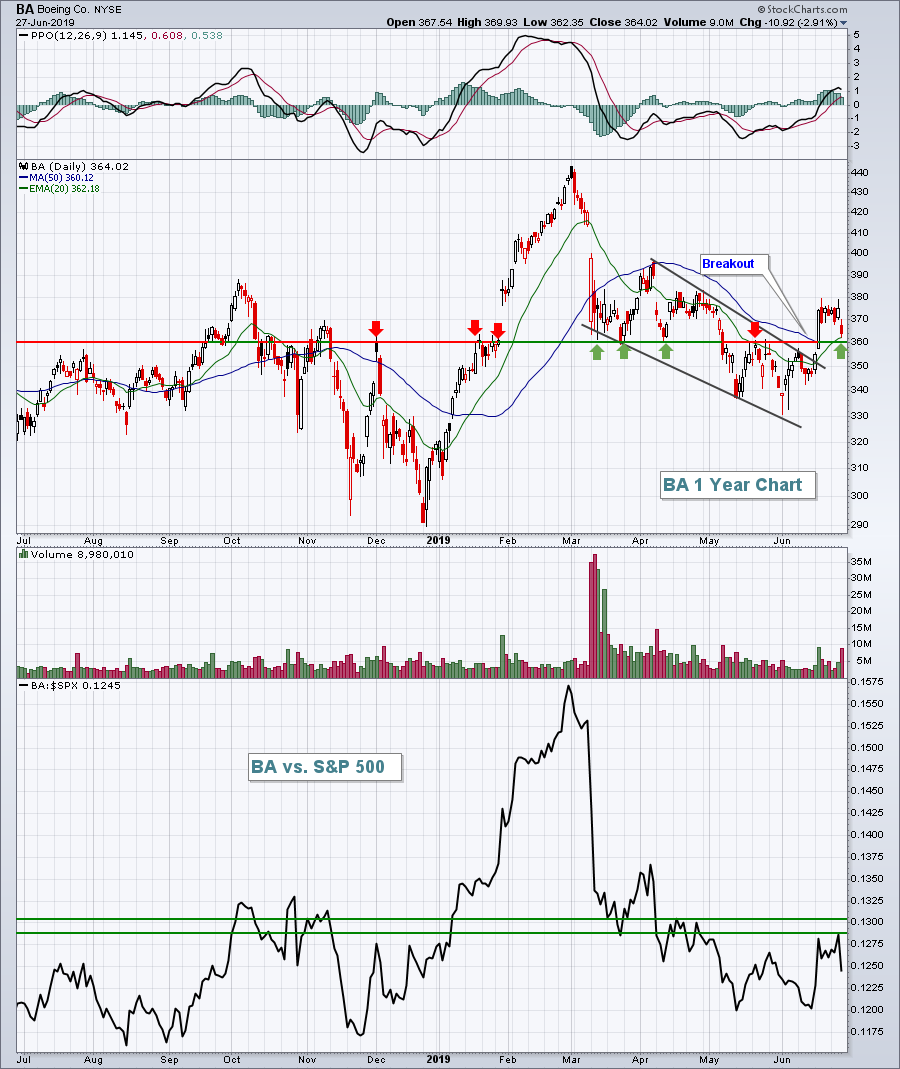 Meanwhile, the small cap Russell 2000 ($RUT, +1.90%) exploded to the upside, finally leading the major indices in a meaningful way. This outperformance comes at a great time technically as I've discussed several times the key longer-term relative support level (vs. the benchmark S&P 500) that the Russell 2000 was approaching.
Financials (XLF, +0.89%) led all sectors. Like the small cap stocks, the XLF has also been a relative underperformer for quite awhile. Should the 10 year treasury yield ($TNX) move higher - it rose 2 basis points to 2.02% yesterday - the XLF could find itself in a leadership role much more often this summer. Yesterday's leadership in financials was mostly insurance companies and interest-sensitive industries like banks ($DJUSBK, +0.88%).
Pre-Market Action
The 10 year treasury yield ($TNX) is up 2 basis points to 2.03% this morning and that could lead to further leadership in financials. Crude oil ($WTIC) is up slightly today and remains just beneath a key $60 per barrel resistance level.
We saw weakness overnight in Asia, but there are buyers in Europe with indices there higher this morning. Dow Jones futures are currently higher by 86 points with 30 minutes left to the opening bell.
Current Outlook
Life insurance companies ($DJUSIL, +0.83%) gained ground on Thursday and are quickly approaching a significant intermediate-term price resistance level: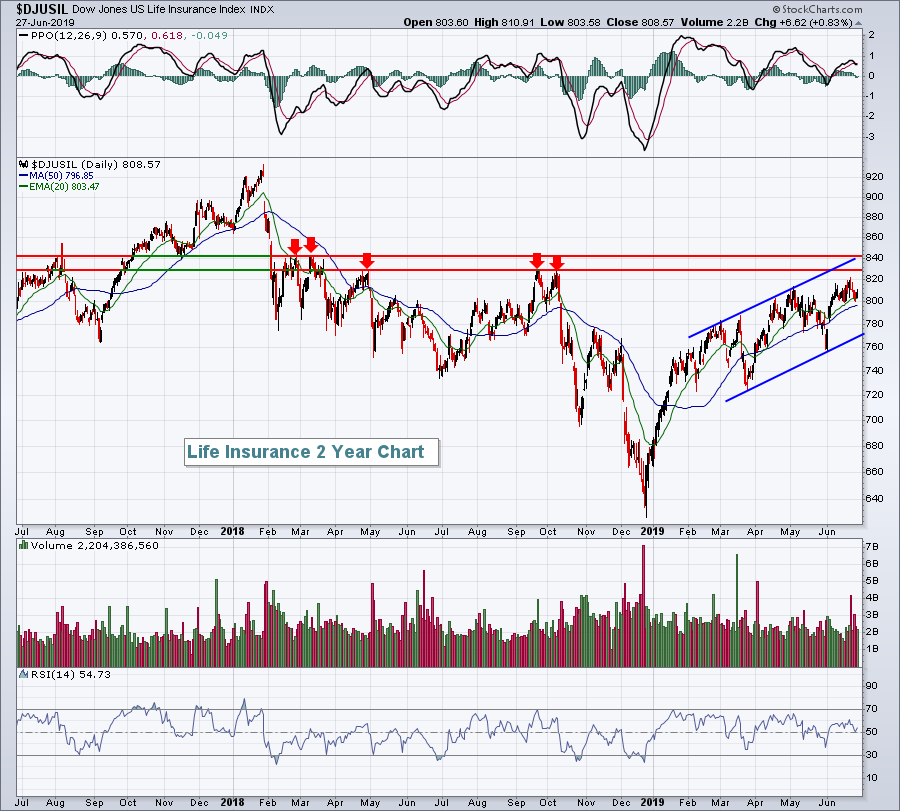 The promising part of this chart is that the DJUSIL has enjoyed a nice rally in 2019 with falling treasury yields. This is an interest-sensitive group that performs best on both an absolute and relative basis when treasury yields are rising. If the TNX can stage a rally, look to the DJUSIL to be a relative leader.
Sector/Industry Watch
The real estate sector (XLRE, +0.83%) returned to a leadership role on Thursday after a brutal previous four days. The good news is that the sector is no longer short-term overbought and that, thus far, a key intermediate-term trendline is holding as support: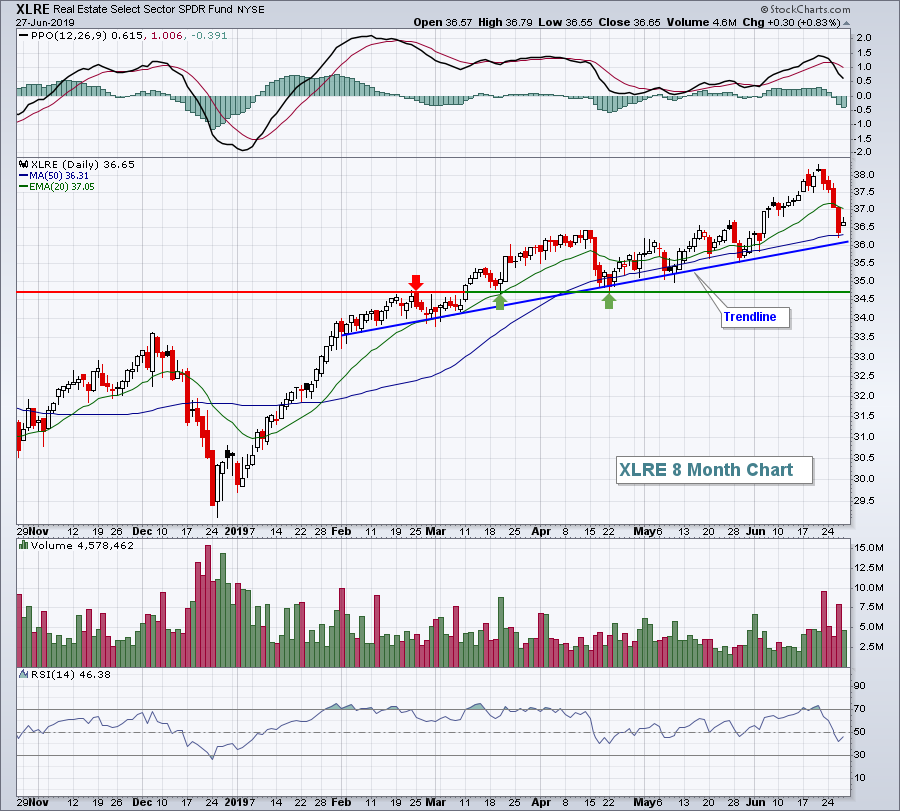 A week ago, the RSI was above 70. It's now at a much better level for entry at 46. If the trendline breaks, I'd look for a possible move lower to price support near 34.75. From a bullish perspective, I don't need to see the XLRE lead to the upside, but I do want to see the XLRE participate. Wide participation is a critical element of a bull market - leave no sector behind.
Historical Tendencies
Since 1971, Fridays have been extraordinarily bullish days on the NASDAQ. Fridays have produced annualized returns of more than 25%, capping of a very strong Wednesday through Friday period. Mondays and Tuesdays (especially Mondays) have been historical laggards.
Key Earnings Reports
(actual vs. estimate):
STZ: 2.21 vs 2.07
Key Economic Reports
May personal income released at 8:30am EST: +0.5% (actual) vs. +0.3% (estimate)
May personal spending released at 8:30am EST: +0.4% (actual) vs. +0.4% (estimate)
June Chicago PMI to be released at 9:45am EST: 53.6 (estimate)
June consumer sentiment to be released at 10:00am EST: 97.9 (estimate)
Happy trading!
Tom