Market Recap for Thursday, June 20, 2019
More dovish Fed policy is already having its effects. The anticipation of those changed policies has sent investors around the globe into U.S. treasuries, as yields have dropped precipitously since Q4 2018. But yesterday, U.S. equities climbed aboard as the S&P 500 sailed to all-time highs as to both intraday and closing value:
---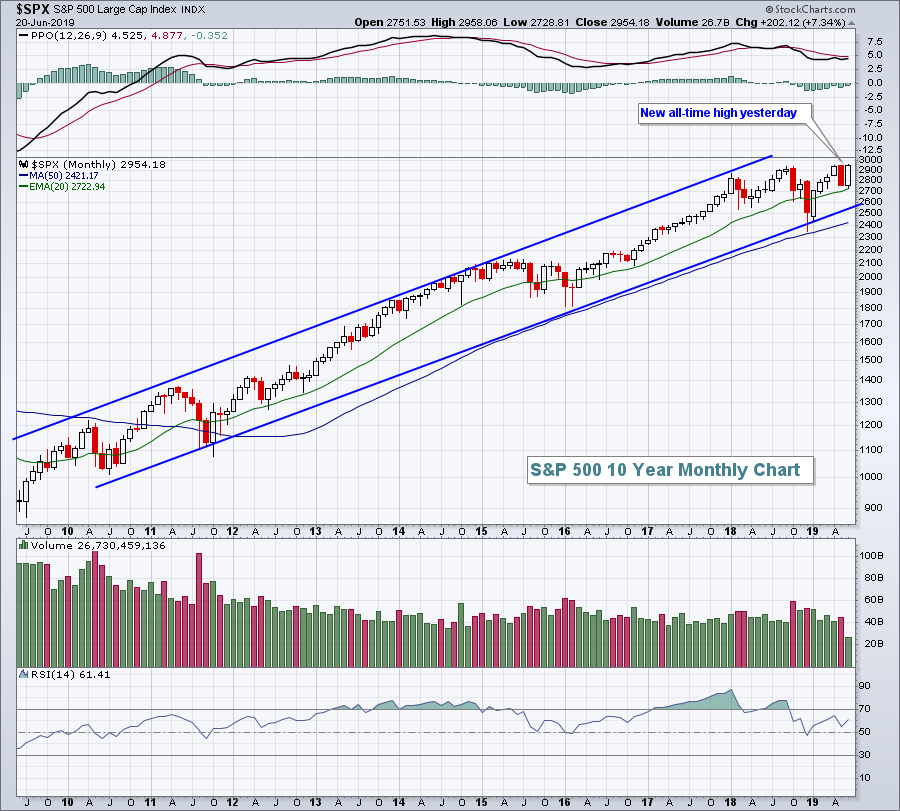 I don't know, but that looks like a pretty nice uptrend and a breakout to boot. We're in a secular bull market and we're going higher.
Leadership on Thursday came from energy (XLE, +2.22%) as rising tensions between the U.S. and Iran sent crude oil prices ($WTIC, +5.74%) higher. Aggressive areas of the market also participated as industrials (XLI, +1.67%) and technology (XLK, +1.46%) both rallied strongly as well. The latter was led by industrial machinery ($DJUSFE, +2.00%) and defense ($DJUSDN, +1.96%). The DJUSFE is featured below in the Sector/Industry Watch section and is at a critical juncture relative to the S&P 500. That adds importance to yesterday's rally in the group.
Pre-Market Action
Dow Jones futures are down 43 points this morning after equities around the globe were mixed overnight.
Current Outlook
I generally review the U.S. stock market, its sectors, industry groups and stocks, but it also helps to have money flow into equities around the globe. Many have discussed the global weakness felt throughout 2018 and the relative weakness of many foreign equity markets relative to the S&P 500, but we shouldn't lose sight of the big picture, which I believe remains quite bullish. For example, Hong Kong's Hang Seng Index ($HSI) had a very rough 2018, but the selling was contained and held the Fibonacci 61.8% retracement level as it consolidates in a bullish symmetrical triangle:
When we ignore the media, who focuses on the short-term to scare everyone and drive up ratings, the big picture above is clearly in an uptrend, is it not? What we don't hear is that the 2018 selling followed a 2 year period in which the HSI rose approximately 80%.
Can't equity markets pause without everyone screaming bear market?
Sector/Industry Watch
Industrial machinery ($DJUSFE) is at a key pivot point on a relative basis. It was an outperforming group in 2019, but was hurt badly during the April/May equity selloff. It's trying to hold onto relative support and its relative PPO remains in positive territory, but barely. The DJUSFE is an industry that I would continue to trade on the long side, although it's one I'd watch very closely in the next few days to few weeks: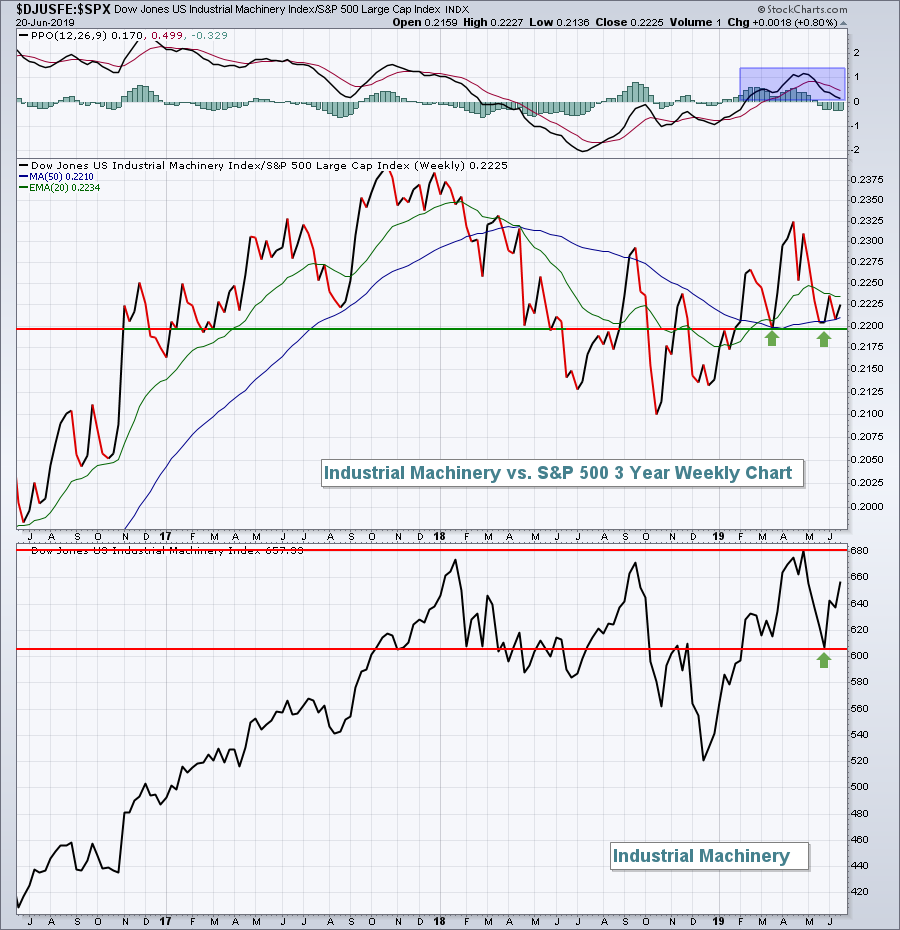 The May absolute price low just above 600 and the relative support near .22 need to hold for this group to remain healthy in my opinion.
Historical Tendencies
Total System Services (TSS) has a SCTR score of 99.5, ranking it 3rd among all large cap stocks. Clearly, it's been a tremendous relative performer. Historically, July has arguably been its best calendar month: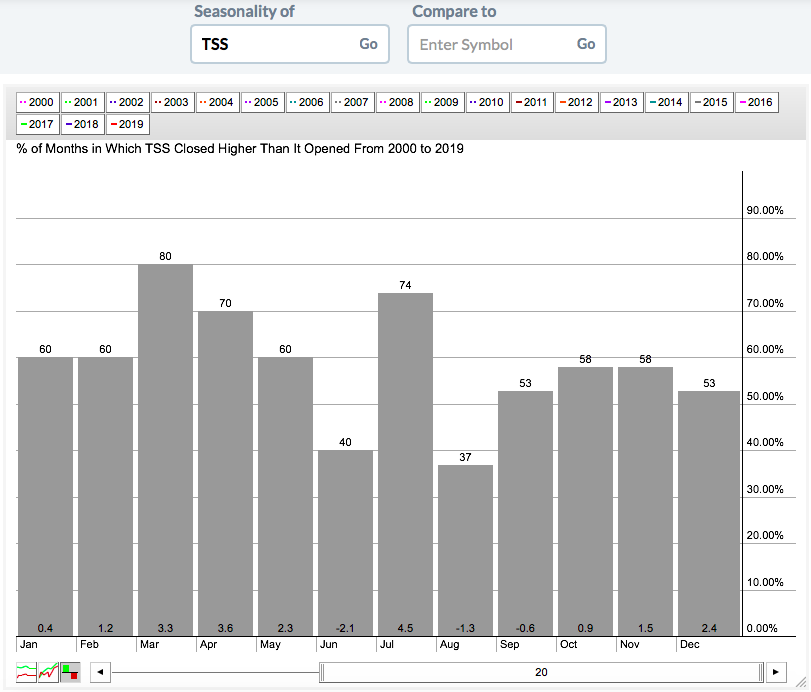 I don't trade exclusively off of seasonal patterns, but I do like history to confirm what I see technically. With TSS, you have the best of both worlds.
Key Earnings Reports
(actual vs. estimate):
KMX: 1.59 vs 1.49
Key Economic Reports
June PMI composite flash to be released at 9:45am EST: 50.9 (estimate)
May existing home sales to be released at 10:00am EST: 5,280,000 (estimate)
Happy trading!
Tom