Market Recap for Thursday, June 13, 2019
A nice rally to end the session lifted all of our major indices into the close. The Russell 2000 led on a relative basis, gaining 1.05%. The NASDAQ, S&P 500 and Dow Jones climbed 0.57%, 0.41%, and 0.39%, respectively. Walt Disney (DIS, +4.44%) provided individual stock leadership as it was easily the best performing Dow Jones component. It closed at an all-time high, although it still has a bit of technical work left to clear its open from April 29th at 142.19:
---
Morgan Stanley raised the price target on DIS to 160 from 125.
Energy (XLE, +1.17%) and communication services (XLC, +1.12%) led on a sector basis with the former rising after two oil tankers were attacked off the coast of Iran, sending crude oil prices ($WTIC, +2.23%) surging. Consumer discretionary (XLY, +0.90%) also performed well.
The only sector to lose ground yesterday was healthcare (XLV, -0.12%), resulting from a very weak pharmaceutical space ($DJUSPR, -1.05%). Pfizer (PFE) and Merck (MRK) both fell more than 1% on the session.
Pre-Market Action
Broadcom (AVGO) dropped a bomb on semiconductor stocks ($DJUSSC) after the bell last night when it missed quarterly estimates and then proceeded to issue a broad-based warning on demand stemming from the trade war and Huawei. Retail sales came in close to expectations for May, but the bigger news was the April revision significantly higher. That could provide a lift to the group today.
Dow Jones futures are lower this morning, down by 40 points with 30 minutes left to the opening bell. The NASDAQ will likely be hit harder as it's home to many semiconductor stocks.
Current Outlook
A ratio that I follow frequently is the relationship between transports ($TRAN) and utilities ($UTIL). The reason is fairly simple. When our economy is strengthening, or expected to strengthen, transportation stocks should perform well. Conversely, a strengthening economy usually results in rising rates and utilities that underperform. Therefore, I typically look to this ratio to confirm a rising stock market. Well......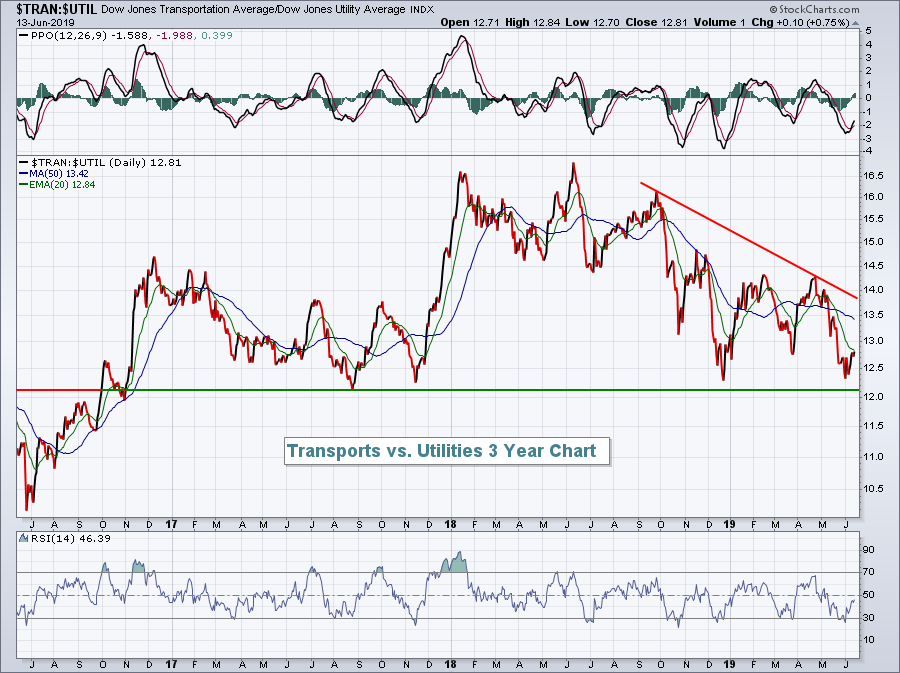 That isn't exactly the type of confirmation I was looking for. I believe much of this ratio weakness can be attributed to the lower inflationary expectations, which is resulting in a falling 10 year treasury yield ($TNX) while stocks have been rising - an unusual combination. Still, I don't think it would be wise to ignore this ratio, especially if we lose multi-year relative support just above 12.
I'm not in the bearish camp, but this chart most definitely supports the bearish case for equities.
Sector/Industry Watch
Semiconductors ($DJUSSC) are likely to come under attack, at least at the open, after Broadcom (AVGO) warned about a broad-based revenue slowdown in the industry. Let's check out the DJUSSC chart: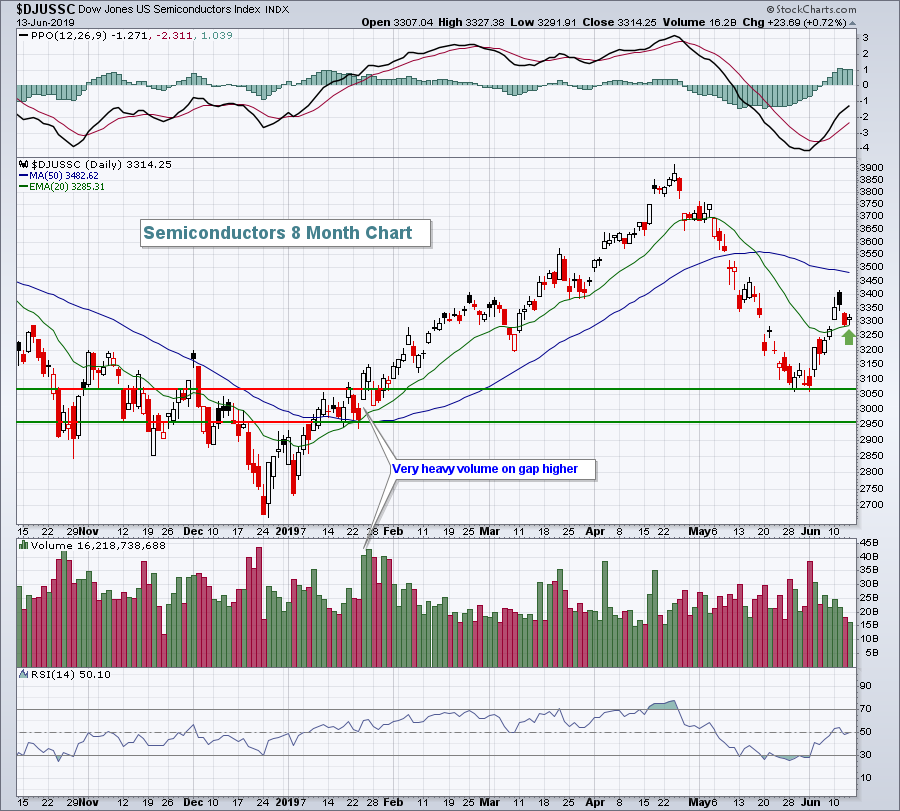 The DJUSSC is quite likely to open beneath its 20 day EMA support (green arrow). If it fails to rally back above that moving average by the close today, then I'd look for the next key support to be price support from the late-May low. 2960 would be a final straw at it represents an extremely heavy volume gap support from January that was never filled.
Historical Tendencies
Yesterday, I discussed the dismal performance of the S&P 500 from the July 17th close to the September 26th close. Since 1951, its annualized return has been -2.16%.
Well.....the NASDAQ has produced even worse results. Since 1971, that same period has produced annualized returns of -5.30%. Taking a more defensive approach during the hot summer months has been a wise historical decision.
Key Earnings Reports
None
Key Economic Reports
May retail sales released at 8:30am EST: +0.5% (actual) vs. +0.7% (estimate)
May retail sales less autos released at 8:30am EST: +0.5% (actual) vs. +0.4% (estimate)
May industrial production to be released at 9:15am EST: +0.2% (estimate)
May capacity utilization to be released at 9:15am EST: 78.0% (estimate)
April business inventories to be released at 10:00am EST: +0.5% (estimate)
June consumer sentiment to be released at 10:00am EST: 98.4 (estimate)
Happy trading!
Tom
Announcement from the Author
{{ announcement.content }}