Special Note
I'm on vacation this week so I'm writing brief articles and in a different format. There will be no article tomorrow, Friday, July 19th.
Netflix (NFLX) Hammered In After Hours
Despite topping both revenue and EPS estimates, NFLX is trading lower by nearly 11% this morning as subscribership fell short of expectations. I'm not shocked at all. Listen, I subscribe to NFLX and it's a great company with a history of proven growth and it provides a great service at a reasonable cost. But.....Wall Street wasn't impressed heading into this earnings report so neither was I. In fact, Mary Ellen McGonagle and I were on MarketWatchers LIVE on StockCharts TV a week or so ago and debated the merits of owning NFLX vs. Walt Disney (DIS). I chose DIS because of the huge difference in relative strength between the two companies. Wall Street knows the numbers and then the big investment firms direct their billions of dollars into various companies as earnings season approaches. If you follow where the money is going on a relative basis, you can get a pretty good sense of where you're likely to see strong numbers. NFLX wasn't it. DIS was. Here are the charts:
---
NFLX: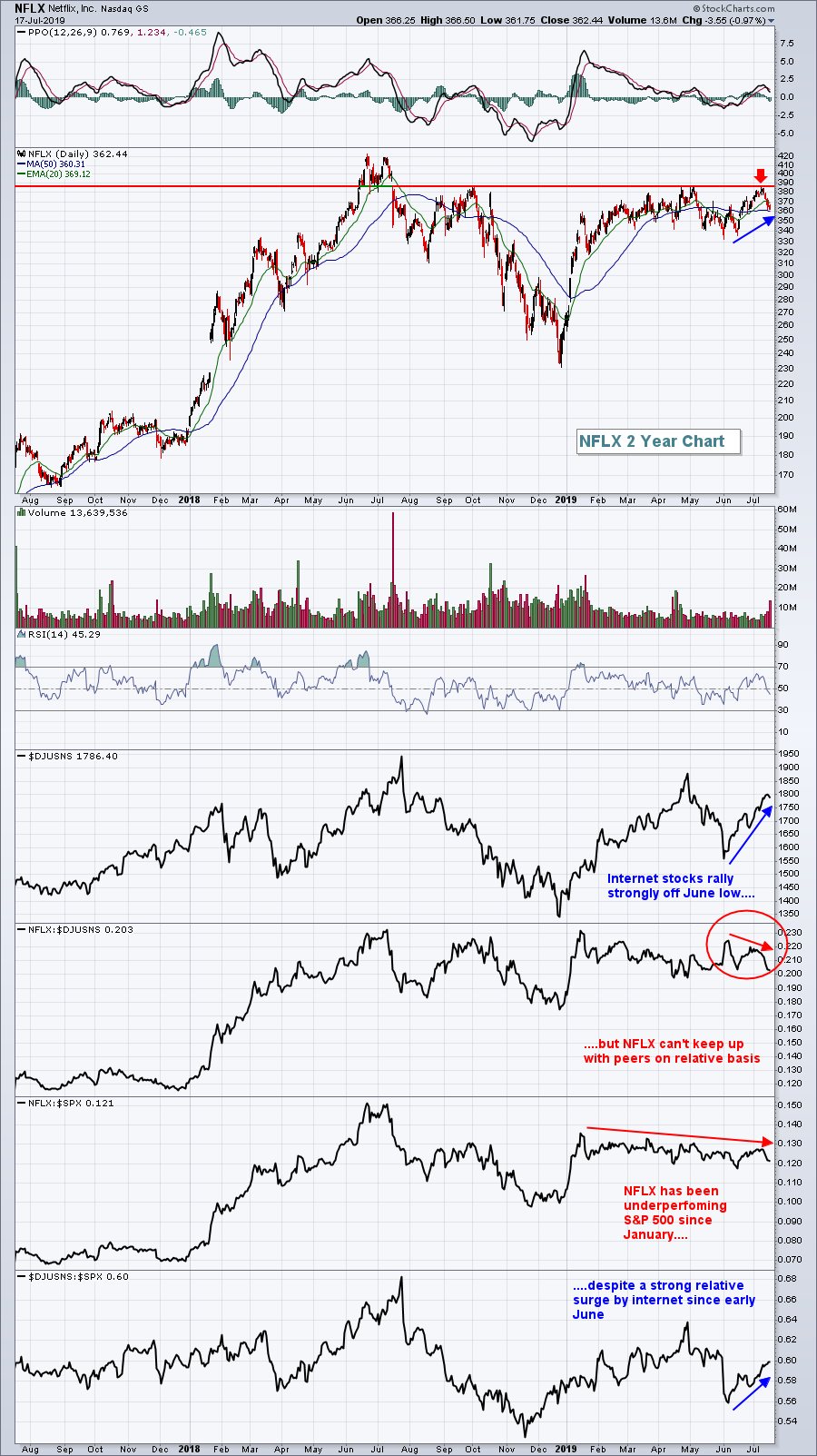 There wasn't the interest in NFLX heading into last night's earnings report like we saw in 2018 during the company's monumental run higher. That, at a minimum, should give you reason for pause. The news confirmed what astute technicians already saw on the NFLX chart. I won't consider NFLX until it clears 385-390 price resistance (red arrow above) and shows relative strength vs. its peers and the S&P 500.
Now check out the difference with DIS......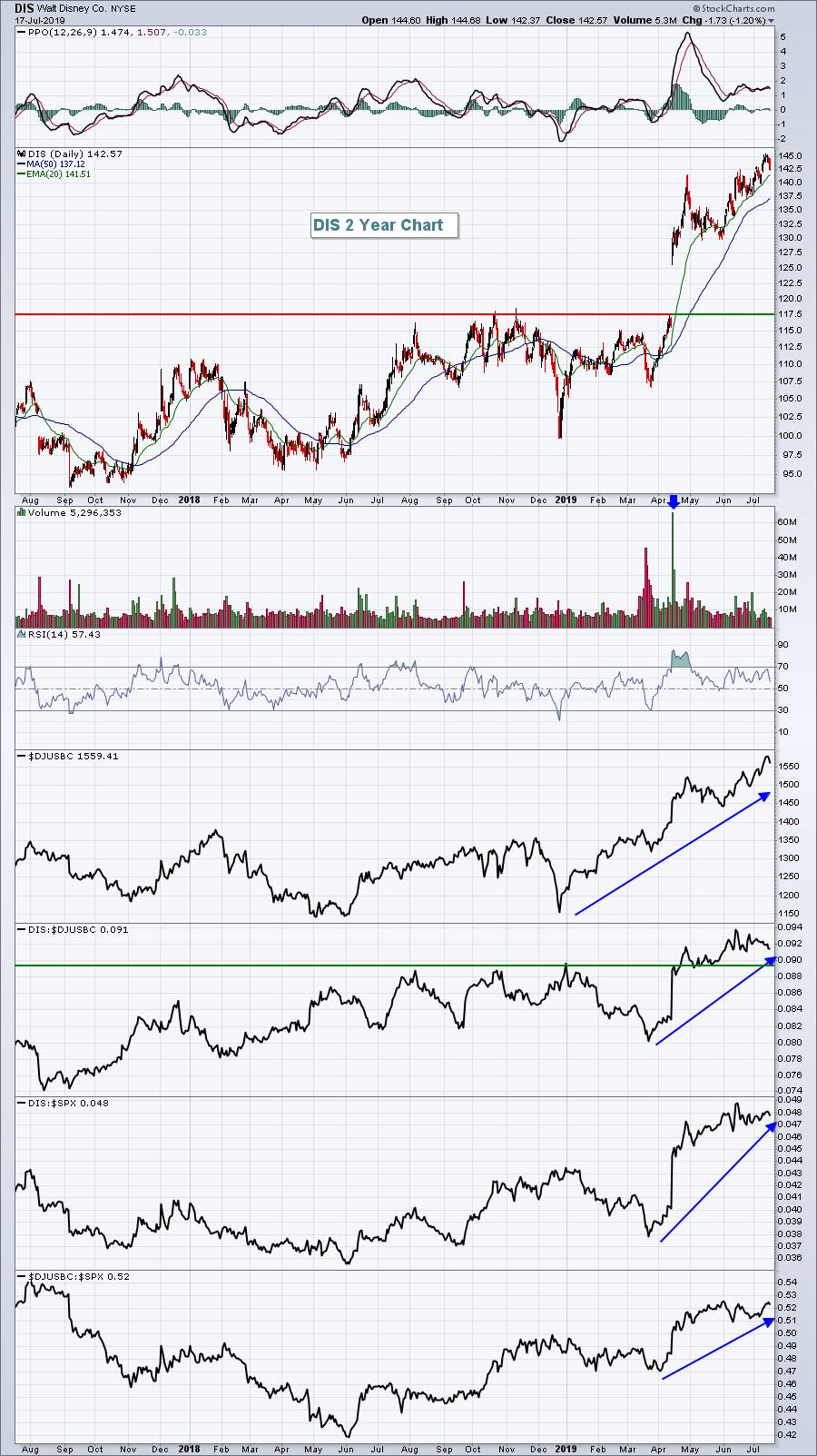 Notice the difference? Wall Street loves DIS right now. Not only did it break out on an absolute basis in April on massive volume (a sign of accumulation), but it also has been sprinting past the S&P 500 in terms of relative performance. DIS has been a great stock to own and is part of my Income Portfolio, sporting a 1.22% dividend yield on top of the tremendous stock performance.
I regularly provide my Model, Aggressive and Portfolio stock selections on a quarterly basis with the EarningsBeats.com community. The next announcement of the 10 equally-weighted stocks in each portfolio will be on August 19, 2019. Every single one of the stocks is a relative leader. This strategy is a great way to build a portfolio and then adjust it as new leaders emerge each quarter. If it's something that interests you, EarningsBeats.com is currently offering their best annual deal ever. CLICK HERE for more information.
By the way, John Hopkins of EarningsBeats.com used relative strength in selecting Cintas Corp (CTAS) and Danaher Corp (DHR) as two stocks poised to report blowout earnings in his latest ChartWatchers newsletter article. This morning, DHR announced better-than-expected revenues and EPS. We'll see how the stock performs today, but early indications are pointing to a higher open. Yesterday, CTAS had a pretty solid day, wouldn't you agree?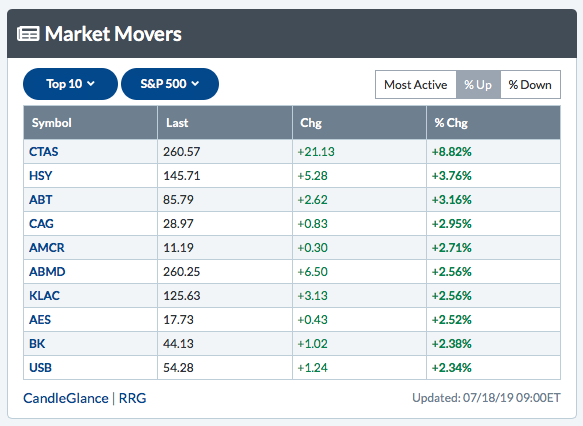 It was the best performing stock on the S&P 500 by a wide, wide margin......after a blowout quarterly earnings report. Relative strength analysis will add a new level of expertise to your investing and trading. Trust me on this one.
Happy trading!
Tom
PS. I won't be available tomorrow, so I won't publish an article. But I'll be back on Monday morning!