Market Recap for Tuesday, August 20, 2019
It was another day of consolidation for U.S. equities. That's not a bad thing. Let's establish a base, allowing the weak hands to get out before the next push higher. If we break those recent lows, we'll re-evaluate the near-term outlook. Until then, I like the action.
Consumer discretionary (XLY, +0.03%) was the only sector to end the day in positive territory. There were plenty of losers, starting with financials (XLF, -1.34%) and materials (XLB, -1.17%). The former was hurt by interest-sensitive areas like banks ($DJUSBK, -1.57%) as the 10 year treasury yield ($TNX) fell 4 basis points, further squeezing net interest margins. Despite the difficult banking environment, I still remain fine with banks as you can see in the Sector/Industry Watch below. I wouldn't own them as they've been underperformers relative to the benchmark S&P 500, but their absolute performance does still remain in an uptrend. That's all I want from the banks. They don't have to lead, just keep tagging along and move higher.
Netflix (NFLX, -3.36%) was under pressure once again as Apple's streaming service plans to launch in November at $9.99 per month. Competition is growing in this area and keeping a lid on NFLX - at least for now.
Pre-Market Action
Dow Jones futures are up close to 200 points, benefiting from a strong market in Europe this morning. Crude oil ($WTIC) and the TNX are both higher and that's helping futures as well.
Want to keep up with the latest on earnings and relative strength leaders and laggards? Be sure to SIGN UP for my free EB Digest newsletter, delivered to your email 3 times per week. I appreciate your support!
Current Outlook
It wasn't a great ending to Tuesday's stock market, but there really wasn't much from a TA viewpoint to take from it. It looks to me like we're consolidating: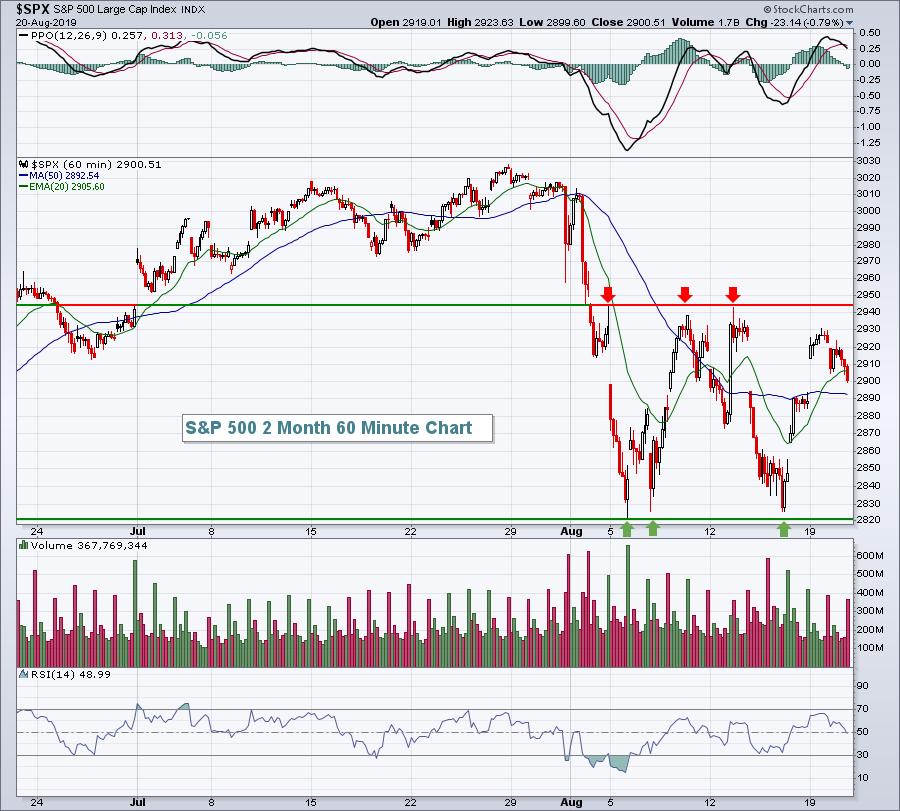 The red arrows mark key price resistance, while the green arrows mark key price support. Which one will break first? That will provide us the next technical clue as to our August/September direction.
Sector/Industry Watch
I've read much being written about how banks ($DJUSBK) are underperforming and the likelihood that will derail the current bull market. Hogwash. Banks are struggling simply because of the fundamentals in their industry. Many are ignoring banks with 10 year treasury yields ($TNX) falling and I don't blame them. But the DJUSBK remains in a longer-term uptrend: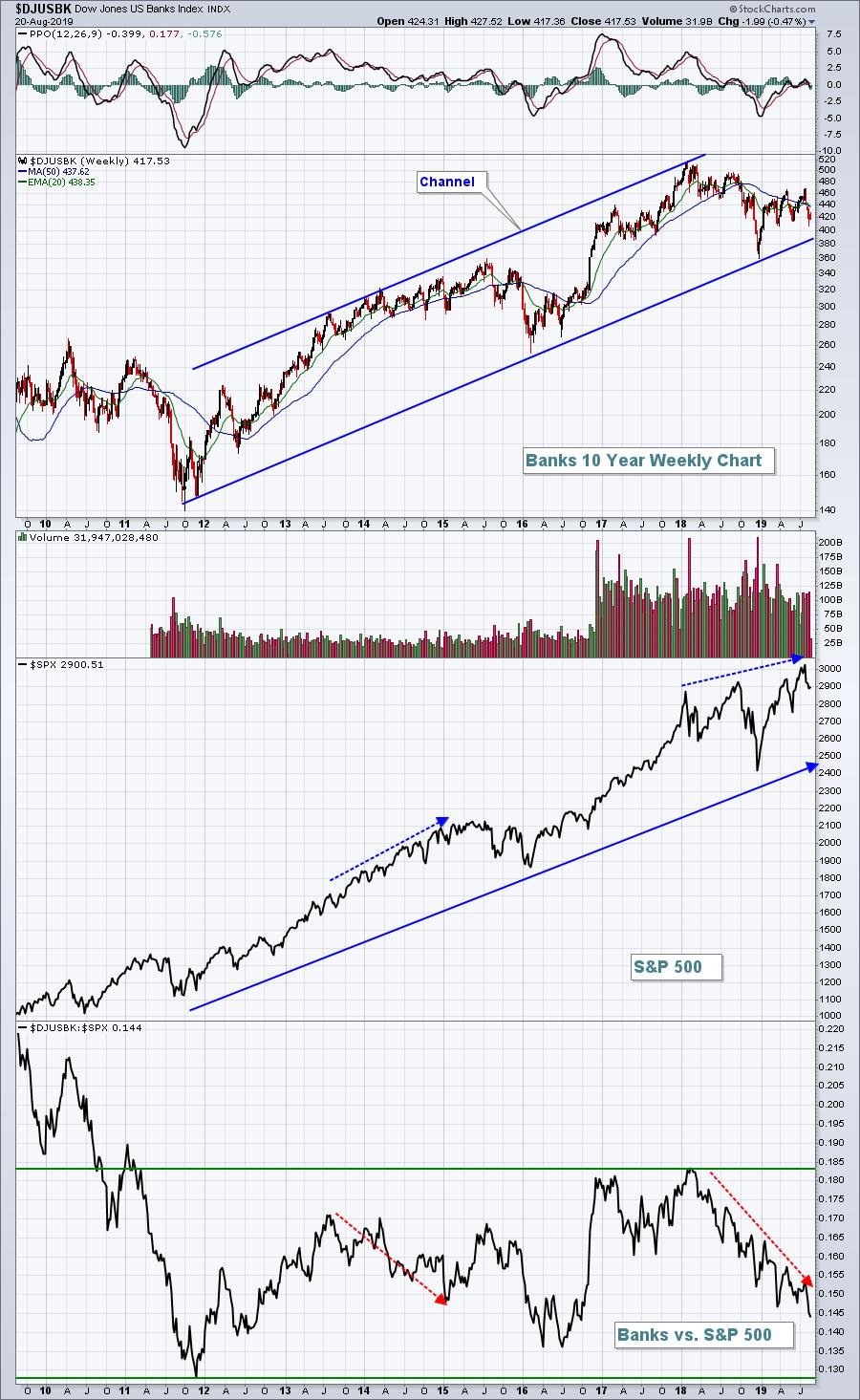 Relative performance in banks has been weak, but it was weak back in 2013 and 2014 when the overall market staged a big rally. Don't let the banks fool you. They'll join the party eventually, but we'll need to see that TNX bottom first.
Historical Tendencies
After August 21st (today), the NASDAQ has an odd history of actually performing well over the next several days, despite most of these days falling in the historically bearish 19th through 25th calendar days (of all calendar months, not just August). Here are the annualized daily returns on the NASDAQ since 1971:
August 22nd (Thursday): +55.13%
August 23rd (Friday): +1.19%
August 26th (Monday): +46.79%
Key Earnings Reports
(actual vs. estimate):
ADI: 1.26 vs 1.22
LOW: 2.15 vs 2.00
PDD: (.04) vs (.25)
RY: 1.69 vs 1.73
TGT: 1.82 vs 1.61
(reports after close, estimate provided):
HTHT: .24
JWN: .76
KEYS: 1.02
LB: .19
PSTG: (.04)
SNPS: 1.10
SPLK: .12
SQM: .36
ZAYO: .15
Key Economic Reports
July existing home sales to be released at 10:00am EST: 5,380,000 (estimate)
Happy trading!
Tom