Market Recap for Wednesday, August 21, 2019
It was a big day for broadline retail ($DJUSRB, +1.91%) and home improvement ($DJUSHI, +3.68%) as strong earnings from Target (TGT, +20.43%) and Lowes Companies (LOW, +10.35%), respectively, sent both groups higher, along with the overall market. All of our major indices gained between 0.75% and 1.00%, adding to recent gains. It also sent the S&P 500 up to challenge key short-term price resistance in the 2940-2953 area. Gap resistance from August 1st if what I'm watching closest. That's the 2953 level. The 50 day SMA also resides at 2947 so clearing all of this congestion would be bullish for equities.
Consumer discretionary (XLY, +1.93%) benefited nicely from the TGT and LOW earnings reports, but there was plenty of other strength as well. While gains in home construction ($DJUSHB, +0.57%) weren't eye-popping, that group has made a breakout that's worth noting. I feature the group in my Sector/Industry Watch section below. Specialized consumer services ($DJUSCS, +0.97%) managed to break to new 52 week highs as well: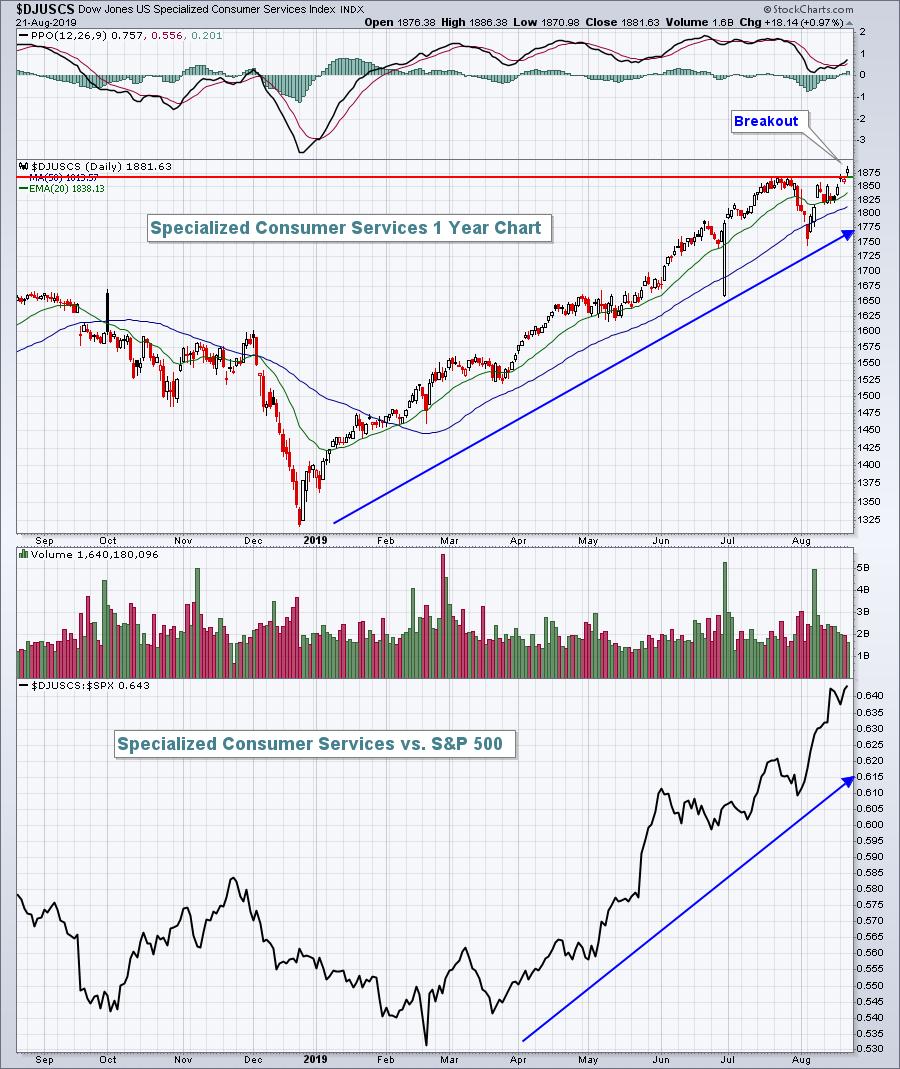 Technology (XLK, +1.18%) also performed well, led by telecom equipment ($DJUSCT, +1.64%) and software ($DJUSSW, +1.32%). While all 11 sectors did move higher on Wednesday, consumer staples (XLP, +0.27%) was the lagging sector.
Pre-Market Action
Crude oil ($WTIC) is up more than 1% and the 10 year treasury yield ($TNX) is higher by 4 basis points to 1.62%, both of which typically aids the U.S. stock market. Dow Jones futures are higher by roughly 50 points as we approach today's opening bell, which is just 30 minutes away.
There was mixed action overnight in Asia and the same holds true for European markets this morning.
U.S. markets face significant overhead price resistance in the short-term, so today's action could be very telling technically, at least in the very near-term.
Current Outlook
Software ($DJUSSW) has been a leading industry for a few years. Many stocks within this space have soared during this time and most represent very risky trades as their market caps are built on tremendous growth in future earnings. Should they fall short, their share prices will likely tumble. For now, however, the market continues to bet on this group to deliver. Yesterday was another example and it's one reason why I think it's very dangerous to bet against this continuing bull market. The DJUSSW is on the cusp of breaking out to a new August relative high (vs. the benchmark S&P 500), while the S&P 500 is a bit further behind in doing so: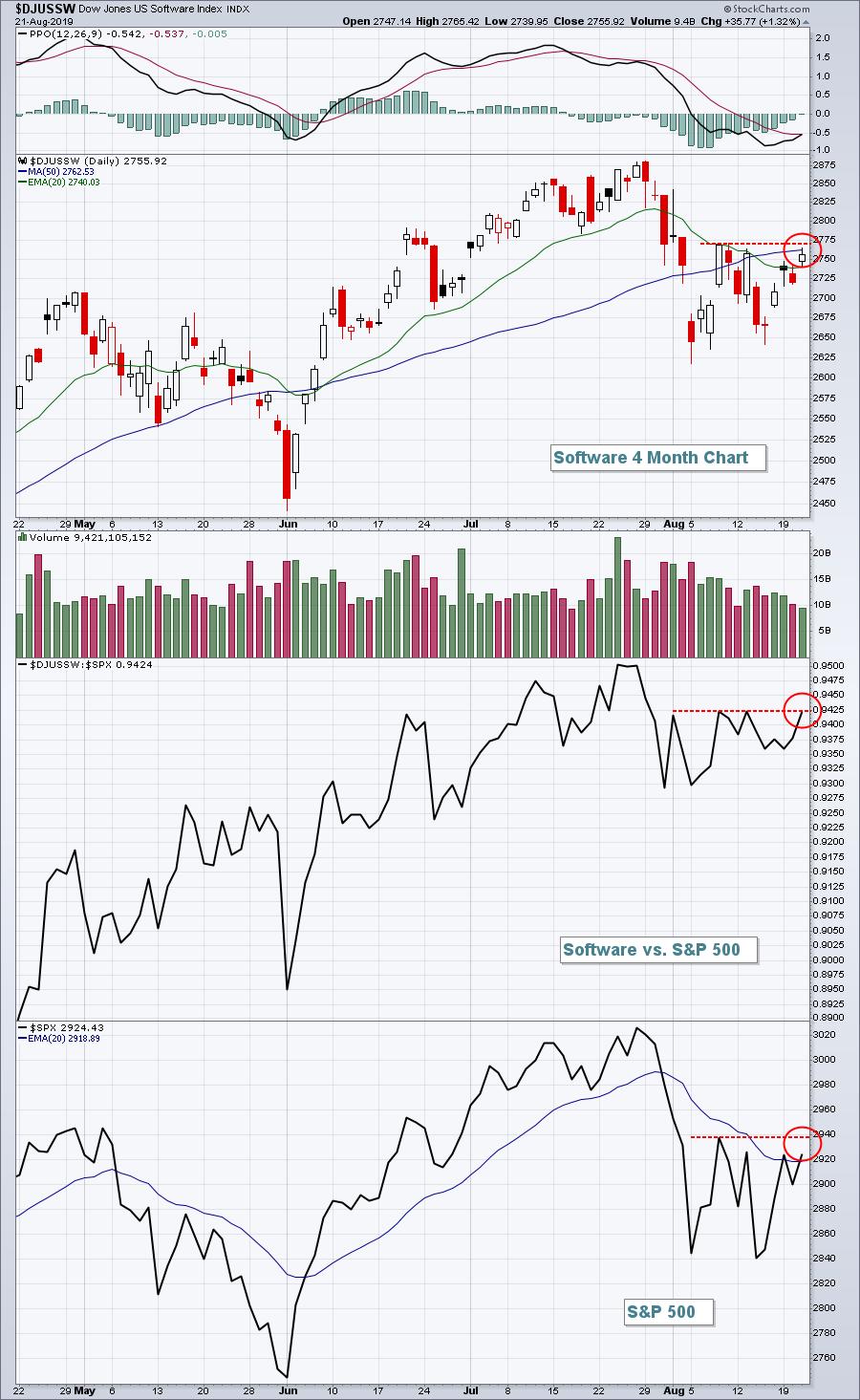 Maybe it's splitting hairs, but I'm at least encouraged by the relative performance of one of the strongest bull market industry groups the past few years. Futures are up this morning. Let's see if the DJUSSW:SPX relative ratio definitely breaks to that new August high at today's close.
Sector/Industry Watch
Home construction ($DJUSHB) no doubt has been buoyed by the very low interest rate environment. It's very clear when we look at the following chart: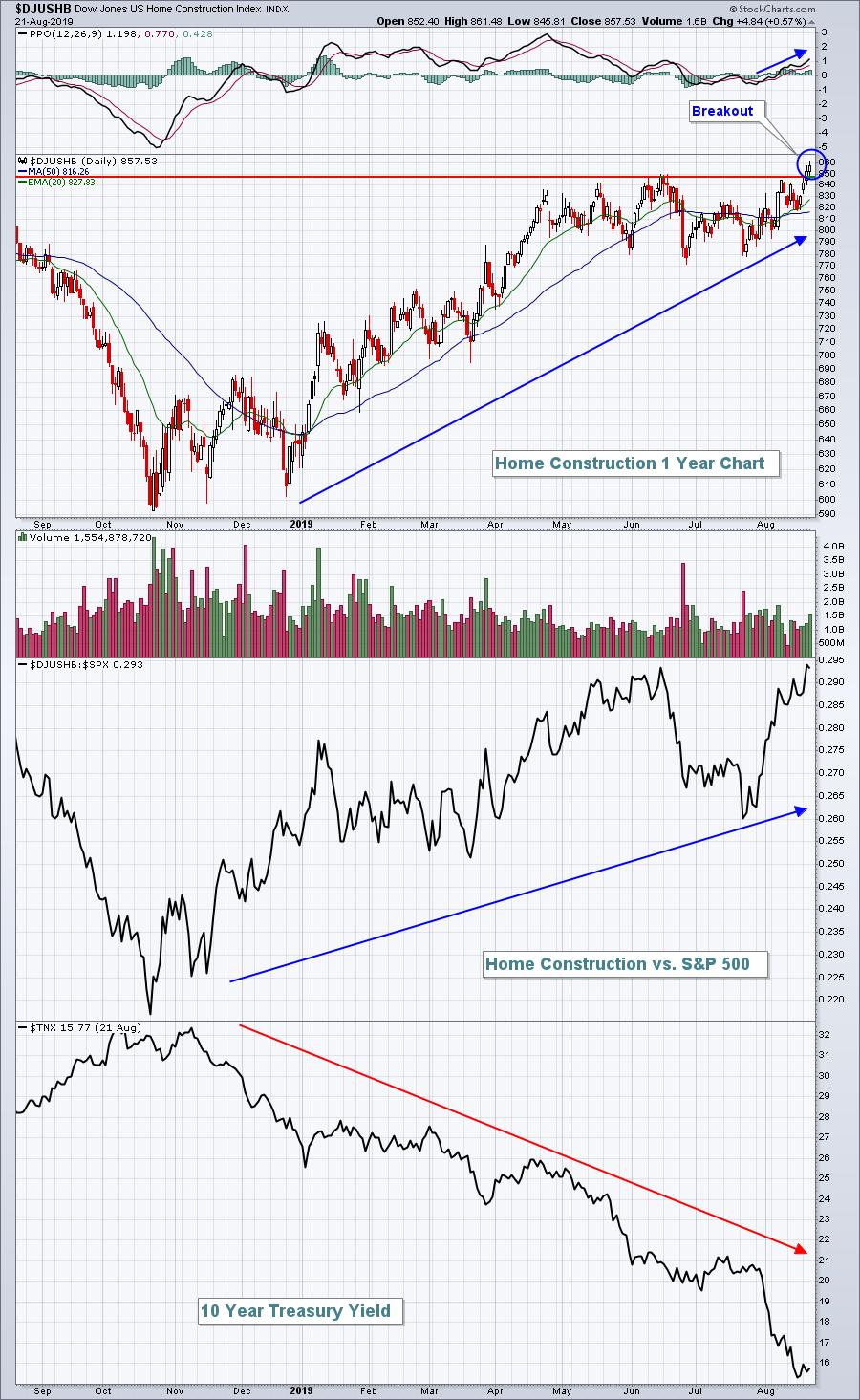 So when someone says a stock or group is "interest-rate sensitive", this is exactly what they're talking about. The current low interest rate environment favors home construction. Keep this in mind if interest rates begin to trek higher.
Historical Tendencies
Wednesdays through Fridays have been very kind to the NASDAQ since 1971. The combined annualized return for these 3 weekdays is over +24% for nearly 5 decades.
Key Earnings Reports
(actual vs. estimate):
BJ: .39 vs .37
CM: 2.32 vs 2.29
DKS: 1.26 vs 1.21
HRL: .37 vs .35
TTC: .83 vs .73
(reports after close, estimate provided):
CRM: .47
GPS: .52
HPQ: .55
INTU: (.14)
ROST: 1.12
VMW: 1.55
Key Economic Reports
Initial jobless claims released at 8:30am EST: 209,000 (actual) vs. 216,000 (estimate)
August PMI composite flash to be released at 9:45am EST: 51.9 (estimate)
July leading indicators to be released at 10:00am EST: +0.2% (estimate)
Happy trading!
To