Market Recap for Tuesday, September 10, 2019
We once again finished in bifurcated fashion on Tuesday with the small cap Russell 2000 ($RUT, +1.28%) and the Dow Jones ($INDU, +0.28%) leading the action, while the S&P 500 ($SPX, +0.03%) and the NASDAQ ($COMPQ, -0.04%) both rallied off larger intraday losses to end nearly flat. Under the surface, however, lots of changes continued in the same manner we saw on Monday. The love affair between investors and aggressive growth stocks has eroded. It may be too early to tell if this is a major shift in market sentiment, but the following chart comparing the relationship between Russell 1000 growth stocks (IWF) vs. Russell 1000 value stocks (IWD) helps to illustrate this shift: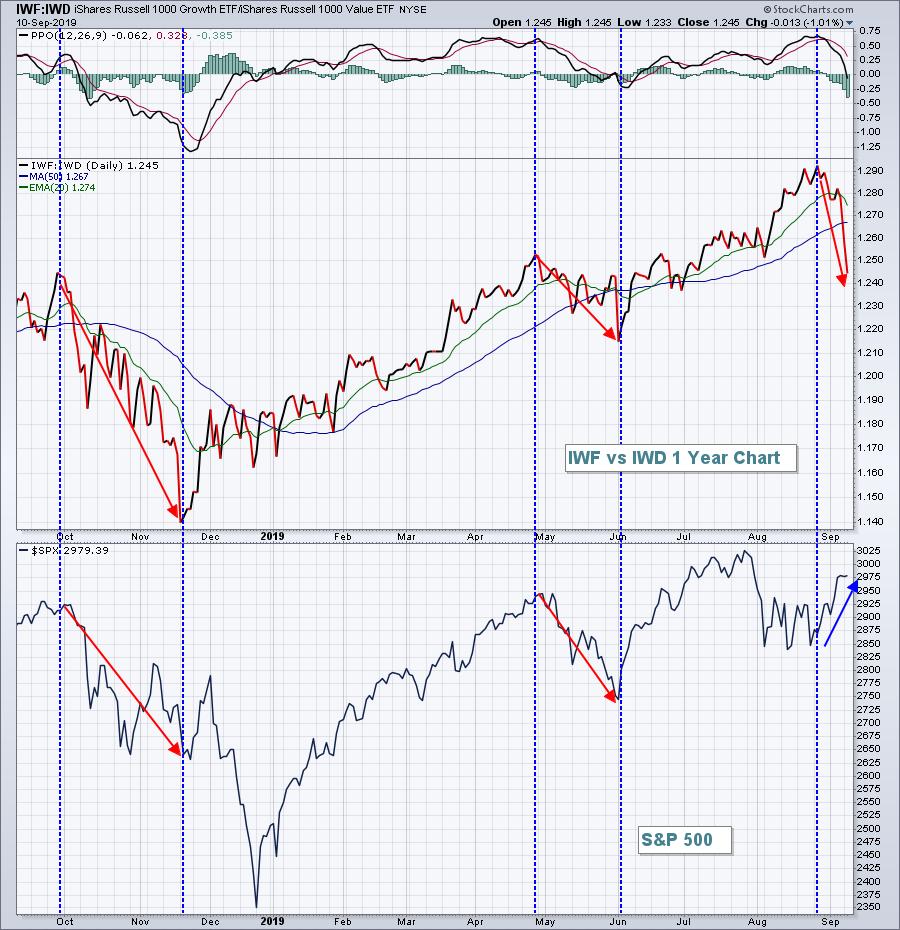 We've seen this type of rotation before, but it's been when the overall market is selling off. That makes much more sense as traders become fearful and the aggressive growth names get kicked to the side. The Q4 2018 and May 2019 selling shows what that looks like. But this is different. We're seeing wholesale selling of aggressive names while the S&P 500 rises. It's really hard to say why, but my theory is that traders don't trust the Fed's next move and they meet again next week at this time. In the Sector/Industry Watch section below, I break down the last week's performance among all the financial sector's industry groups. The clear delineation is evident based on that chart, so check it out.
In the meantime, energy (XLE, +1.18%), financials (XLF, +0.36%), transports ($TRAN, +1.54%), and the aforementioned small caps have been big beneficiaries of the market's attitude change.
Pre-Market Action
The 10 year treasury yield ($TNX) continues its ascent this morning, rising another 4 basis points to 1.74%. That should provide another boost to financials (XLF). Also, crude oil ($WTIC) is higher by nearly 1% to just under $58 per barrel, so look to energy for more buying as well.
With 30 minutes left to the opening bell, Dow Jones futures are higher by 43 points.
Current Outlook
Transportation stocks ($TRAN) were covered yesterday and they have certainly come to life. One big reason is that truckers ($DJUSTK) have broken out and are now poised to challenge all-time highs above 920 that was set in 2018: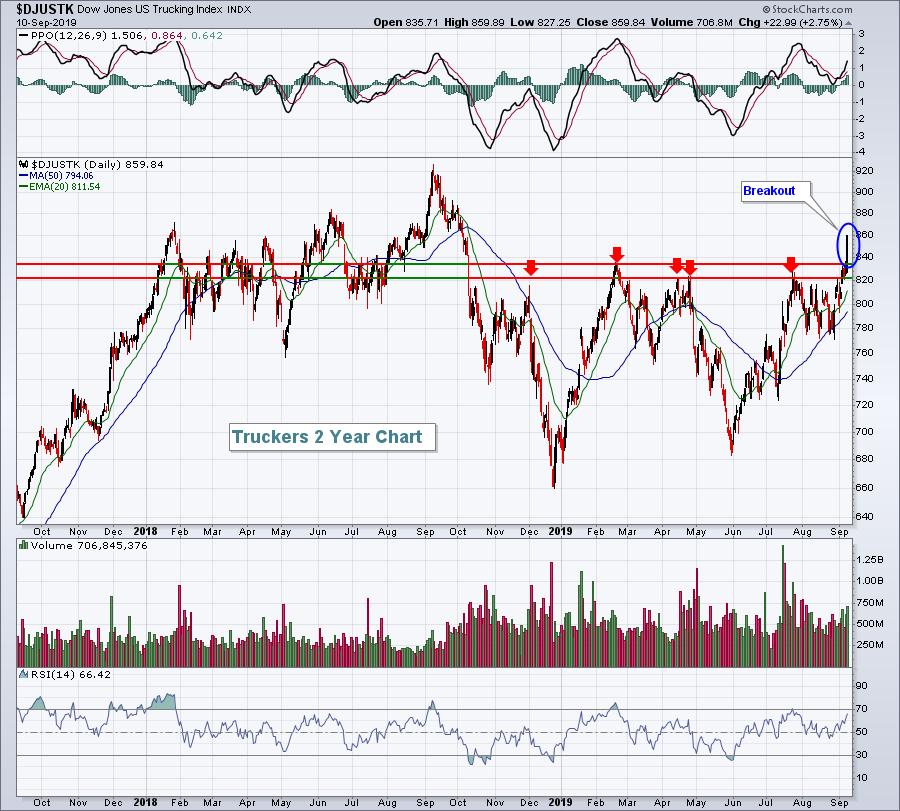 The daily PPO is coming off a recent centerline test and is now accelerating higher, a very bullish signal.
Sector/Industry Watch
The recent rotation isn't so evident when looking at our major indices or even at our sectors, although there's been a notable resurgence in energy (XLE) and financials (XLF) over the past week. The following, however, will help to illustrate the market's recent transformation: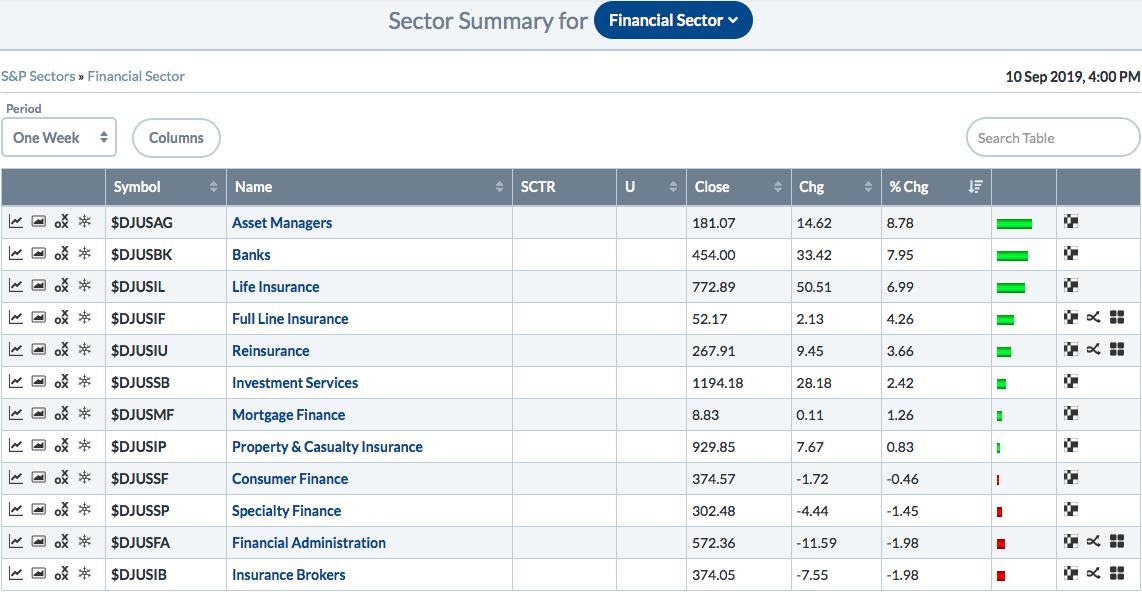 The past week's leaders had been the 2019 laggards, while those at the bottom had been the leaders. While it's way too early to say that this will continue, it has definitely raised a few eyebrows, including my own.
Historical Tendencies
Beginning today, the Russell 2000 enters a strong bullish period. The September 11-16 period has produced annualized returns of +49.62% since 1987 on the Russell 2000. It's followed by a very bearish period, however, one that I'll discuss in more detail next week.
Key Earnings Reports
(reports after close, estimate provided):
ACB: (.02)
Key Economic Reports
None
Happy trading!
Tom