Market Recap for Wednesday, September 11, 2019
On the 18th anniversary of 9/11, it was somewhat ironic that Boeing (BA, +3.51%) led the Dow Jones back above 27,000 and within 1% of its all-time high. Apple (AAPL, +3.05%) also performed quite well, with both stocks breaking out above summer-high price resistance: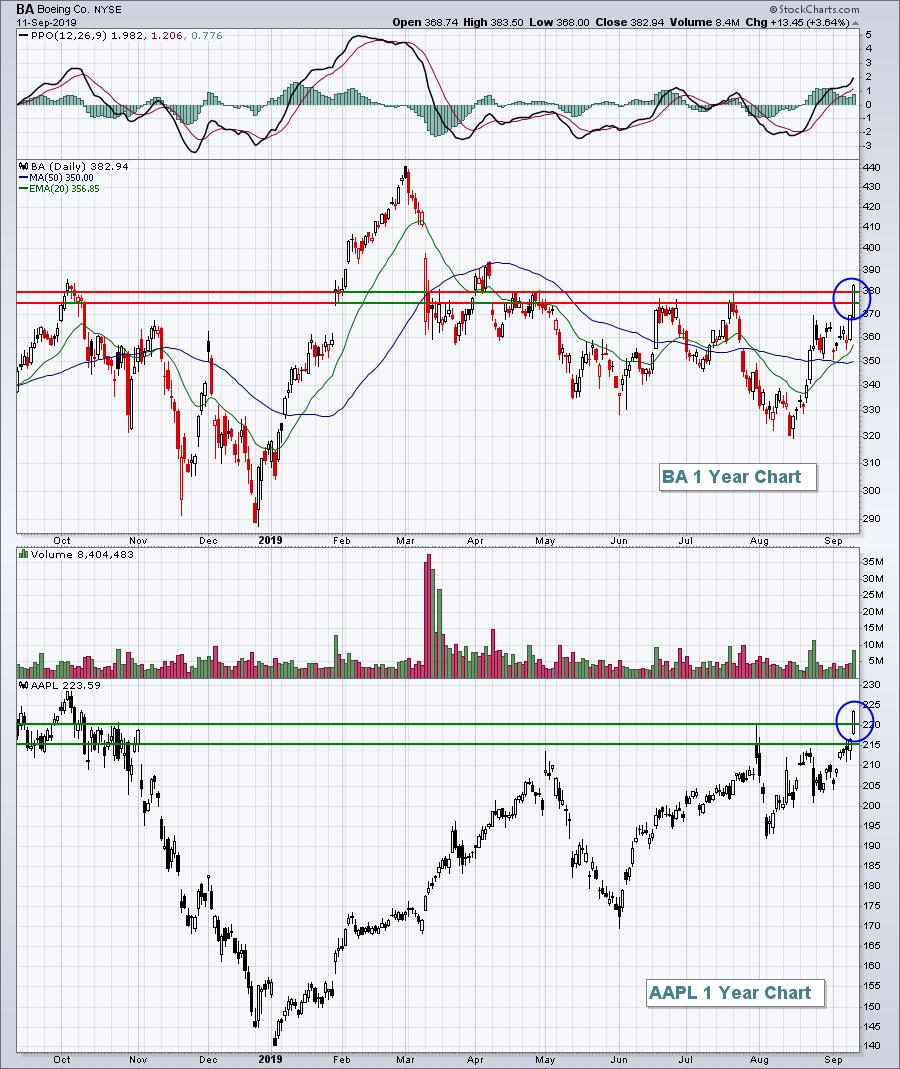 Technology (XLK, +1.04%) led the action on Wednesday, but it had plenty of help and it was a mixture of aggressive and defensive sectors. Utilities (XLU, +0.99%) performed very well after printing a hammer off its rising 20 day EMA: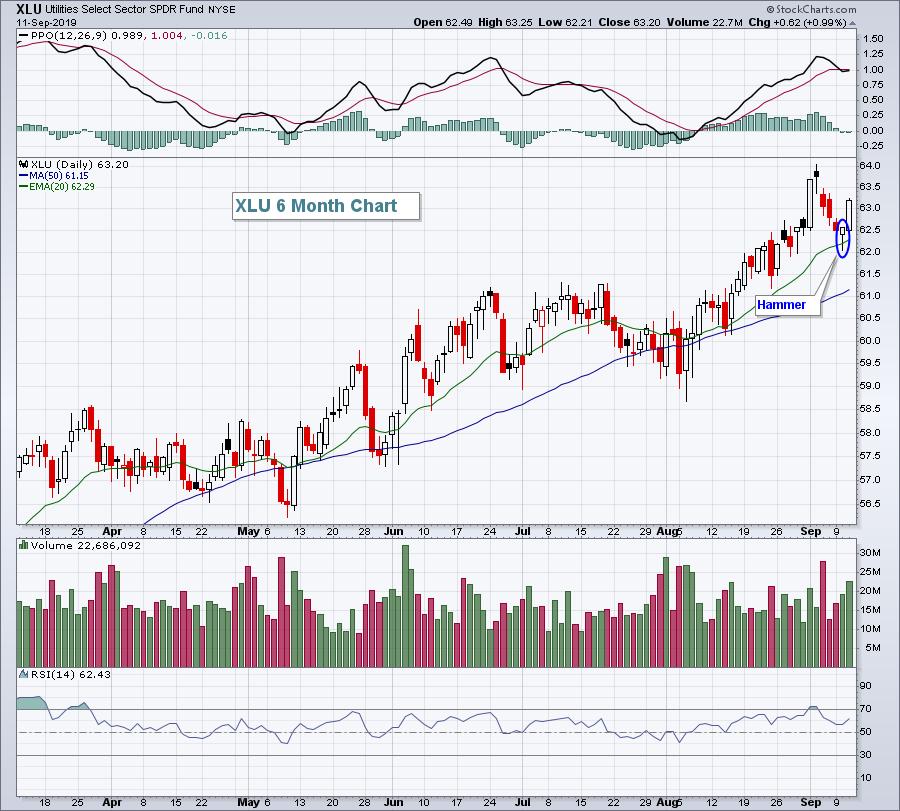 Healthcare (XLV, +0.99%), materials (XLB, +0.96%), and industrials (XLI, +0.93%) also had big days. Industrials could hold the key for the next leg of the bull market. See the Current Outlook section below for more details there.
Real estate (XLRE, -0.23%) was the only sector to finish in negative territory.
Pre-Market Action
The U.S. has announced a delay in tariffs and the ECB announced a cut in its deposit rate and a new bond-buying program. That combination, along with more recent positive action on Wall Street, has futures higher once again. Dow Jones futures are currently higher by 68 points.
Current Outlook
One of my favorite "Big Picture" analysis tools is the price relative of aggressive sectors vs. the S&P 500. They don't all outperform at the same time. There's a rotation that takes place. I know it seems like financials (XLF) and industrials (XLI) haven't done their part, but both remain in long-term relative uptrends that help to support the 10+ year bull market. It wasn't that long ago that both the XLF and XLI led the bull market charge from late-2016 through early-2018. Since then, it's been a struggle. We need to pay attention, however, to the shift in bull market winds. The XLI has yet to confirm a short-term relative breakout, but the long-term remains perfectly intact:
A relative break above that latest red-dotted downtrend line would likely kickstart industrials back into a leadership role. Watch for it.
Sector/Industry Watch
Industrials (XLI, +0.93) are taking one more shot at a breakout, challenging overhead resistance in the 78.50-79.00 range for at least the 8th time since January 2018: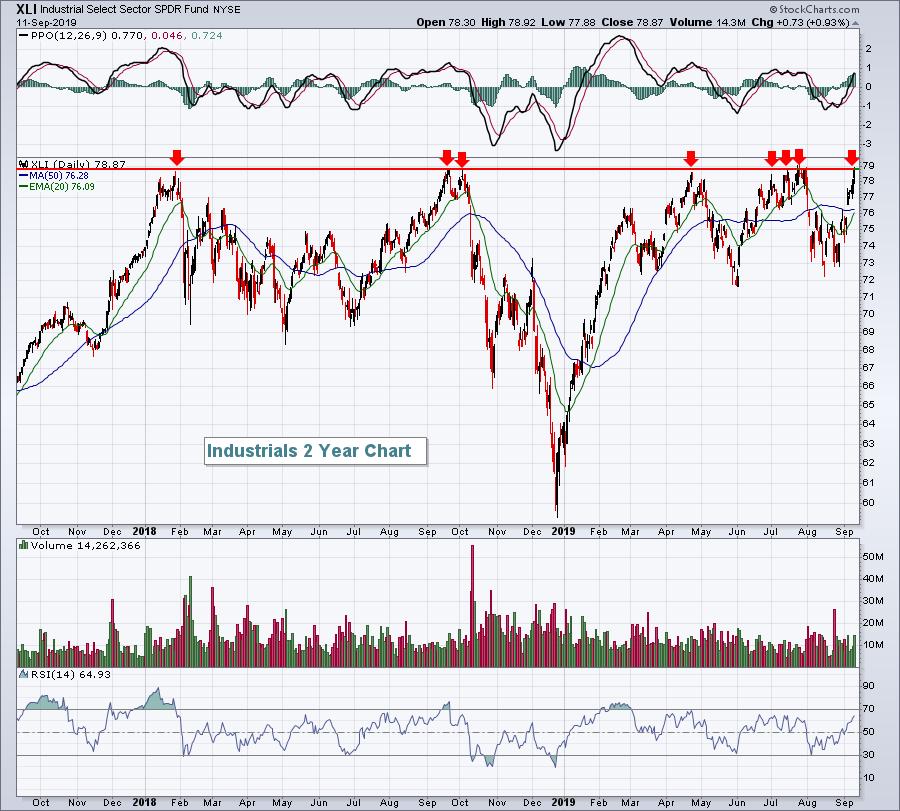 The more sectors that break out, the merrier. Futures are up this morning so maybe, just maybe, this will be the lucky charm.
Historical Tendencies
We're getting close to the airlines ($DJUSAR) best time of year historically. October and November have generally seen big upside moves in the group as can be seen from the seasonality chart below: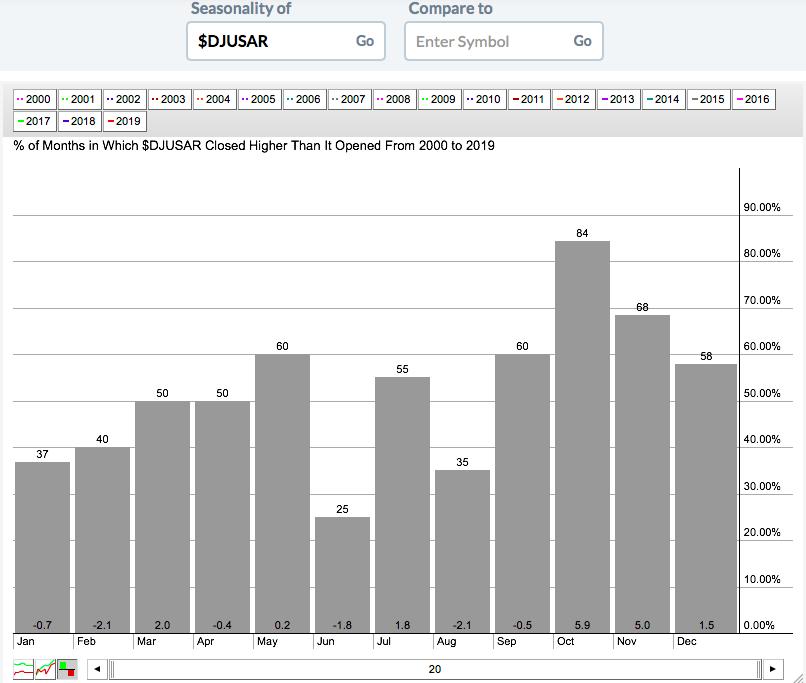 Airlines have risen by an average of 10.9% during October and November over the past 20 years. The rest of the year has had an average return of -2.1%.
Key Earnings Reports
(actual vs. estimate):
KR: .41 - estimate, awaiting results
(reports after close, estimate provided):
AVGO: 5.11
Key Economic Reports
August CPI released at 8:30am EST: +0.1% (actual) vs. +0.1% (estimate)
August Core CPI released at 8:30am EST: +0.3% (actual) vs. +0.2% (estimate)
Initial jobless claims released at 8:30am EST: 204,000 (actual) vs. 215,000 (estimate)
Happy trading!
Tom