FedEx Corp (FDX) will be reporting its latest quarterly results tomorrow after the closing bell. In late-August, FDX printed a bullish engulfing candle and it's been moving straight up ever since. It's now running into both gap and price resistance, however, so it needs a catalyst. Will earnings be the catalyst?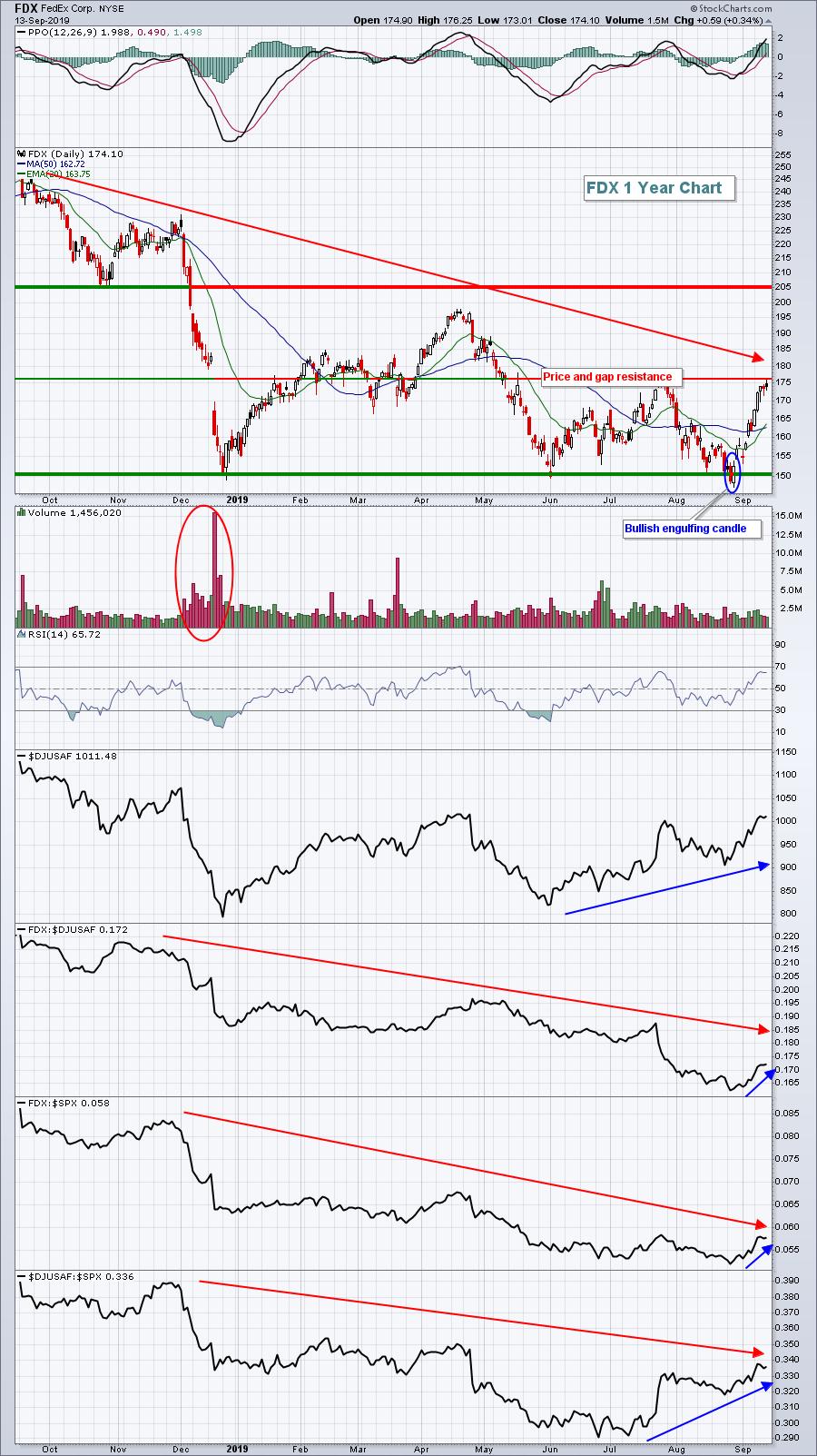 The short-term technical picture is improving, but the long-term remains very cloudy. United Parcel Service (UPS) has been the much better option in this space, closing last week near its 52 week high. I believe tomorrow's earnings report holds the key. If FDX can beat both its revenue and EPS estimates and it receives a positive reaction from Wall Street, then the worst is likely behind it. Relative strength is telling us that things are improving at FDX, but to still be careful.
I prefer UPS over FDX until the latter can prove otherwise through fundamental and technical improvement.
Note:
Yesterday represented my final day as Sr. Technical Analyst at StockCharts.com and marks my return to EarningsBeats.com as its Chief Market Strategist. I will continue to provide analysis here in my Trading Places blog, though the content will be more topic specific like today's. My regular daily market recap, market outlook, sector/industry watch, historical tendencies, earnings information, economic reports, etc. will be included in my Daily Market Report (DMR) that will be provided to members of EarningsBeats.com. I plan to highlight excellent trading opportunities every single day. In today's DMR, I'll release my latest Monday Setups, identifying excellent reward to risk trading opportunities. I'd love your continuing support as I begin this next journey. There are two separate and distinct ways to support me at EarningsBeats.com:
(1) EB Digest newsletter subscription - this is an easy one. It's a free 3x per week newsletter (Monday, Wednesday, and Friday) that I'll be writing early each morning, well before the stock market opens. It could at times provide great trading opportunities, but I'd think of it as free education as I'll be discussing the many concepts that I use to trade. Did I mention it's FREE?
CLICK HERE to sign up for the EB Digest newsletter.
(2) Subscribing member of EarningsBeats.com. The services provided here will be what allows me to earn a living. I'll work extremely hard to help you achieve a higher level of investing/trading success. You'll have access to three separate portfolios that I create every quarter. My Model portfolio has outperformed the S&P 500 by nearly 40 percent over the last 10 months. That performance is documented via live webinars with members where I reveal the quarterly stock selections. That doesn't happen by coincidence. It happens because of a lot of homework and experience. I'll be providing my DMR every single day to members, providing market analysis and trading opportunities, including scan results against my Strong Earnings ChartList, an organized and annotated list of 329 companies that have beaten Wall Street consensus estimates as to both revenues and earnings. On Mondays, you'll receive my Monday setups as I've posted in this blog for the past few years. That will be part of my DMR each day. If you're a StockCharts.com Extra member or above, you can get a copy of my ChartList. You'll be able to attend all of our quarterly events (and there are typically 4-5 of them). I think you'll find it very useful. Just give it a try as there's a $7 30-day trial to help out.
CLICK HERE to start your $7 30-day trial.
The past 4 1/2 years here at StockCharts.com has been quite a ride and I thank every one of you for your support over the years. I hope you'll continue to ride with me!
Tom